Commentary
Jacoby Brissett tops available QBs
Originally Published:
January 17, 2011
By
Jamie Newberg
| ESPN Recruiting
With national signing day (Feb. 2) around the corner, here is a look at the top uncommitted quarterbacks.

Brissett
Player rank
: NR |
Position rank
: 25 |
Grade
: 78 |
Stars
: 3
Height
: 6-4 |
Weight
: 220 pounds |
Evaluation
Considering







Why they want him:
Brissett is one of the most physically impressive quarterback prospects this class has to offer. He is tall, strong and can make all the throws you want from within the pocket. He is a good athlete, but we would not necessarily call him a dual-threat. He plays under center in the shotgun, has the size to scan the field and is an imposing figure within the pocket. Reminds us of former LSU QB JaMarcus Russell.
Recruiting update:
The Badgers could be the team to beat right now if Brissett leaves the state. Miami and coach Al Golden are coming on strong, while new Florida offensive coordinator Charlie Weis recently made a big impression on Brissett. He potentially has two more visits, and the Gators, Huskies, Gamecocks and Hurricanes are possible candidates.
---

Coffman
Player rank
: NR |
Position rank
: 33 |
Grade
: 78 |
Stars
: 3
Height
: 6-2 |
Weight
: 175 pounds |
Evaluation
Considering


Why they want him:
There is an awful lot to like about the gritty signal-caller. He is a sneaky athlete who is much more of a runner than you might think. He has great feet and pocket movement with awareness of pressure and the tools to elude it. He has a live arm, not elite, but powerful enough to take some shots downfield and fit the ball into tight spots underneath because of his quick delivery.
Recruiting update:
Unless someone comes in late, it's basically down to Arizona State and Alabama for Coffman. He has already visited the Sun Devils, and he made an unofficial visit to Tuscaloosa over the summer. If the Crimson Tide have room, they could take him.
---

Jones
Cardale Jones (Cleveland, Ohio/Glenville)
Player rank
: NR |
Position rank
: 34 |
Grade
: 78 |
Stars
: 3
Height
: 6-5 |
Weight
: 220 pounds |
Evaluation
Considering



Why they want him:
Jones is a big-time athlete with a huge arm and terrific measurables, and his physical tools are very impressive. He has great size, is tall and well-built, and has long arms and big hands. He plays in the shotgun spread exclusively and displays the ability to make a variety of throws both from within the pocket and out on the perimeter. Possesses one of the strongest pure throwing arms in the class and can make every throw on the field.
Recruiting update:
Jones visited Penn State this past weekend and is also very interested in Ohio State and LSU. Since LSU already has two signal-callers in this class, this will likely be a Big Ten battle; however, the Buckeyes have not extended him a scholarship offer yet.
---

Foreman
Player rank
: NR |
Position rank
: 50 |
Grade
: 77 |
Stars
: 3
Height
: 6-2 |
Weight
: 200 pounds |
Evaluation
Considering


Why they want him:
Foreman is a great-looking athlete. He has a thick, sturdy build and is deceptive on the move. He possesses above-average height and very good arm strength. Foreman plays out of the shotgun spread offense and is at his best in the quick passing game or when rolling out and throwing on the move.
Recruiting update:
Foreman committed to Colorado early in the process, but then Dan Hawkins was fired. He recommitted to the Buffaloes' new staff only to have Colorado not show up for a scheduled in-home official visit. Foreman is currently looking for a college home.
Jamie Newberg has been covering recruiting both in the Southeast and nationally for 19 years. He can be reached at jamienewbergbw@yahoo.com.
RecruitingNation
Jamie Newberg covers recruiting in the Southeast.
Email him at jamienewbergbw@yahoo.com.
COUNTDOWN TO NATIONAL SIGNING DAY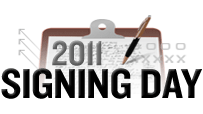 National signing day is closing in fast and ESPN Recruiting will have you prepared by the time players start signing their national letters of intent and faxing them in on Wednesday, Feb. 2.
ESPNU 150 | Class rankings | Scorecard
---
•
Updated ESPNU 150
•
Scouts on why players moved up
•
Checking in on uncommitted 150 players
•
Clowney is No. 1 wire-to-wire
•
Haubert: Chat wrap
•
Updated class rankings
2007 ESPNU 150: Where are they now?
•
No. 1-25: ND's QB to WR combo pans out
•
No. 26-50: Dez Bryant dominates right away
•
No. 51-75: Cam Newton from Gator to Tiger
•
No. 76-100: OL Vlachos, Bulaga come up big
•
No. 101-125: Morgan, Sturdivant shine in ACC
•
No. 126-150: Forcier, Bostick never pan out
•
Reranking 2007's top 10 classes
•
Hits and misses from 2007 class
•
All Class of 2007 team photo gallery
Conference breakdowns
•
ACC: Seminoles leading the way
•
Big Ten: Buckeyes at the top again
•
Big 12: OU, UT in their own class
•
Pac-12: Trojans still getting it done
•
SEC: Alabama on top of loaded conference
•
Big East: Louisville coming on strong
•
Best of the rest: ND, TCU dreaming big
Who's still out there?
•
Best available QBs
|
All uncommitted QBs
•
Best available RBs
|
All uncommitted RBs
•
Best available FBs
|
All uncommitted FBs
•
Best available WRs
|
All uncommitted WRs
•
Best available TEs
|
All uncommitted TEs
•
Best available OTs
|
All uncommitted OTs
•
Best available OGs
|
All uncommitted OGs
•
Best available Cs
|
All uncommitted Cs
•
Best available DTs
|
All uncommitted DTs
•
Best available DEs
|
All uncommitted DEs
•
Best available ILBs
|
All uncommitted ILBs
•
Best available OLBs
|
All uncommitted OLBs
•
Best available CBs
|
All uncommitted CBs
•
Best available S
|
All uncommitted S
•
Best available ATHs
| |
All uncommitted ATHs
•
Signing day preview:
Everything you need to know for the big day
MORE COLLEGE FOOTBALL HEADLINES
Nike Men's Ohio State Buckeyes Script Ohio Local Attribute T-shirt Shop »
MOST SENT STORIES ON ESPN.COM