Commentary
Spencer Region leads top available OGs
Originally Published:
January 20, 2011
By
Corey Long
| ESPN Recruiting
With national signing day (Feb. 2) around the corner, here is a look at the top uncommitted offensive guards.

Region
Player rank
: 149 |
Position rank
: 9 |
Grade
: 80 |
Stars
: 4
Height
: 6-5 |
Weight
: 339 pounds |
Evaluation
Considering




Why they want him:
At 6-5, 335 pounds, Region is a big man and uses his size to knock defenders off the line of scrimmage at the snap. With a focus on his size it's easy to forget that he's very mobile and athletic. He is aggressive at the end of blocks and likes to finish with authority.
Recruiting update:
Region committed to Auburn in February and decommitted in May. He visited Louisville last weekend and is trying to set up a trip to visit Wisconsin at the end of the month. He also had a trip to LSU but it was canceled, although he says he's been to LSU and Auburn several times.
---
Player rank
: NR |
Position rank
: 15 |
Grade
: 79 |
Stars
: 4
Height
: 6-5 |
Weight
: 355 pounds |
Evaluation
Considering




Why they want him:
Walker already possesses the size, strength and toughness to be a dominating run-blocker. He's got a good first step and excels at drive blocking. However, he's going to have to improve his balance and quickness to deal with quicker players at the next level.
Recruiting update:
It would appear that Ohio State and Michigan State are in the best position to land Walker. He is taking an official visit to Florida State this weekend and Penn State to close out the month.
---
James Elliott (Pensacola, Fla./Catholic)
Player rank
: NR |
Position rank
: 20 |
Grade
: 79 |
Stars
: 3
Height
: 6-3 |
Weight
: 290 pounds |
Evaluation
Considering




Why they want him:
Elliott is athletic and displays the sort of quickness you would want from a guard, especially when trap blocking. He has the strength to be a solid run-blocker and plays with good leverage. Overall, Elliott is a very active player who loves to mix it up.
Recruiting update:
For the longest time Elliott was thought to be a heavy lean to Michigan. That scenario began to look bleak before the firing of Rich Rodriguez. Visits to Kentucky and Southern Miss. are being worked out.
---

Williams
Player rank
: NR |
Position rank
: 21 |
Grade
: 78 |
Stars
: 3
Height
: 6-4 |
Weight
: 283 pounds |
Evaluation
Considering




Why they want him:
Williams is quick off the ball and ready to initiate contact. He displays more than enough toughness and a nasty attitude when he is finishing off blocks. Has the ability to be an effective trap blocker and will take on quicker players with success.
Recruiting update:
There hasn't been much on Williams' radar for a few months. He picked up some impressive early offers from schools like Auburn, Alabama and Florida State but they have all moved on.
Corey Long has been covering high school football and recruiting in the Sunshine State since 1995. He can be reached at coreyespn@gmail.com.
Reporter, RecruitingNation
Covers recruiting in the Southeast
Joined ESPN in 2009
SPONSORED HEADLINES
MORE COLLEGE FOOTBALL HEADLINES
MOST SENT STORIES ON ESPN.COM
COUNTDOWN TO NATIONAL SIGNING DAY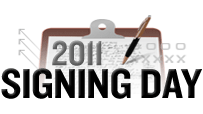 National signing day is closing in fast and ESPN Recruiting will have you prepared by the time players start signing their national letters of intent and faxing them in on Wednesday, Feb. 2.
ESPNU 150 | Class rankings | Scorecard
---
•
Updated ESPNU 150
•
Scouts on why players moved up
•
Checking in on uncommitted 150 players
•
Clowney is No. 1 wire-to-wire
•
Haubert: Chat wrap
•
Updated class rankings
2007 ESPNU 150: Where are they now?
•
No. 1-25: ND's QB to WR combo pans out
•
No. 26-50: Dez Bryant dominates right away
•
No. 51-75: Cam Newton from Gator to Tiger
•
No. 76-100: OL Vlachos, Bulaga come up big
•
No. 101-125: Morgan, Sturdivant shine in ACC
•
No. 126-150: Forcier, Bostick never pan out
•
Reranking 2007's top 10 classes
•
Hits and misses from 2007 class
•
All Class of 2007 team photo gallery
Conference breakdowns
•
ACC: Seminoles leading the way
•
Big Ten: Buckeyes at the top again
•
Big 12: OU, UT in their own class
•
Pac-12: Trojans still getting it done
•
SEC: Alabama on top of loaded conference
•
Big East: Louisville coming on strong
•
Best of the rest: ND, TCU dreaming big
Who's still out there?
•
Best available QBs
|
All uncommitted QBs
•
Best available RBs
|
All uncommitted RBs
•
Best available FBs
|
All uncommitted FBs
•
Best available WRs
|
All uncommitted WRs
•
Best available TEs
|
All uncommitted TEs
•
Best available OTs
|
All uncommitted OTs
•
Best available OGs
|
All uncommitted OGs
•
Best available Cs
|
All uncommitted Cs
•
Best available DTs
|
All uncommitted DTs
•
Best available DEs
|
All uncommitted DEs
•
Best available ILBs
|
All uncommitted ILBs
•
Best available OLBs
|
All uncommitted OLBs
•
Best available CBs
|
All uncommitted CBs
•
Best available S
|
All uncommitted S
•
Best available ATHs
| |
All uncommitted ATHs
•
Signing day preview:
Everything you need to know for the big day