Commentary
Tim Jernigan leads available DTs
Originally Published:
January 21, 2011
By
Jamie Newberg
| ESPN Recruiting
With national signing day (Feb. 2) around the corner, here is a look at the top uncommitted defensive tackles:

Jernigan
Tim Jernigan (Lake City, Fla./Columbia)
Player rank
: 17 |
Position rank
: 2 |
Grade
: 84 |
Stars
: 4
Height
: 6-2 |
Weight
: 275 pounds |
Evaluation
Considering




Why they want him:
Jernigan can present a forceful presence in the trenches and is an active defender who can be like a tornado at times. He has a good get-off though you would like to see him be more consistently quick, but he is capable of getting some penetration. He is very active and violent with his hands and consistently brings them and can create separation and shed.
Recruiting update:
Jernigan said during the U.S. Army All-American Bowl that he was 90 percent sure he would sign with Alabama, LSU or Florida State. Those close to the situation believe this is a big Tigers-Seminoles battle, but coach Will Muschamp and the Gators are making a late run. Look for Jernigan to visit FSU this weekend and it will be an Alabama/Florida battle for his last visit Jan. 28.
---

Wright
Gabe Wright (Columbus, Ga./Carver)
Player rank
: 26 |
Position rank
: 3 |
Grade
: 82 |
Stars
: 4
Height
: 6-3 |
Weight
: 285 pounds |
Evaluation
Considering




Why they want him:
Wright is a defender who is capable of being a menace in the trenches. He has good size with the frame to add more bulk and also brings some versatility to the table. He could fit as a three-technique in a 4-3 defense and could also fit well at the end spot in a 3-4.
Recruiting update:
It's a four-horse race for the terrific defensive line prospect and you could make a solid case for each one of the four schools involved.
---

Heyward
Player rank
: 111 |
Position rank
: 9 |
Grade
: 81 |
Stars
: 4
Height
: 6-2 |
Weight
: 275 pounds |
Evaluation
Considering



Why they want him:
Heyward is a good-looking defensive line prospect. He moves around the line in high school, playing inside and out as well as from a two-point stance, and could likely fill a swing role in college as well. He will most likely settle in as a defensive tackle, where he could be a handful as a pass rusher.
Recruiting update:
This will ultimately come down to a battle between USC and Oregon. Heyward will visit the Ducks this weekend and San Diego State next weekend. The Aztecs are the dark horse here.
---

Dukes
Player rank
: NR |
Position rank
: 17 |
Grade
: 79 |
Stars
: 4
Height
: 6-2 |
Weight
: 280 pounds |
Evaluation
Considering




Why they want him:
Dukes first draws your attention with his size. He has good height and bulk, looks to carry his weight well and has the frame to be able to add more good bulk in time. He needs to crowd the ball better at times and be more consistent, but he shows a good burst off the ball. He's also a physical kid and does a good job of attacking half-a-man, getting into the gap and staying square.
Recruiting update:
Dukes has had an interesting few weeks, visiting Clemson and Alabama last weekend and through the Martin Luther King Jr. Day. He has South Carolina slated for this weekend and North Carolina on Jan. 28. Expect him to make a decision Feb. 1. Going into his Clemson visit, the Gamecocks were the team to beat.
Jamie Newberg has been covering recruiting both in the Southeast and nationally for 19 years. He can be reached at jamienewbergbw@yahoo.com.
RecruitingNation
Jamie Newberg covers recruiting in the Southeast.
Email him at jamienewbergbw@yahoo.com.
COUNTDOWN TO NATIONAL SIGNING DAY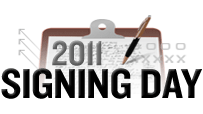 National signing day is closing in fast and ESPN Recruiting will have you prepared by the time players start signing their national letters of intent and faxing them in on Wednesday, Feb. 2.
ESPNU 150 | Class rankings | Scorecard
---
•
Updated ESPNU 150
•
Scouts on why players moved up
•
Checking in on uncommitted 150 players
•
Clowney is No. 1 wire-to-wire
•
Haubert: Chat wrap
•
Updated class rankings
2007 ESPNU 150: Where are they now?
•
No. 1-25: ND's QB to WR combo pans out
•
No. 26-50: Dez Bryant dominates right away
•
No. 51-75: Cam Newton from Gator to Tiger
•
No. 76-100: OL Vlachos, Bulaga come up big
•
No. 101-125: Morgan, Sturdivant shine in ACC
•
No. 126-150: Forcier, Bostick never pan out
•
Reranking 2007's top 10 classes
•
Hits and misses from 2007 class
•
All Class of 2007 team photo gallery
Conference breakdowns
•
ACC: Seminoles leading the way
•
Big Ten: Buckeyes at the top again
•
Big 12: OU, UT in their own class
•
Pac-12: Trojans still getting it done
•
SEC: Alabama on top of loaded conference
•
Big East: Louisville coming on strong
•
Best of the rest: ND, TCU dreaming big
Who's still out there?
•
Best available QBs
|
All uncommitted QBs
•
Best available RBs
|
All uncommitted RBs
•
Best available FBs
|
All uncommitted FBs
•
Best available WRs
|
All uncommitted WRs
•
Best available TEs
|
All uncommitted TEs
•
Best available OTs
|
All uncommitted OTs
•
Best available OGs
|
All uncommitted OGs
•
Best available Cs
|
All uncommitted Cs
•
Best available DTs
|
All uncommitted DTs
•
Best available DEs
|
All uncommitted DEs
•
Best available ILBs
|
All uncommitted ILBs
•
Best available OLBs
|
All uncommitted OLBs
•
Best available CBs
|
All uncommitted CBs
•
Best available S
|
All uncommitted S
•
Best available ATHs
| |
All uncommitted ATHs
•
Signing day preview:
Everything you need to know for the big day
MORE COLLEGE FOOTBALL HEADLINES
MOST SENT STORIES ON ESPN.COM