Commentary
Tony Steward leads top available ILBs
Originally Published:
January 22, 2011
By
Corey Long
| ESPN Recruiting
With national signing day (Feb. 2) around the corner, here is a look at the top uncommitted inside linebackers.

Steward
Tony Steward (St. Augustine, Fla./Pedro Menendez)
Player rank
: 9 |
Position rank
: 1 |
Grade
: 85 |
Stars
: 5
Height
: 6-foot-1 |
Weight
: 225 pounds |
Evaluation
Considering



Why they want him:
Quite simply, Steward goes out and makes plays on the field. He is fast enough to run down anyone, he can get to the backfield on a blitz and goes from sideline to sideline with amazing quickness. Even in a senior year that was hampered by injuries, Steward was a dominant player on the field, whether he was at linebacker, wide receiver, running back or return specialist.
Recruiting update:
Jamie Newberg reported that Steward is down to FSU, Clemson and UCLA. He is on his official visit to FSU this weekend and will take in-home visits from his top three schools next week before making a decision on signing day.
---

Grant
Curtis Grant (Richmond, Va./Hermitage)
Player rank
: 46 |
Position rank
: 3 |
Grade
: 81 |
Stars
: 4
Height
: 6-3 |
Weight
: 220 pounds |
Evaluation
Considering




Why they want him:
A player that really excels when working laterally. This is not to say he's afraid to take on a blocker and stuff the inside run, because he'll do that too. Grant has a never-ending motor and strong athleticism that make him a tough defender when he has to drop in coverage. He's aggressive and tough already but both will improve as he gets stronger.
Recruiting update:
Grant is in Charlottesville this weekend checking out Virginia. He has one final visit remaining and that will be at North Carolina on Jan. 28. Then it's decision time.
---

Staley
Dexter Staley (Williston, S.C./Williston-Elko)
Player rank
: NR |
Position rank
: 18 |
Grade
: 78 |
Stars
: 3
Height
: 6-2 |
Weight
: 210 pounds |
Evaluation
Considering




Why they want him:
Staley is as good on offense as he is on defense, so it wouldn't surprise us if the school that lands him keeps its options open on how to use him. That being said, he's a physical presence with good closing speed. His versatility and athleticism give him a leg up when it comes to playing coverage.
Recruiting update:
Staley will likely be heading to a prep school for 2011 -- odds are Georgia Military College. From there it looks like Georgia and South Carolina will be the top two battling for his services.
---
Cody Kurz (Ventura, Calif./Saint Bonaventure)
Player rank
: NR |
Position rank
: 21 |
Grade
: 78 |
Stars
: 3
Height
: 6-2 |
Weight
: 240 pounds |
Evaluation
Considering





Why they want him:
At 6-2, 240 pounds it wouldn't shock us if Kurz continued to gain weight and played defensive end. But he's more than capable of playing inside linebacker and can knock a ball carrier backward with punishing hits. He's got a strong motor and he brings it when the situation calls for a pass rush.
Recruiting update:
There was a plan to visit New Mexico State this weekend and Kurz is looking at a few other schools that have offered. He was linked to LSU for a long time but now is trying to figure out where he fits in. Kurz could possibly commit after signing day, if he wants to take more official visits.
Corey Long has been covering high school football and recruiting in the Sunshine State since 1995. He can be reached at coreyespn@gmail.com.
Reporter, RecruitingNation
Covers recruiting in the Southeast
Joined ESPN in 2009
SPONSORED HEADLINES
MORE COLLEGE FOOTBALL HEADLINES
MOST SENT STORIES ON ESPN.COM
COUNTDOWN TO NATIONAL SIGNING DAY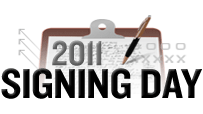 National signing day is closing in fast and ESPN Recruiting will have you prepared by the time players start signing their national letters of intent and faxing them in on Wednesday, Feb. 2.
ESPNU 150 | Class rankings | Scorecard
---
•
Updated ESPNU 150
•
Scouts on why players moved up
•
Checking in on uncommitted 150 players
•
Clowney is No. 1 wire-to-wire
•
Haubert: Chat wrap
•
Updated class rankings
2007 ESPNU 150: Where are they now?
•
No. 1-25: ND's QB to WR combo pans out
•
No. 26-50: Dez Bryant dominates right away
•
No. 51-75: Cam Newton from Gator to Tiger
•
No. 76-100: OL Vlachos, Bulaga come up big
•
No. 101-125: Morgan, Sturdivant shine in ACC
•
No. 126-150: Forcier, Bostick never pan out
•
Reranking 2007's top 10 classes
•
Hits and misses from 2007 class
•
All Class of 2007 team photo gallery
Conference breakdowns
•
ACC: Seminoles leading the way
•
Big Ten: Buckeyes at the top again
•
Big 12: OU, UT in their own class
•
Pac-12: Trojans still getting it done
•
SEC: Alabama on top of loaded conference
•
Big East: Louisville coming on strong
•
Best of the rest: ND, TCU dreaming big
Who's still out there?
•
Best available QBs
|
All uncommitted QBs
•
Best available RBs
|
All uncommitted RBs
•
Best available FBs
|
All uncommitted FBs
•
Best available WRs
|
All uncommitted WRs
•
Best available TEs
|
All uncommitted TEs
•
Best available OTs
|
All uncommitted OTs
•
Best available OGs
|
All uncommitted OGs
•
Best available Cs
|
All uncommitted Cs
•
Best available DTs
|
All uncommitted DTs
•
Best available DEs
|
All uncommitted DEs
•
Best available ILBs
|
All uncommitted ILBs
•
Best available OLBs
|
All uncommitted OLBs
•
Best available CBs
|
All uncommitted CBs
•
Best available S
|
All uncommitted S
•
Best available ATHs
| |
All uncommitted ATHs
•
Signing day preview:
Everything you need to know for the big day