Commentary
USC's '07 class doesn't live up to hype
Originally Published:
January 31, 2011
By
ESPN Recruiting
After looking at our top 10 classes from 2007, we went back and reranked them. Here is how they look now.
Top 10 Classes From 2007
| Rank | Before | After | Explanation |
| --- | --- | --- | --- |
| 1. | USC | Florida | This Gators class was part of a national championship and won the SEC East twice. Numerous players from this class played key or contributing roles, such as defensive lineman Carlos Dunlap, tight end Aaron Hernandez and defensive back Joe Haden. This class also contained Cameron Newton, who won the Heisman Trophy and a national title with Auburn. |
| 2. | Florida | Texas | This squad helped Texas win a Big 12 title versus Nebraska and reach the BCS title game in 2009. Key pickups included linebacker Keenan Robinson, defensive end Sam Acho, who earned the Campbell Trophy in 2010 and safety Earl Thomas, who was an All-American in 2009. |
| 3. | Texas | Auburn | Some of Tommy Tuberville's pickups in this class helped the Tigers to a national championship this season, including defensive tackle Nick Fairley, offensive tackle Lee Ziemba and center Ryan Pugh. Talented kicker Wes Byrum was also a part of this 2007 class. |
| 4. | South Carolina | Virginia Tech | This Hokies class was a part of three ACC championships (2007, '08, '10). Talented quarterback Tyrod Taylor was the key to this class, but several other contributors were a part of this class, such as linebacker Barquell Rivers, running back Darren Evans and offensive tackle Blake DeChristopher. |
| 5. | Tennessee | North Carolina | It didn't end pretty as off-field issues cut a few careers short, but this Tar Heels class featured some good players. Defensive tackles Marvin Austin and Tydreke Powell and linebacker Quantavious Sturdivant were a few of the prospects from this class that were part of a talented defense. |
| 6. | LSU | Georgia Tech | The Yellow Jackets' 2007 class was part of an ACC championship. Key contributors from this class included quarterback Josh Nesbitt, running back Jonathan Dwyer, who was ACC Player of the Year in 2008 and defensive end Derrick Morgan, who was ACC Defensive Player of the Year in 2009. |
| 7. | Auburn | Ohio State | This Buckeyes class was at least part of a Big Ten championship every year. Cameron Heyward was a very good player for them and Brian Rolle was productive at linebacker. The class also featured two running backs who contributed to the offense, Daniel "Boom" Herron and Brandon Saine, as well as productive wide receiver Dane Sanzenbacher. |
| 8. | Notre Dame | South Carolina | This Gamecocks class helped South Carolina make an appearance in the SEC title game this year, where it lost to Newton and Auburn. Quarterback Stephen Garcia arrived in this class, as well as some good defensive linemen, such as Cliff Matthews, Travian Robertson and Ladi Ajiboye. |
| 9. | Miami | USC | This class was No. 1 in 2007, but many of the talented prospects never reached their expectations. Big pickups running back Joe McKnight, linebacker Chris Galippo, running back Marc Tyler and defensive end Everson Griffen had or have been productive, but never seemed to peak for various reasons. Wide receiver Ronald Johnson and center Kris O'Dowd were good pickups. Arguably the biggest get in this class was receiver Damian Williams, who transferred in. |
| 10. | Michigan | LSU | This class enjoyed a national title as freshmen in 2007 after beating Ohio State. While the Tigers have not gotten back there, many prospects from this class have helped keep the Tigers in the hunt. Defensive tackle Drake Nevis and wide receiver Terrance Toliver were nice gets in this class, as well as some contributing offensive linemen. |
COUNTDOWN TO NATIONAL SIGNING DAY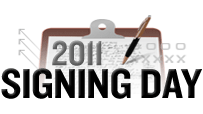 National signing day is closing in fast and ESPN Recruiting will have you prepared by the time players start signing their national letters of intent and faxing them in on Wednesday, Feb. 2.
ESPNU 150 | Class rankings | Scorecard
---
•
Updated ESPNU 150
•
Scouts on why players moved up
•
Checking in on uncommitted 150 players
•
Clowney is No. 1 wire-to-wire
•
Haubert: Chat wrap
•
Updated class rankings
2007 ESPNU 150: Where are they now?
•
No. 1-25: ND's QB to WR combo pans out
•
No. 26-50: Dez Bryant dominates right away
•
No. 51-75: Cam Newton from Gator to Tiger
•
No. 76-100: OL Vlachos, Bulaga come up big
•
No. 101-125: Morgan, Sturdivant shine in ACC
•
No. 126-150: Forcier, Bostick never pan out
•
Reranking 2007's top 10 classes
•
Hits and misses from 2007 class
•
All Class of 2007 team photo gallery
Conference breakdowns
•
ACC: Seminoles leading the way
•
Big Ten: Buckeyes at the top again
•
Big 12: OU, UT in their own class
•
Pac-12: Trojans still getting it done
•
SEC: Alabama on top of loaded conference
•
Big East: Louisville coming on strong
•
Best of the rest: ND, TCU dreaming big
Who's still out there?
•
Best available QBs
|
All uncommitted QBs
•
Best available RBs
|
All uncommitted RBs
•
Best available FBs
|
All uncommitted FBs
•
Best available WRs
|
All uncommitted WRs
•
Best available TEs
|
All uncommitted TEs
•
Best available OTs
|
All uncommitted OTs
•
Best available OGs
|
All uncommitted OGs
•
Best available Cs
|
All uncommitted Cs
•
Best available DTs
|
All uncommitted DTs
•
Best available DEs
|
All uncommitted DEs
•
Best available ILBs
|
All uncommitted ILBs
•
Best available OLBs
|
All uncommitted OLBs
•
Best available CBs
|
All uncommitted CBs
•
Best available S
|
All uncommitted S
•
Best available ATHs
| |
All uncommitted ATHs
•
Signing day preview:
Everything you need to know for the big day
MORE COLLEGE FOOTBALL HEADLINES
MOST SENT STORIES ON ESPN.COM