Commentary
Dez Bryant dominates right away
Originally Published:
January 31, 2011
By
ESPN Recruiting
Here is a look at how the prospects from No. 26 to No. 50 in the 2007 ESPNU 150 have fared.
More rankings: 1-25 | 26-50 | 51-75 | 76-100 | 101-125 | 126-150
2007 ESPNU 150 - Where Are They Now?
26. Kerry Neal, DE (Bunn, N.C./Bunn)

Neal has played in every game of his career at Notre Dame, totaling 101 career tackles, as a defensive end and linebacker. Neal is considered to be a late-round draft pick in the 2011 NFL draft or undrafted free agent.
27. Israel Troupe, WR (Tifton, Ga./Tift County)

Troupe redshirted in 2007 and has never caught more than four passes in a season. In 2010, he finished with three catches for 28 yards.
28. Josh Oglesby, OT (Milwaukee, Wis./St. Francis)

After redshirting in Oglesby he played in 13 games as a sophomore and started every game in 2009. However, a knee injury in Week 2 ended his 2010 season.
29. Dez Bryant, WR (Lufkin, Texas/Lufkin)

As a freshman, Bryant was second on the team in receiving. He broke the school record for receiving touchdowns with 19 as a sophomore, led the Big 12 in receiving yards per game and was a first-team All-American. Bryant was ruled ineligible for the 2009 season for violating an NCAA bylaw and decided to enter the 2010 NFL draft where he was taken by the Dallas Cowboys 24th overall.
30. D.J. Stafford, DT (LaGrange, Ga./LaGrange)

Stafford originally signed with Kentucky in 2007, but failed to qualify academically. He then enrolled at Harmony Prep in Cincinnati, Ohio, in hopes of enrolling in 2008, but never did.
31. Everson Griffen, DE (Avondale, Ariz./Agua Fria Union)

Griffen was the first true freshman since 1986 to start an opener on the defensive line at USC, and became the Pac-10 Defensive Freshman of the Year. He was second-team All-Pac-10 in 2009 and finished his career with 18 sacks and 84 tackles. He was selected in the fourth round of the 2010 draft by the Minnesota Vikings.
32. Deonte Thompson, WR (Belle Glade, Fla./Glades Central)

After redshirting in 2007, Thompson appeared in every game for the Gators in 2008 and started every game in 2009. In 2010, he was first on the team in catches and yards. For his career, he has 78 catches for 1,160 yards and eight touchdowns.
33. Aaron Corp, QB (Orange, Calif./Lutheran)

After redshirting in 2007 and being buried on USC's depth chart in 2008, Corp was named the starter in 2009 before breaking his leg and giving way to Matt Barkley. He transferred to Richmond and was the starter in 2010 for the first five games before sustaining a left knee injury, forcing him to miss the rest of the season.
34. Chris Rainey, RB (Lakeland, Fla./Lakeland)

After receiving a medical hardship in 2007 for a shoulder injury that ended his season, Rainey played in all 14 games in 2008 and was an SEC All-Freshman selection. In 2009, he was the Gators' second-leading rusher with 575 yards. Despite missing five games in 2010 due to suspension after being arrested for aggravated stalking, he tallied 498 yards from scrimmage.
35. John Brown, DT (Lakeland, Fla./Lakeland)

He never played a down for the Gators because he couldn't get his academics in order and transferred to Northeast Mississippi Community College in 2009. He signed with Tennessee in 2010, but failed to meet the necessary requirements to play.
36. Duval Kamara, WR (Hoboken, N.J./Hoboken)

He set school freshman records in receptions and receiving yards in 2007 (since broken by Michael Floyd). After playing in all 13 games as a sophomore he battled a knee injury in 2009. For his career, he has 86 receptions, 893 yards and nine touchdowns.
37. Eugene Clifford, S (Cincinnati, Ohio/Colerain)

After playing in four games for the Buckeyes in 2007, he was suspended for violating unspecified team rules and then kicked off the team before the 2008 season after being charged with assault. He transferred to Tennessee State where he finished his career with 204 tackles and was named as a first-team FCS All-American in 2010.
38. Stephen Garcia, QB (Tampa, Fla./Jefferson Senior)

Garcia enrolled in January of 2007, but did not participate in spring drills. In 2008, he saw action in eight games and in 2009 he started every game, ranking second in the SEC with 220.2 passing yards per game. In 2010, he completed 65 percent of his passes to help lead the Gamecocks to the Chick-fil-A Bowl.
39. Austin Box, S (Enid, Okla./Enid)

After redshirting in 2007, Box played in 10 games and started four at middle linebacker in 2008. He missed the first five games of the 2010 season due to a back injury and finished the season with 29 tackles and one interception.
40. Logan Gray, QB (Columbia, Mo./Rock Bridge)

He redshirted in 2007 and then was stuck behind Matt Stafford in 2008, but contributed on special teams. Gray completed only five of 12 passes in 2009 and then switched to wide receiver in 2010, after contemplating a transfer. He caught nine passes for 105 yards and one touchdown.
41. John Chiles, WR (Arlington, Texas/Summit)

Chiles appeared in seven games at quarterback as a true freshman and gradually played more wide receiver until he made the switch to receiver prior to 2009. In 2010, he made seven starts at receiver, finishing with 29 receptions, 418 yards and one touchdown.
42. Richetti Jones, DE (Dallas, Texas/Lincoln)

After redshirting in 2007, he saw action in nine games in 2008. He played in every game, but one in 2009 and recorded 29 tackles, three sacks and a forced fumble in 2010.
43. Dominique Herald, S (Pennington, N.J./Pennington School)

Herald played in all 13 games as a reserve defensive back and special teams performer in 2007. He played in just one game in 2008 before missing the rest of the season due to a knee injury. He transferred to Delaware State in 2010.
44. James Wilson, OG (Saint Augustine, Fla./Nease)

After redshirting in 2007, Wilson saw action in 10 games in 2008. He played in all 14 of Florida's games in 2009, but was hampered by a knee injury early in the 2010 season.
45. Clint Brewster, QB (Littleton, Colo./J.K. Mullen)

After redshirting in 2007, Brewster went to the College of Sequoias in 2008. He joined the Tennessee Tech roster in July 2008, but has sat on the bench since.
46. Kevin Bryant, OT (Hallandale, Fla./Boyd Anderson)

Bryant redshirted as a freshman and then appeared in seven games as a reserve lineman in 2008 before reinjuring his wrist midway through the season. Bryant failed to report to training camp in 2009.
47. Ronald Johnson, CB (Muskegon, Mich./Muskegon)

Johnson was USC's No. 1 kick returner as a true freshman and was gradually implemented as a receiver in 2008. Despite missing five games in 2009 with a broken collarbone, he finished with 34 catches for 378 yards and three touchdowns. In 2010, he was first in receiving touchdowns and is expected to be selected in the middle rounds of the 2011 draft.
48. Caleb King, RB (Norcross, Ga./Greater Atlanta Christian School)

King appeared in 11 games as a sophomore after redshirting as a freshman. He made five starts in 2009, totaling 594 yards and seven touchdowns. In 2010, he was second on the team in rushing yards with 430 yards.
49. Aaron Hernandez, TE (Bristol, Conn./Bristol Central)

Hernandez appeared in all 13 games in 2007, starting three, and in 2008, starting 11. As a junior, he started 13 games, led the team in receptions and was second in receiving yards. Hernandez was the first Gator and first TE from the SEC to win the John Mackey Award. He also was a first-team All-American and drafted in the fourth round of the 2010 draft by the New England Patriots.
50. Lennon Creer, RB (Tatum, Texas/Tatum)

Creer appeared in 13 games as a freshman and rushed for 388 yards as a sophomore at Tennessee. He transferred to Louisiana Tech in 2009 and had to sit out due to NCAA transfer rules. In 2010, he rushed for 1,181 yards and 10 touchdowns.
More rankings: 1-25 | 26-50 | 51-75 | 76-100 | 101-125 | 126-150
SPONSORED HEADLINES
MORE COLLEGE FOOTBALL HEADLINES
MOST SENT STORIES ON ESPN.COM
COUNTDOWN TO NATIONAL SIGNING DAY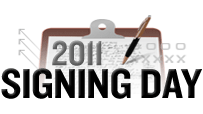 National signing day is closing in fast and ESPN Recruiting will have you prepared by the time players start signing their national letters of intent and faxing them in on Wednesday, Feb. 2.
ESPNU 150 | Class rankings | Scorecard
---
•
Updated ESPNU 150
•
Scouts on why players moved up
•
Checking in on uncommitted 150 players
•
Clowney is No. 1 wire-to-wire
•
Haubert: Chat wrap
•
Updated class rankings
2007 ESPNU 150: Where are they now?
•
No. 1-25: ND's QB to WR combo pans out
•
No. 26-50: Dez Bryant dominates right away
•
No. 51-75: Cam Newton from Gator to Tiger
•
No. 76-100: OL Vlachos, Bulaga come up big
•
No. 101-125: Morgan, Sturdivant shine in ACC
•
No. 126-150: Forcier, Bostick never pan out
•
Reranking 2007's top 10 classes
•
Hits and misses from 2007 class
•
All Class of 2007 team photo gallery
Conference breakdowns
•
ACC: Seminoles leading the way
•
Big Ten: Buckeyes at the top again
•
Big 12: OU, UT in their own class
•
Pac-12: Trojans still getting it done
•
SEC: Alabama on top of loaded conference
•
Big East: Louisville coming on strong
•
Best of the rest: ND, TCU dreaming big
Who's still out there?
•
Best available QBs
|
All uncommitted QBs
•
Best available RBs
|
All uncommitted RBs
•
Best available FBs
|
All uncommitted FBs
•
Best available WRs
|
All uncommitted WRs
•
Best available TEs
|
All uncommitted TEs
•
Best available OTs
|
All uncommitted OTs
•
Best available OGs
|
All uncommitted OGs
•
Best available Cs
|
All uncommitted Cs
•
Best available DTs
|
All uncommitted DTs
•
Best available DEs
|
All uncommitted DEs
•
Best available ILBs
|
All uncommitted ILBs
•
Best available OLBs
|
All uncommitted OLBs
•
Best available CBs
|
All uncommitted CBs
•
Best available S
|
All uncommitted S
•
Best available ATHs
| |
All uncommitted ATHs
•
Signing day preview:
Everything you need to know for the big day