Commentary
Cameron Newton from Gator to Tiger
Originally Published:
January 31, 2011
By
ESPN Recruiting
Here is a look at how the prospects from No. 51 to No. 75 in the 2007 ESPNU 150 have fared.
More rankings: 1-25 | 26-50 | 51-75 | 76-100 | 101-125 | 126-150
2007 ESPNU 150 - Where Are They Now?
51. Phelon Jones, CB (Mobile, Ala./McGill Toolen Catholic)

After redshirting in 2007 at LSU, Jones played in nine games, starting two in 2008. Jones transferred to Alabama after the 2008 season, sat out 2009 due to transfer rules and finished the 2010 season with 16 tackles.
52. DeAngelo Benton, WR (Bastrop, La./Bastrop)

Benton fell short of qualifying academically with LSU in 2007 and 2008. In 2009, he signed with Auburn and caught six passes for 88 yards. In 2010, he made one appearance but missed time due to hand and ankle injuries.
53. Dewey Elliot, ILB (Fairfield, Ohio/Fairfield Senior)

Elliot was the second best inside linebacker in the class and was considering Ohio State, Cincinnati, Michigan State, Michigan and West Virginia. He did not commit anywhere and did not play after high school.
54. Lee Chambers, RB (Coffeeville, Miss./Coffeeville)

Chambers played in four games as a kickoff return specialist in 2007. Chambers totaled 60 carries, 269 yards and one touchdown in his sophomore and junior seasons combined, before switching to defensive back in 2010.
55. Mike Ragone, TE (Cherry Hill, N.J./ Camden Catholic)

After playing in 11 games in 2007 on special teams and as a reserve tight end, he missed the entire 2008 season due to a torn ACL. He saw action in 12 games in 2009, starting seven, and played in three games in 2010.
56. Dwight Jones, WR (Burlington, N.C./Burlington Cummings)

After failing to qualify academically with UNC, Jones enrolled in Hargrave Military Academy in 2007. After originally failing to qualify again in 2008, Jones enrolled with Valdosta State, but a mistake was found and he was allowed to enroll with UNC. After redshirting in 2008 and catching five passes in 2009, Jones led the Tar Heels in receptions (57), receiving yards (895) and receiving touchdowns (4).
57. Mark Barnes, S (Columbia, S.C./Richland Northeast)

Barnes moved to wide receiver early in 2007 season before missing most of the year due to a shoulder injury. Barnes reportedly was going to transfer to Florida A&M, but never made it.
58. Cameron Newton, QB (Atlanta, Ga./Westlake)

After earning a backup QB role in 2007 behind Tim Tebow and redshirting due to an ankle injury in 2008 at Florida, Newton transferred to Blinn College in 2009 and led it to a NJCAA National Football Championship. He enrolled with Auburn in 2010 and led the Tigers to a No. 1 ranking, while winning the Heisman Trophy, Davey O'Brien Award, Maxwell Award and Walter Camp Award. He is expected to be drafted in the first round of the 2011 draft.
59. Tim Lamb, DT (Tallahassee, Fla./Lincoln)

Lamb failed to qualify academically with Auburn and enrolled with Hargrave Military Academy. Lamb signed with Troy in 2008 and redshirted his first year, but was not on the roster in 2009.
60. Jarrett Lee, QB (Brenham, Texas/Brenham)

Lee redshirted in 2007 and started eight games in 2008 before being sidelined for the rest of the season with an ankle injury. He served as the backup in 2009 and played in seven games. In 2010, he threw for 573 yards and two touchdowns.
61. Joe Hills, WR (Palmetto, Fla./Palmetto)

After redshirting in 2007, Hills played in 11 of 13 games and made three starts in 2008. In 2009, he transferred to Tennessee State, where he finished with 39 catches for 538 yards and three touchdowns. In 2010, he finished with 40 catches, 462 yards and four touchdowns. He is considered a borderline pick in April's NFL draft.
62. Lee Ziemba, OT (Rogers, Ark./Rogers)

He started all 13 games in 2007 and was named to the first-team Freshman All-American team. Ziemba went on to start every game of his college career. He won the Jacobs Blocking Trophy in 2010, which is given the conference's best blocker. He is expected to be drafted somewhere in the third round of the 2011 draft.
63. Harland Gunn, OG (Omaha, Neb./Omaha Central)

After redshirting in 2007, Gunn participated mostly on the scout team in 2008. He started five games in 2009 at right guard and again in 2010 as well.
64. D'Angelo McCray, DT (Jacksonville, Fla./Andrew Jackson)

McCray redshirted at Illinois in 2007, before transferring to Eastern Illinois. After playing in 2008 for Eastern Illinois, he transferred to Coffeyville Community College in 2009 and then transferred to Memphis University in 2010 totaling six tackles.
65. Keenan Robinson, OLB (Plano, Texas/Plano East Sr.)

After redshirting in 2007, Robinson appeared in 12 games at outside linebacker and special teams in 2008. In 2009, he started 14 games at outside linebacker and earned honorable mention All-Big 12. He appeared in every game in 2010, finishing with 188 tackles.
66. Tydreke Powell, WR (Ahoskie, N.C./Hertford County)

After redshirting in 2007, Powell played in 12 of 13 games in 2008 and started once. He played in Carolina's regular rotation at defensive end, finishing with 24 tackles. In 2010, Powell played in every game and totaled 45 tackles, three sacks and one forced fumble.
67. Ben Martin, DE (Cincinnati, Ohio/La Salle)

Martin appeared in eight games in 2007 and all 12 in 2008 as a backup defensive lineman. In 2009, he appeared in 13 games, starting 11 and totaled 34 tackles and three sacks. Despite missing his 2010 season with a torn Achilles tendon, he is expected to be a late-round draft pick or undrafted free agent.
68. Martin Coleman, OT (Huntington Beach, Calif./Edison)

After graduating early and enrolling in the spring of 2007, Coleman redshirted and had surgery on his shoulder. He sprained his ankle early in 2008 and missed the season and did not see any action in 2009 while recuperating from the ankle injury. He backed up Tyron Smith in 2010.
69. Jerimy Finch, S (Indianapolis, Ind./Warren Central)

He appeared in three games at linebacker for Florida before suffering a broken leg, which ended his season. He was released by the Gators and enrolled at Indiana in 2008. He played in five games in 2008 and seven in 2009. He left the program in May 2010.
70. Apaiata Tuihalamaka, DE (Gardena, Calif./Junipero Serra)

Tuihalamaka redshirted in 2007 as a linebacker for the Wildcats. He played in 12 games during the 2008 season and nine in 2009. In 2010, he played in 13 games (four starts) and totaled 23 tackles and 1.5 sacks.
71. Ryan Miller, OT (Littleton, Colo./Columbine Senior)

Miller played in 10 games, starting seven, in 2007 and earned Freshman All-American honors. Miller was the first tackle to play as a true freshman at Colorado since 1989. In 2008, he was granted a medical hardship after missing a bulk of the year due to a broken fibula. He started all 12 games in 2009 and 2010.
72. Kerry Murphy, DT (Hoover, Ala./Hoover)

After originally signing with Alabama in 2007, Murphy enrolled at Hargrave Military Academy and played there in 2007 and 2008. In 2009, he enrolled at Alabama and played six games as a true freshman. In 2010, he played in four games totaling nine tackles.
73. Dionte Allen, CB (Orchard Lake, Mich./Saint Mary's Prep)

Allen redshirted in 2007 and played in five games in 2008. In 2009, he appeared in nine games with one start and suffered a broken thumb, which sidelined him for four games. Allen was granted his release from FSU in 2010 and transferred to Ohio State.
74. Jamire Williams, CB (Jacksonville, Fla./First Coast)

Williams redshirted in 2007 with the Gamecocks and decided to leave South Carolina and transfer to Alabama State after receiving sparse playing time. In 2009 and 2010, he played in nine games. Over those two seasons, he had 19 tackles and seven passes defended.
75. Jonathan Dwyer, RB (Marietta, Ga./Kell)

Dwyer played in 13 games as a true freshman, rushing for 436 yards and nine touchdowns. He was named to the ACC All-Freshman team. In 2008, he rushed for 1,328 yards and 12 touchdowns on his way to being named ACC Player of the Year. As a junior, he rushed for 1,395 yards and 14 touchdowns and then was drafted by the Pittsburgh Steelers in the sixth round of the 2010 draft.
More rankings: 1-25 | 26-50 | 51-75 | 76-100 | 101-125 | 126-150
SPONSORED HEADLINES
MORE COLLEGE FOOTBALL HEADLINES
MOST SENT STORIES ON ESPN.COM
COUNTDOWN TO NATIONAL SIGNING DAY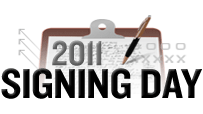 National signing day is closing in fast and ESPN Recruiting will have you prepared by the time players start signing their national letters of intent and faxing them in on Wednesday, Feb. 2.
ESPNU 150 | Class rankings | Scorecard
---
•
Updated ESPNU 150
•
Scouts on why players moved up
•
Checking in on uncommitted 150 players
•
Clowney is No. 1 wire-to-wire
•
Haubert: Chat wrap
•
Updated class rankings
2007 ESPNU 150: Where are they now?
•
No. 1-25: ND's QB to WR combo pans out
•
No. 26-50: Dez Bryant dominates right away
•
No. 51-75: Cam Newton from Gator to Tiger
•
No. 76-100: OL Vlachos, Bulaga come up big
•
No. 101-125: Morgan, Sturdivant shine in ACC
•
No. 126-150: Forcier, Bostick never pan out
•
Reranking 2007's top 10 classes
•
Hits and misses from 2007 class
•
All Class of 2007 team photo gallery
Conference breakdowns
•
ACC: Seminoles leading the way
•
Big Ten: Buckeyes at the top again
•
Big 12: OU, UT in their own class
•
Pac-12: Trojans still getting it done
•
SEC: Alabama on top of loaded conference
•
Big East: Louisville coming on strong
•
Best of the rest: ND, TCU dreaming big
Who's still out there?
•
Best available QBs
|
All uncommitted QBs
•
Best available RBs
|
All uncommitted RBs
•
Best available FBs
|
All uncommitted FBs
•
Best available WRs
|
All uncommitted WRs
•
Best available TEs
|
All uncommitted TEs
•
Best available OTs
|
All uncommitted OTs
•
Best available OGs
|
All uncommitted OGs
•
Best available Cs
|
All uncommitted Cs
•
Best available DTs
|
All uncommitted DTs
•
Best available DEs
|
All uncommitted DEs
•
Best available ILBs
|
All uncommitted ILBs
•
Best available OLBs
|
All uncommitted OLBs
•
Best available CBs
|
All uncommitted CBs
•
Best available S
|
All uncommitted S
•
Best available ATHs
| |
All uncommitted ATHs
•
Signing day preview:
Everything you need to know for the big day