Commentary
Trojans overcoming obstacles
Originally Published:
January 27, 2011
By
Corey Long
| ESPN Recruiting
With national signing day (Feb. 2) around the corner, here is a breakdown of how things are looking in the Pac 12. Schools are listed in alphabetical order, not in order of their rank in the conference.

Commits:
17 |
ESPNU 150:
0
Overview: With such a strong year in the state of Arizona it's a little surprising that the Wildcats just signed one of the state's top 10 prospects. California, however, still remains a major part of Arizona's recruiting strategy.
Top prospect: Four-star linebacker Rob Hankins (Dallas, Texas/Parish Episcopal) is a tackling machine and a very smart player with great natural instincts. The 6-foot-1, 214-pounder is great in blitz situations and is athletic enough to cover inside receivers.
Don't be surprised if: The Wildcats are able to add cornerback Dominique Petties (Duncan, Okla./Duncan) to this class. The 6-0, 205-pound cornerback took an official visit to Arizona last week and is working on taking a visit to Pittsburgh this weekend.
---

Commits:
16 |
ESPNU 150:
0
Overview: The Sun Devils are still in the hunt for a couple of big names but the class as it stands now is more focused on the offensive side of the ball. Arizona State has nearly as many prospects from Florida (3) as it does from Arizona (4).
Top prospect: Four-star wide receiver Quinton Pedroza (Chino, Calif./Chino) didn't play football until he was a senior but got a lot of looks as he went through his senior year. The 6-2, 205-pounder could be one of the biggest steals in the Pac-12. Running back Steward Butler (Lakeland, Fla./Lakeland) rushed for over 3,000 yards as a senior.
Don't be surprised if: Arizona State grabs another couple of big names. They are in the hunt for offensive linemen Cyrus Hobbi (Scottsdale, Ariz./Saguaro), Mo Latu (Gilbert, Ariz./Perry) and defensive lineman Todd Peat Jr. (Tempe, Ariz./Corono Del Sol), and one of them will come through for ASU.
---

Commits:
18 |
ESPNU 150:
5
Overview: Despite having five ESPNU 150 commits this class has flown under the radar a bit. Despite the lack of publicity there are some big names in this class and players that will help on defense immediately.
Top prospect: Defensive tackle Todd Barr (Lakewood, Calif./Lakewood) and nose guard Viliami Moala (Sacramento, Calif./Grant) will bring some major athleticism and size to the Bears' defensive line. Add in defensive back Brennan Scarlett (Portland, Ore./Central Catholic) and that's a heck of a defensive class.
Don't be surprised if: California adds defensive back Stefan McClure (Vista, Calif./Vista) to its already impressive class. The 5-11, 180-pounder will be making his announcement before lunch time hits on the east coast.
---

Commits:
14 |
ESPNU 150:
0
Overview: New Colorado head coach Jon Embree was with the Buffaloes during their more successful times, and his time with UCLA will help him find the right players to compete over time. Right now Embree just wants to keep a small class together and maybe add a few parts.
Top prospect: Junior college quarterback transfer Brent Burnette (Arizona Western College) was brought it to compete with returning senior Tyler Hansen and the Buffaloes staff hopes one of the two players will emerge.
Don't be surprised if: Colorado adds a few more pieces. The Buffaloes don't have room for a class of more than 17-18 prospects but they need upgrades at most positions so they will be going after the best available players.
---

Commits:
23 |
ESPNU 150:
5
Overview: It's no surprise the Ducks have brought in a strong class fresh off of their appearance in the BCS championship game. This class is not only talented but fills some holes that will make the Ducks even better in the future.
Top prospect: Four-star athlete Devon Blackmon (Fontana, Calif./Summit) didn't play much receiver in high school but he showed a great natural comfort with the position during the week of practices leading up to the Under Armor All-American game. Then he went out and caught a touchdown pass in the game.
Don't be surprised if: Blackmon and Tacoi Sumler (Miami, Fla./Christopher Columbus) make an immediate difference in the downfield passing game for Oregon. In the BCS title game Oregon's lack of a home-run threat at wide receiver became apparent. Blackmon and Sumler erase that issue.
---

Commits:
29 |
ESPNU 150:
0
Overview: Even with 29 prospects in the class Oregon State remains high on a few players' boards, which means some things could change on signing day. While California prospects make up a major part of this class the Beavers will sign prospects from Hawaii, Oklahoma, Missouri and Texas as well.
Top prospect: Three-star wide receiver Brandin Cooks (Stockton, Calif./Lincoln) is going to be an immediate producer in the return game and the former UCLA commit will probably get several opportunities in the passing game.
Don't be surprised if: Oregon State only signs 23-25 players. They might have 29 listed commits but that number is a big high given the available slots.
---

Commits:
18 |
ESPNU 150:
2
Overview: Stanford lost its biggest name (former head coach Jim Harbaugh) to the NFL but kept its other marquee face (quarterback Andrew Luck), and that helped Stanford keep some of the momentum from a strong 2010 season.
Top prospect: Stanford fans have to admit they were a little surprised to see four-star linebacker James Vaughters (Tucker, Ga./Tucker) stick with his commitment after Harbaugh left but the 6-2, 230-pounder is going to be a major presence in the Cardinal defense.
Don't be surprised if: Defensive back prospects Wayne Lyons (Fort Lauderdale, Fla./Dillard) and Jordan Richards (Folsom, Calif./Folsom) are also immediate contributors in the program. Both players are there physical and as long as Lyons doesn't have any lingering effects from a lower body injury he should play.
---

Commits:
9 |
ESPNU 150:
1
Overview: Expect a few more names in this class to round things out to about 15 signings because UCLA is still in the hunt for over a half dozen players.
Top prospect: It seems like the immediate future of the program is reliant on the development of quarterback Brett Hundley (Chandler, Ariz./Chandler). The Bruins desperately need strong quarterback play and Hundley one of the best in this class.
Don't be surprised if: Something big breaks UCLA's way in the next week. Maybe its McClure, Hobbi or defensive tackle Kevin McReynolds (Silver Springs, Md./St. John's), but the Bruins will find another difference maker or two in this class.
---

Commits:
26 |
ESPNU 150:
7
Overview: Sanctions? What sanctions? How has USC responded to a two-year bowl ban and losing 30 scholarships over three years? With a top-5 recruiting class that is filled with stars up and down the chart.
Top prospect: Is it the top wide receiver in the nation in George Farmer (Gardena, Calif./Junipero Serra) or the top athlete in the nation in DeAnthony Thomas (Crenshaw, Calif./Crenshaw)? Does it really matter?
Don't be surprised if: The Trojans have to make some concessions on signing day. Having eight early enrollees helps because they count against the 2010 number, and there are transfers and players leaving the program. Still, UCS has more players who want to be part of the program than they have slots available. So some prospects might have to greyshirt or find new homes. USC is a victim of its own success.
---

Commits:
19 |
ESPNU 150:
0
Overview: It was a solid year for prospects in Utah and the Utes signed six of the top dozen in the state. Joining the Pac-12 also required Utah to continue having a strong presence in California, but they were a bit more selective there.
Top prospect: Running back Harvey Langi (South Jordan, Utah/Bingham) is a big, powerful back that would rather carry defenders down the field than elude them. Going against the bigger defensive lines in the Pac-12, Langi will be a big piece of the future offenses in Utah.
Don't be surprised if: The Utes land four-star tight end Junior Pomee (Moreno Valley, Calif./Rancho Verde). Both Pomee and his teammate, Utah commit Ryan Henderson, have been thinking heavily about USC but Utah will retain Henderson and add Pomee.

Commits:
26 |
ESPNU 150:
3
Overview: Steve Sarkisian is going to bring in some talent and this almost-complete class is good enough for top five in the conference. However, the Huskies still have some irons in the fire and will try to get even better with one week remaining.
Top prospect: Four-star wide receiver Kasen Williams (Sammamish, Wash./Skyline) is going to give the Huskies a strong pass catching option in the offense. Williams isn't necessarily a home run threat but he's the type of guy that will rack up catches and make a difference in the red zone.
Don't be surprised if: Washington cracks the top 20. Right now the Huskies are at 22 and just one or two more solid prospects (quarterback Jacoby Brissett, perhaps) could push Washington into the top 20 nationally.
---

Commits:
23 |
ESPNU 150:
0
Overview: The Cougars just need players and to the credit of head coach Paul Wulff they are trying as many options as they can, from junior college to recruiting sleepers on the east coast. Every prospect they recruit could be called on to play early.
Top prospect: Three-star receiver Dominique Williams (Pomona, Calif./Garey) is a big-play receiver that gives the Cougars a real outside threat. He should contribute early and get the ball often.
Don't be surprised if: The Cougars have to fight to keep Williams and other commits at the final hour. The loss of running back Bishop Sankey (Spokane, Wash./Gonzaga Prep) to rival Washington shows that none of the Cougars' top prospects are safe.
Corey Long has been covering high school football and recruiting in the Sunshine State since 1995. He can be reached at coreyespn@gmail.com.
Reporter, RecruitingNation
Covers recruiting in the Southeast
Joined ESPN in 2009
SPONSORED HEADLINES
MORE COLLEGE FOOTBALL HEADLINES
MOST SENT STORIES ON ESPN.COM
COUNTDOWN TO NATIONAL SIGNING DAY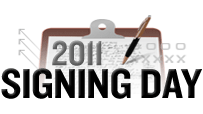 National signing day is closing in fast and ESPN Recruiting will have you prepared by the time players start signing their national letters of intent and faxing them in on Wednesday, Feb. 2.
ESPNU 150 | Class rankings | Scorecard
---
•
Updated ESPNU 150
•
Scouts on why players moved up
•
Checking in on uncommitted 150 players
•
Clowney is No. 1 wire-to-wire
•
Haubert: Chat wrap
•
Updated class rankings
2007 ESPNU 150: Where are they now?
•
No. 1-25: ND's QB to WR combo pans out
•
No. 26-50: Dez Bryant dominates right away
•
No. 51-75: Cam Newton from Gator to Tiger
•
No. 76-100: OL Vlachos, Bulaga come up big
•
No. 101-125: Morgan, Sturdivant shine in ACC
•
No. 126-150: Forcier, Bostick never pan out
•
Reranking 2007's top 10 classes
•
Hits and misses from 2007 class
•
All Class of 2007 team photo gallery
Conference breakdowns
•
ACC: Seminoles leading the way
•
Big Ten: Buckeyes at the top again
•
Big 12: OU, UT in their own class
•
Pac-12: Trojans still getting it done
•
SEC: Alabama on top of loaded conference
•
Big East: Louisville coming on strong
•
Best of the rest: ND, TCU dreaming big
Who's still out there?
•
Best available QBs
|
All uncommitted QBs
•
Best available RBs
|
All uncommitted RBs
•
Best available FBs
|
All uncommitted FBs
•
Best available WRs
|
All uncommitted WRs
•
Best available TEs
|
All uncommitted TEs
•
Best available OTs
|
All uncommitted OTs
•
Best available OGs
|
All uncommitted OGs
•
Best available Cs
|
All uncommitted Cs
•
Best available DTs
|
All uncommitted DTs
•
Best available DEs
|
All uncommitted DEs
•
Best available ILBs
|
All uncommitted ILBs
•
Best available OLBs
|
All uncommitted OLBs
•
Best available CBs
|
All uncommitted CBs
•
Best available S
|
All uncommitted S
•
Best available ATHs
| |
All uncommitted ATHs
•
Signing day preview:
Everything you need to know for the big day