Commentary
Jadeveon Clowney continuing a trend
Clowney will be the sixth elite prospect in seven years to decide after signing day
Originally Published:
February 1, 2011
By
Jamie Newberg
| ESPN Recruiting
One trend that has arisen over the past few years is top prospects electing not to sign on national signing day and it looks like that will continue with No. 1 overall Jadeveon Clowney (Rock Hill, S.C./South Pointe), who needs more time to make his decision.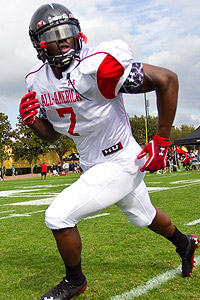 Davide De Pas/ESPN.comWhichever school lands Jadeveon Clowney will quickly realize he was worth the wait.
National signing day is the first day a recruit can sign his their letter of intent, but he has until April 1 to make the decision and during five of the last six recruiting seasons top prospects have extended the recruiting process. In 2006, wide receiver Vidal Hazelton waited until the end of February to sign with USC. In 2008, quarterback Terrelle Pryor made the call in mid-March to sign with Ohio State. The following year, running back Bryce Brown signed with Tennessee on March 16 and last year it was the top offensive line prospect in the Class of 2010, Seantrel Henderson, who played the waiting game. He signed with USC on March 24 before being later released and transferring to Miami.
"I think it's somewhat of a trend," said USC recruiting and defensive coordinator Ed Orgeron, who was also at Tennessee for Brown's late decision. "It's the big send off for that top kid and it's not on national signing day. But as we know, there is so much pressure on that top player. Everyone, I mean everyone, is tugging on their coat tails. Now they are taking time with their decision because they need to make sure."
Clowney will wait until his birthday, Feb. 14, to make his decision between South Carolina, Alabama and Clemson.
"I need the extra time. I need all those days," Clowney said. "I will have the decision then. I mean right now I am very close."
While Clowney is wavering between a few schools his high school coach believes it's also hard for him to end his high school career.
"I think the hardest part with Jadeveon is ending the relationships he has with all those schools," South Pointe coach Bobby Carroll said. "Now he wants to announce on his 18th birthday. He knows that it has to come to an end. I have been with him three years and you never want to think about an end of something. It's the end of an era. It's coming to fruition in two more weeks and it's over. Some lucky college will land that kid."
However, Clowney isn't the only prospect in this year's class that may wait beyond signing day. West Palm Beach (Fla.) Dwyer teammates, quarterback Jacoby Brissett and outside linebacker Curt Maggitt may not sign Wednesday. Brissett is down to Miami, Wisconsin, Washington, Florida and Washington while Maggitt has three favorites in Florida, Wisconsin and Tennessee. Junior college defensive tackle standout Jonathan Jenkins (Meriden, Conn./Gulf Coast C.C.) wants to wait until Saturday before making his decision between Georgia, Florida, Oklahoma State and Miami.
"I don't really see it as a trend, we have just seen it with some high-profile kids so it gets more magnified," said ESPN National Director of Recruiting Tom Luginbill. "Every prospect may have a different reason for delaying their signing -- some legitimate and some not. What you hate to see is guys doing it just for the sake of added exposure and attention because the teams in contention need closure to their class and are ready to move on."
Jamie Newberg has been covering recruiting both in the Southeast and nationally for 19 years. He can be reached at jamienewbergbw@yahoo.com.
RecruitingNation
Jamie Newberg covers recruiting in the Southeast.
Email him at jamienewbergbw@yahoo.com.
COUNTDOWN TO NATIONAL SIGNING DAY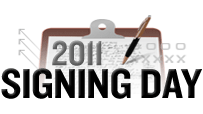 National signing day is closing in fast and ESPN Recruiting will have you prepared by the time players start signing their national letters of intent and faxing them in on Wednesday, Feb. 2.
ESPNU 150 | Class rankings | Scorecard
---
•
Updated ESPNU 150
•
Scouts on why players moved up
•
Checking in on uncommitted 150 players
•
Clowney is No. 1 wire-to-wire
•
Haubert: Chat wrap
•
Updated class rankings
2007 ESPNU 150: Where are they now?
•
No. 1-25: ND's QB to WR combo pans out
•
No. 26-50: Dez Bryant dominates right away
•
No. 51-75: Cam Newton from Gator to Tiger
•
No. 76-100: OL Vlachos, Bulaga come up big
•
No. 101-125: Morgan, Sturdivant shine in ACC
•
No. 126-150: Forcier, Bostick never pan out
•
Reranking 2007's top 10 classes
•
Hits and misses from 2007 class
•
All Class of 2007 team photo gallery
Conference breakdowns
•
ACC: Seminoles leading the way
•
Big Ten: Buckeyes at the top again
•
Big 12: OU, UT in their own class
•
Pac-12: Trojans still getting it done
•
SEC: Alabama on top of loaded conference
•
Big East: Louisville coming on strong
•
Best of the rest: ND, TCU dreaming big
Who's still out there?
•
Best available QBs
|
All uncommitted QBs
•
Best available RBs
|
All uncommitted RBs
•
Best available FBs
|
All uncommitted FBs
•
Best available WRs
|
All uncommitted WRs
•
Best available TEs
|
All uncommitted TEs
•
Best available OTs
|
All uncommitted OTs
•
Best available OGs
|
All uncommitted OGs
•
Best available Cs
|
All uncommitted Cs
•
Best available DTs
|
All uncommitted DTs
•
Best available DEs
|
All uncommitted DEs
•
Best available ILBs
|
All uncommitted ILBs
•
Best available OLBs
|
All uncommitted OLBs
•
Best available CBs
|
All uncommitted CBs
•
Best available S
|
All uncommitted S
•
Best available ATHs
| |
All uncommitted ATHs
•
Signing day preview:
Everything you need to know for the big day
MORE COLLEGE FOOTBALL HEADLINES
Nike Men's Ohio State Buckeyes Script Ohio Local Attribute T-shirt Shop »
MOST SENT STORIES ON ESPN.COM