Commentary
Justin Horton shines at Nike combine
Originally Published:
February 20, 2011
By
Brian Stumpf
| ESPN RISE
MIAMI -- The 2011 Nike SPARQ combine tour continued Saturday in South Florida at North Miami Stadium, where more than 900 aspiring prospects enjoyed sunny skies and 80 degree temperatures to test and compete for a spot in the second annual SPARQ rating national championship later this summer.
But it was a prospect from Central Florida who upstaged the local players and posted posting the nation's top SPARQ rating through the first four Nike SPARQ Combines.
Here is a look at the day's best performers.
Top rising senior performer
[+] Enlarge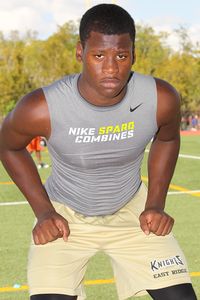 Tom HauckJustin Horton posted the day's top SPARQ rating.
Justin Horton, LB, (Clermont, Fla./East Ridge)
Horton has been in contact with USF already and is on a few recruiting lists in the central part of the Sunshine State, but his showing Saturday could significantly accelerate his recruiting process. The 6-foot-2, 207-pound outside linebacker posted the nation's top SPARQ rating to date at 115.95. He had a 4.58 40, a 4.47 shuttle, a 41-foot power ball toss and a 37'1" vertical jump.
Rising senior honorable mentions
Faton Bauta, QB, (Palm Beach Gardens, Fla./Dwyer)
Bauta makes this list for the second straight week. The New York transplant, who stood out at last week's Philly Nike event, posted a 101.85 rating and the two-time All-Brooklyn and all-state selection could have Dwyer coach Jack Daniels feeling better about the loss of Florida-signee Jacoby Brisset to graduation.
Adrian Burton, CB, (Pompano Beach, Fla./Ely)
The 5-10 ½, 171-pound Burton posted the day's fifth-best SPARQ rating at 98.46 with a 4.67 40, 4.22 shuttle and impressive 38-foot power ball throw. Burton will return for his second Nike camp at Miami on March 27th as he looks for that elusive first offer.
Pedro Sibiea, DL, (Homestead, Fla./Homestead) Sibiea, who recently picked up his first offer from the Florida Gators, made his second-straight appearance at the Miami combine. The 6-3, 260-pounder clocked a 4.87 40 and threw the power ball a combine-best 42-feet on his way to a 95.10 SPARQ rating, which is 12 points higher than he posted a year ago and also now ranks him second in the nation in terms of SPARQ rating for a defensive linemen. He trails Ifeadi Odenigbo, who posted a 109.02 at the Ohio combine and was recently offered by Ohio State.
Cameron Smith, LB, (Coral Springs, Fla./Taravella)
A third-team all-Broward County pick last fall, the 6-2, 207-pound Smith ran a 4.67 in the 40 and a quick 4.56 shuttle. Smith showed good strength with his 38-foot power ball toss and 33.2-inch vertical jump. Finished with a 94.50 rating, which was seventh overall at the event.
Herb Waters, WR, (Homestead, Fla./Homestead)
The 5-11 ½, 173-pound wideout clocked one of the combine's fastest 40-yard dashes at 4.51, but also showed remarkable explosive strength with a 41-foot power ball toss on his way to the event's second-best SPARQ rating at 102.63. Waters, who led Homestead in rushing last fall, is still waiting for his first offer.
Top underclass performer
Paul James, DL, (Miami, Fla./Dr. Krop) Class of 2013
James earned third-team all-Dade honors last year and checked in at a solid 6-3, 239 pounds. He clocked a 4.37 shuttle, a 5.06 40 and throwing the power ball 38-feet for an 88.50 rating.
Underclass honorable mentions
Fred Coppet, RB, (Ft. Lauderdale, Fla./St. Thomas Aquinas) Class of 2013
Coppet who was the bellcow for the Raiders in last year's Class 5A state title win over Tampa Plant, has packed on 23 pounds since he attended this event last year. Now 5-9, 174 pounds, he ran a very good 4.61 40 Saturday to go along with a 34.4-inch vertical jump to finish with a SPARQ rating of 83.70.
Rayfield Dixon, ATH, Seminole Ridge (Loxahatchee, Fla./Seminole Ridge) Class of 2013 Seminole Ridge coach Matt Dickmann calls Dixon a "national recruit" in two years and the combo WR/DE might eventually be a college linebacker according to his coach. He measured 6-1 ½, 179 pounds and ran a 4.77 40, a 4.34 shuttle and threw the power ball 37 feet, finishing with a 88.05 rating. Dixon saw spot duty on both sides of the ball last fall but is expected to have a much bigger role this season.
Akeem Jones, QB, (Miami, Fla./Carol City) Class of 2013
Jones is blessed with a 6-3,190-pound frame and well-above average athletic ability for a quarterback. He finished with a 81.12 SPARQ rating on the strength of a 4.34 shuttle and 34.2-inch vertical. He'll display his passing ability at the Elite 11 regional camp in Orlando.
Matthew Thomas, LB, (Miami, Fla./Booker T. Washington) Class of 2013
Thomas, 6-3,186 pounds, saw significant time last fall as a sophomore for the Tornadoes. He recorded an 84.54 SPARQ rating headlined by a 4.68 40 and 39-foot power ball throw.
Joshua Williams, LB, (Ft. Lauderdale, Fla./Dillard) Class of 2013
Williams, 6-foot, 202 pounds, had event's top rating for an underclassmen, which is impressive considering this he is not a small, skill-position athlete who has an advantage in the tests of the 40, shuttle and vertical. Williams had a solid 4.81 40 and 31.6-inch vertical jump but excelled with a 41.5 foot power ball toss en route to a 90.00 rating.
Miami Nike SPARQ combine top fives
SPARQ rating
1. Justin Horton, LB, East Ridge (Clermont, Fla.) 115.95
2. Herbert Waters, WR, Homestead (Homestead, Fla.) 102.63
3. Faton Bauta, QB, William T. Dwyer (Jupiter, Fla.) 101.85
4. David Rivers, DB, American (Hialeah, Fla.) 100.14
5. Adrian Burton, DB, Blanche Ely (Pompano Beach, Fla.) 98.46

40-yard dash 1. John Green, WR, Felix Varela (Miami, Fla.) 4.46
2. Herbert Waters, WR, Homestead (Homestead, Fla.) 4.51
2. Billy Crook, QB, Naples (Naples, Fla.) 4.51
4. Jimmie Roberts, DB, Timber Creek (Orlando, Fla.) 4.52
T-5. Steven Williams, RB, Naples (Naples, Fla.) 4.53
T-5. Isaiah Johnson, ('13), RB, Wekiva (Orlando, Fla.) 4.53

20-yard shuttle
1. Kevon Caffey, RB, Booker T. Washington (Miami, Fla.) 4.11
2. Derrick Mackey, LB, Booker T. Washington (Miami, Fla.) 4.12
T-3. Antwan Jones, DB, Homestead (Homestead, Fla.) 4.15
T-3. Faton Bauta, QB, William T. Dwyer (Jupiter, Fla.) 4.15
5. David Rivers, DB, American (Hialeah, Fla.) 4.19

Kneeling power ball toss
1. Pedro Sibiea, DL, Homestead (Homestead, Fla.) 42
T-2. Justin Horton, LB, Crawford Mosley (Clermont, Fla.) 41
T-2. Herbert Waters, WR, Homestead (Homestead, Fla.) 41
T-2. Torrin Young, ('13), DL, Dillard (Ft. Lauderdale, Fla.) 41
5. Joshua Williams, ('13), LB, Dillard (Ft. Lauderdale, Fla.) 40.5

Vertical jump
1. Billy Crook, QB, Naples (Naples, Fla.) 38.7
2. Aqil Tweedy, WR, Colonial Forge (Fredericksburg, Va.) 37.8
3. Elie Turene, ('13), LB, Seminole Ridge (Loxahatchee, Fla.) 37.7
4. Justin Horton, LB, East Ridge (Clermont, Fla.) 37.1
5. Kevin Jerome, DB, Seminole Ridge (Loxahatchee, Fla.) 37.0

EDITORS' PICKS
On The Trail Live
Watch replay »

Wide receiver Christian Kirk and RB Soso Jamabo are planning visits but are they narrowing their choices?
Early Offer

Tom Luginbill's update Premium Prospects Board.
Story