Commentary
Mobile Nike combine recap
Florida native Justin Horton makes trek, puts up best SPARQ rating of the year
Originally Published:
March 7, 2011
By
Brian Stumpf
| ESPN RISE
MOBILE, Ala. -- A day after rain and wind kept many away and the scores down in Houston, dry conditions greeted participants in Mobile on Sunday, and the result was some top talent on hand and soaring SPARQ ratings at the sixth Nike SPARQ combine of the year.
Nine participants of the nearly 900 in attendance went over the 100 mark in the SPARQ rating, including a returnee from the Sunshine State who had already posted the nation's top SPARQ rating at the Miami event two weeks prior.
Top rising senior
Justin Horton, LB (Clermont, Fla./East Ridge)
If the name looks familiar, that's because this is the second time Horton has claimed top performer honors on the Nike combine tour. Not satisfied after posting a 115.95 SPARQ rating at the Feb. 19 Miami Nike SPARQ combine, Horton made the nearly eight-hour trek and got the results he was looking for, improving his overall rating to 122.73, the nation's top mark so far this offseason. The 6-foot-2, 201-pound linebacker clocked a 4.61 40-yard dash time, 4.00 shuttle, 37.5-foot power ball toss and a 37.6-inch vertical. He's still looking for his first offer.
Rising seniors honorable mentions
[+] Enlarge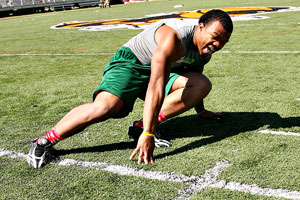 Scott E. FinkTre' Banks already holds an offer from Kentucky, but that could change.
Tre' Banks, LB (Mobile, Ala./Williamson)
Banks is a player who likely helped himself a lot with his showing Sunday. Currently holding one SEC offer from Kentucky, the 6-0, 225-pounder could be seeing more of those in his future after clocking a 4.67 40, a 4.41 shuttle and jumping 32.5 inches in the vertical. The linebacker finished with a rating of 90.66.
Kelton Brackett, CB (Prichard, Ala./Blount)
Brackett, returning to the Mobile Nike combine for the third straight year, measured in at 5-9, 174 pounds and showed the speed, quickness and strength requisite for shining at cornerback. He ran 4.59 in the 40 and 4.41 in the shuttle and threw the power ball 36 feet. LSU has offered and leads for Brackett, who also reported verbal offers from Clemson and Southern Miss.
Tylor Harris, DE (Baton Rouge, La./Episcopal)
Harris is yet another standout defensive line prospect who has topped a 100 SPARQ rating at a Nike combine this offseason, finishing with an impressive 104.04. The well-built 6-3, 245-pounder ran a solid 4.95 40 and 4.47 shuttle, threw the power ball 40 feet and jumped 34 inches in the vertical. Louisiana Tech is the first to offer Harris, who said his dream school is LSU. He totaled 65 tackles, 27 for loss, and eight sacks last season.
Kyron Samuels, OL (Fairhope, Ala./Fairhope)
The nephew of longtime Redskins and former Alabama standout lineman Chris Samuels does not possess his uncle's height but has many other qualities that have already attracted the interest of FBS schools. The 6-0, 296-pound OL prospect, who's been offered so far by Southern Miss, East Carolina and UAB, topped 90 in the SPARQ rating for the second straight year, finishing at 94.89 thanks to a 4.72 shuttle, 28.4-inch vertical and 43-foot power ball toss.
Jimmy Threat, RB (Pensacola, Fla./Pensacola)
A workhorse for the past two years at Pensacola High, Threat topped 1,100 yards on the ground a year ago and displayed Sunday that he has some physical attributes to go along with his on-field production. The 5-9, 197-pound back ran 4.59 in the 40 and 4.46 in the shuttle, jumped 32.4 inches and tossed the power ball 42.5 feet to finish with the second-best SPARQ rating at 107.52.
Top underclassman
[+] Enlarge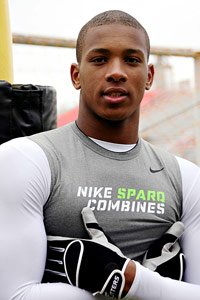 Scott E. FinkO'Terrius Howard is certainly someone to watch in the future.
O'Terrius Howard, TE (Prattville, Ala./Autauga Academy)
Howard is beginning to emerge from a tiny AISA (Alabama Independent School Association) school as a big-time prospect in the Class of 2013. Mostly a receiver/tight end and linebacker to this point, the future possibilities seem tremendous for the 6-5, 210-pounder who ran a 4.79 40 and finished with a 99.12 SPARQ rating. No school has jumped in yet with an offer, but this figures to be an Alabama-Auburn battle for the next two years.
Underclassmen honorable mentions
Harvey Harris, RB/ATH (Montgomery, Ala./Carver)
He'll need to add some weight to his 5-10, 149-pound frame but Harris has the athletic ability and playmaking skills to emerge as a big name in next year's class. He rushed for nearly 600 yards and had over 200 receiving as a sophomore and showed that game-breaking speed Sunday, clocking a 4.42 40 and a 4.31 shuttle and jumping 36 inches in the vertical.
Deon Johnson, WR (Spanish Fort, Ala./Spanish Fort)
Not even a varsity player last year as a sophomore, Johnson should have an opportunity to grow into a bigger role. The 6-0, 171-pound WR clocked a sizzling 4.32 40, the fastest of the tour so far, and jumped 32 inches in the vertical to finish at a 93.99 SPARQ rating.
Cameron Luper, QB (Auburn, Ala./Auburn)
The son of Auburn RB coach Curtis Luper will make his own name before long. A varsity performer since his freshman year, Luper lead Auburn High into the playoffs this past fall and is a terrific athlete, as he showed Sunday. The 5-10, 171-pounder ran a 4.61 40 and a 4.41 shuttle and threw the power ball 32 feet.
Mario Mathis, LB (Thomasville, Ga./Thomasville)
Few underclassmen in attendance on Sunday were as physically put together as the 6-1, 209-pounder. Mathis, a varsity starter last fall as a sophomore, didn't just pass the eyeball test but fared quite well in testing, running a 4.80 40 and a 4.44 shuttle, jumping 32 inches in the vertical and tossing the power ball 34.5 feet to finish with an 85.20 SPARQ rating.
Brian Whitaker, DE (Macon, Ga./Westside)
The younger brother of Auburn freshman DT Jeff Whitaker seems to have a bright future, too. A varsity performer since his freshman year, Brian Whitaker has the makings of a prototype rush end, already checking in at 6-4, 208 pounds and clocking a very impressive 4.68 in the 40. Brian Whitaker also went 4.38 in the shuttle and jumped 34.4 inches in the vertical to finish with a 90.87 SPARQ rating.
Top fives
SPARQ rating
1. Justin Horton -- 122.73
2. Jimmy Threat -- 107.52
3. Cody Core, WR (Auburn, Ala./Auburn) -- 105.12
4. Tylor Harris -- 104.04
5. Herbert Harris, LB (Clinton, Miss./Clinton Senior) -- 102.72
40-yard dash
1. Deon Johnson -- 4.32
2. Harvey Harris -- 4.42
3. Lewis Hunter, WR (Fairhope, Ala./Fairhope) -- 4.44
4. Kylen Towner ('13), RB (Mobile, Ala./Saint Paul's Episcopal) -- 4.47
5. Patrick Maddox, WR (Pace, Fla./Pace) -- 4.51
20-yard shuttle
1. Lawon DeBardelaben, DB (Prattville, Ala./Prattville) -- 3.87
2. Marcus Hall, RB (La Place, La./St. Charles Catholic) -- 3.97
3. Justin Horton -- 4.00
4T. Ian Thomas, LB (Fairhope, Ala./Fairhope) -- 4.03
4T. Brent Mcdonald, WR (Fairhope, Ala./Fairhope) -- 4.03
4T. J.P. Sherling ('13), LB (Fairhope, Ala./Fairhope) -- 4.03
Power ball toss
1. Herbert Harris -- 43.5 feet
2. Kyron Samuels -- 43 feet
3T. Jimmy Threat -- 42.5 feet
3T. Norman Price, OL (Vicksburg, Miss./Vicksburg) -- 42.5 feet
5. Cody Core -- 41 feet
Vertical jump
1. Jarred Burns, RB (Gretna, La./John Ehret) -- 41 inches
2. Jakaryus Redwine, RB (Birmingham, Ala./Oak Mountain) -- 40.7 inches
3. Brendon Brown, DB (Montgomery, Ala./Jefferson Davis) -- 39.3 inches
4. Justin Horton -- 37.6 inches
5. David Johnson, RB (Birmingham, Ala./Shades Valley) -- 36.9 inches
EDITORS' PICKS
Struggles haven't slowed Florida's recruiting.
Early Offer

Arkansas' rebuild is adding good D-linemen.
Early Offer

Why it's worth the wait for elite defensive linemen.
Crabtree »