Commentary
Matt Morin plays with chip on shoulder
Originally Published:
April 4, 2011
By
Greg Biggins
| ESPN RISE
LOS ANGELES -- Heading into the USC NFTC, if you would have predicted a signal caller from Chaparral High School would take home QB MVP honors, most would have guessed it would be Texas commit Connor Brewer. However, even though Brewer did have a strong day and showed why he's so highly touted, the best quarterback on the day was Chaparral (Temecula, Calif.) sleeper prospect Matt Morin.
Morin had a dominant showing from beginning to end flashing the strongest arm in the camp with a lightning quick release and was on the mark all day long.
[+] Enlarge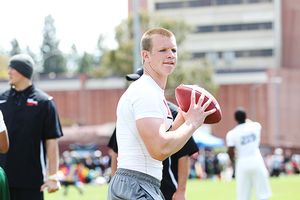 Tom HauckMatt Morin could lose his "sleeper" tag after his strong performance at the USC NFTC.
"He was the top guy for sure," NFTC QB coach Matt James said. "He can spin it really well, has great arm strength and I love his attitude and competitiveness. He's one of those kids that runs from drill to drill, always wants to be first in line and you can tell he's a natural leader. He had a great day and really opened up a lot of eyes."
Morin said coming into the camp as a somewhat under the radar prospect definitely motivated him.
"Oh yeah, I knew I wasn't being talked about as much as some of these other quarterbacks," Morin said. "That really drives me as a player, I feed off that. I hate being kind of an unknown guy and I wanted to come out and show I can compete with anyone. There were some great quarterbacks here and to win that MVP means everything to me.
"I love football, I live it every day. Ever since I was nine years old, my goal was to be a great quarterback and there literally isn't a single day in the week where I'm not working on something to improve myself. For me, it's not even work or take any effort because I just love this game so much that I have to play it every day."
Morin only has one scholarship offer, which he got from Colorado when he was a sophomore.
"I don't know the situation at Colorado to be honest," Morin said. "I hope they still recruit me because I'm interested but right now, I'm just trying to get my name out there more. I'm going to do some visits and camps in the summer and hopefully a few more schools will decide to offer me.
"My dream school is Notre Dame. Everyone in my family has always been die hard Notre Dame fans. I took a visit there last year and just fell in love with the place. The tradition they have is incredible and the academics are off the charts. I'm going to camp with them and if I can get an offer from there, that would be incredible."
Ruffin battles ankle injury
For the first half of the camp, there wasn't a more impressive looking player, at any position, than Jabari Ruffin (Downey, Calif.). At a rock solid 6-foot-3, 219 pounds, Ruffin looked like a stone cold lock for LB MVP honors.
"He was definitely on his way but he hurt his ankle and missed most of the one-on-ones," LB coach Chris Gizzi said. "He was incredible out there and has every tool you could want in a player. He has that great frame, is a fast-twitch kid who can really run and covers a ton of ground. He asks questions and wants to be coached. He's just a great kid but we didn't feel right giving someone MVP who didn't do the one-on-ones. He tried, he battled but he just couldn't go."
Servite (Anaheim, Calif.) linebacker Butch Pau'u ended up taking home LB MVP honors and had a great all-around camp as well. BYU, Washington and Iowa State have offered and the Cougars could be tough to beat for Pau'u as he's LDS and will go on a Mormon mission after high school.
WR group lives up to it's billing
It has been called the year of the receiver in the Golden State and several elite pass catchers showed why at the camp.
Long Beach Poly's (Calif.) Randall Goforth took home WR MVP honors, but the award could have easily gone to several other players.
[+] Enlarge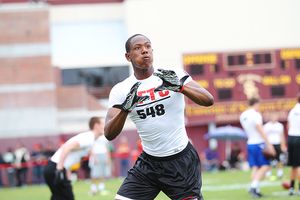 Tom HauckDarius Powe is considering UCLA, Cal, Washington and Miami, among others.
"I liked a lot of guys today," lead WR coach Bucky Brooks said. "Both players from Lakewood (Calif.), Malik Gilmore and Darius Powe are really good. I know Powe is the more touted kid but I thought Gilmore had the better day. He has great size and plays with an attitude. I liked Bryce Treggs (Bellflower, Calif./St. John Bosco) a lot as well, he has great hands and is very quick.
"Richard Smith (Long Beach Poly, Calif.) is still a little raw but has great athleticism, Gabe Marks (Los Angeles, Calif./Venice) catches everything and my sleeper of the day was Demorea Stringfellow (Moreno Valley, Calif./Rancho Verde). He has good size and is a great looking athlete."
Bishop Gorman duo shines
Bishop Gorman (Las Vegas, Nev.) teammates offensive lineman Ronnie Stanley and running back Shaquille Powell had very impressive camps and were runner up MVPs at their respective positions.
At 6-foot-6, 283 pounds, Stanley has a prototype tackle frame and just needs to add some upper-body strength and size before he's ready to take his game to another level. The lineman already has great feet and athleticism, long arms and had the best lateral mobility in the camp.
Powell, 5-foot-9, 198 pounds, was the top back during the one-on-one pass rushing drills, caught the ball very well out of the backfield and was tough to handle in the one on one make you miss drills. Powell has been one of the state's top backs since he was a sophomore and it's one of the biggest mysteries in the region why the athlete is still waiting on his first offer.
Simmons dominates the line
Much like he did a year ago as a rising junior, Crespi (Encino, Calif.) offensive lineman Jordan Simmons had a dominant showing taking home OL MVP honors.
"Last year, I came here for exposure and this camp definitely helped with that," Simmons said. "I had just one offer coming in to the camp and then landed five or six right after the camp was over. This year, I came here to improve, learn and compete. I have my offers already and don't need exposure but I love the competition and the chance to test myself against the other great players. I know I can improve and I'm working on my body, trying to trim down a little but I'll get there and I don't want anyone to outwork me."
Aziz Shittu (Atwater, Calif./Buhach Colony) was a close winner over fellow defensive tackle Ellis McCarthy (Monrovia, Calif.) for DL MVP honors. At 6-foot-2, 275 pounds, Shittu showed a little more explosiveness than the 6-foot-4, 308 pound McCarthy but both players were unblockable during the one-on-ones.
Woods and Neal show versatility
[+] Enlarge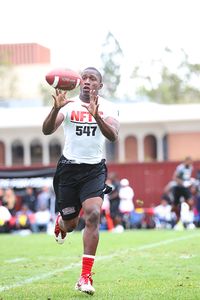 Tom HauckDavonte Neal showed his versatility by playing as a safety at the camp.
Two of the elite players, not just out west but nationally, are Davonte Neal (Scottsdale, Ariz./Chaparral) and Derrick Woods (Inglewood, Calif./Inglewood). Neal is known primarily as a game-breaking receiver and Woods as a hard-hitting safety but both players showed they're equally as talented on the other side of the ball.
"I wanted to work out with the corners because I think I could end up at corner in college," Neal said. "I had a great time and learned a lot. The competition was real good but I thought I did well and held my own out there. All the defensive backs had some great camaraderie and it was a lot of fun being out there with all the guys."
Neal finished as runner up MVP to Oaks Christian (Westlake Village, Calif.) corner Ishmael Adams and has some significant upside to him.
"For a player just learning the position, he was incredible," lead DB coach Eugene Jackson said. "He has great speed and quickness and can really close on the ball. I liked how physical he was at the line and as he learns more about the position, he's going to be a great player."
Woods worked out with the receivers and caught everything thrown in his direction.
"I love receiver, that's where I want to play in college," Woods said. "I know a lot of schools like me as a safety, some as an athlete but receiver is where my heart is at and I think I can play there at the next level for sure."
Adams has full weekend
Oaks Christian (Westlake Village, Calif.) corner Ishmael Adams ran on two relay races, 4X100 and 4X400, on Saturday and then came back Sunday to completely dominate all comers.
Adams is just 5-foot-8, but is a well built 183 pounds and manhandled opposing receivers while showing the speed to turn and run with the fastest pass catchers as well.
"He dominated from the first SPARQ drill to the last rep in the one on ones," DB coach Eugene Jackson said. "He's a tough kid, very quick and has great cover skills. He's a competitor, he only wanted to cover the best receivers and I didn't see him get beat once all day."
Future is bright
There was a handful of talented underclassmen at the camp, headlined by Orange Lutheran (Calif.) offensive lineman John Lopez, Long Beach Poly (Calif.) defensive back David Price, Cathedral (Los Angeles, Calif.) quarterback Hayden Rettig and Vista Murrieta (Calif.) defensive back Su'a Cravens.
Lopez picked up his first scholarship offer from UCLA when he was just a freshman and showed why he'll be a national recruit in two years. The lineman had some dominant reps in the one-on*ones and has the size, toughness and mean streak you love to see in a young lineman.
Price was one of the state's top safeties as a sophomore this past season and is already a well built 6-foot-2, 190 pounds. He runs on the Jackrabbits' state-ranked track team and showed advanced cover skills for a young defensive back.
Like his older brother and current Boston College freshman quarterback Chase Rettig, Hayden Rettig has an absolute cannon for an arm and can make every throw. The 6-foot-2, 200 pound signal caller has a strong frame and as he continues to refine his mechanics, he should be one of the elite quarterbacks in the Class of 2013.
Cravens plays linebacker at the high school level but could end up at safety or will 'backer depending on how much weight he puts on his 6-foot, 202 pound frame. He worked out with the linebackers and was easily among the most explosive and athletic players at the position.
Greg Biggins is a regular contributor to ESPN.com's West recruiting blog and handles player personnel for the Nike Football Training Camps for ESPNRISE.com.
SPONSORED HEADLINES
MORE COLLEGE FOOTBALL HEADLINES
MOST SENT STORIES ON ESPN.COM
EDITORS' PICKS
The Big Ten's recruiting profile has been strengthened.
Shanker »

The Big Ten's recruiting profile has been strengthened.
Sherman »

Does national recruiting really pay off?
Maisel