Landon Collins weathered the storm
Under Armour All-American a better person and player because of Hurricane Katrina
Originally Published:
April 14, 2011
By
Mitch Sherman
| ESPN Recruiting
METAIRIE, La. -- Friday night, Aug. 26, 2005, began like any other for Landon Collins' family.
His father, Tom Collins, and stepmother lived in Port Sulphur, La., along the thin peninsula below New Orleans, unprotected from storms that churn out of the Atlantic into the Gulf of Mexico.
Jamie Collins-McQuarter worked as the athletic director and a coach at Port Sulphur High School, where then 11-year-old Landon would, no doubt, have started high school in three years. She had seen the forecast but not heard the latest: Hurricane Katrina, a modestly powerful storm, failed to turn north as expected after crossing the southern tip of Florida on Thursday.
[+] Enlarge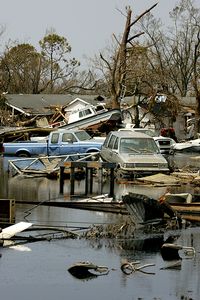 AP Photo/Lynne SladkyLandon Collins' home of Port Sulphur, La., was one of many areas devastated by Hurricane Katrina in 2005.
At Port Sulphur's preseason football game that night, Collins-McQuarter heard the advice of other administrators. Get out, they said. Experts warned the hurricane might explode in size and strength over the weekend and make landfall near their Plaquemines Parish.
"We'd evacuated before," Collins-McQuarter said, "and we were thinking we would be gone for two, three days. Unfortunately, things didn't happen like that."
Those next few days shaped the lives of thousands along the Gulf, including Landon Collins, now a junior safety at Dutchtown High School in Geismar, La., and one of the top high school football players in the nation.
The experience gained from enduring the costliest natural disaster in U.S. history left Collins with a maturity that serves him well as the likes of LSU, Alabama, Auburn, Southern California and Florida covet his signature next February.
"Like I tell Landon, to take a line from ['Spider-Man'], with great talent comes great responsibility," Dutchtown coach Benny Saia said. "The hardest thing to do is to keep these kids grounded, because they are told how great they are by everybody who comes across them."
Katrina keeps Collins grounded.
He left New Orleans with his mother, April Justin, for Mississippi, while Tom and Jamie split town for Baton Rouge, La. In the early morning of Aug. 29, Katrina made landfall near Buras-Triumph, La., less than 20 miles south of Tom and Jamie's home.
"We found half our house on the other side of the football field at Port Sulphur High School," Tom Collins said, "and the other half they never found.
"If we wouldn't have left, we probably wouldn't be here to talk about it."
Jamie said she had never seen such destruction.
"It almost looked like a bomb had hit down here," she said. "There was nothing.
"It was a tough time, a very trying time. Katrina makes you look at life from a whole different perspective. You really begin to prioritize what's important and what's not. We were just grateful that everybody in our family was OK. It's hard to talk about. Just thinking about it makes you visualize what you went through. It was terrible."
Best Of The Best
Landon Collins is one of the nearly 50 top prospects who have already committed to play in the 2012 Under Armour All-America Game. 2012 UA Game roster
Landon Collins, who split time between his parents before the storm, settled with his father and stepmother near Baton Rouge after about six months.
Tom, who worked in the days after Katrina hit to remove floodwater from New Orleans, works now for Coastal Bridge, a heavy construction firm that specializes in post-Katrina reconstruction.
And though Katrina ripped through the high school, Jamie couldn't leave the kids at Port Sulphur.
The dwindling population required three schools -- Port Sulphur, Buras High and Boothville-Venice -- to consolidate and form a new campus, South Plaquemines High. Collins-McQuarter, a former basketball player at Southern University and Alabama, serves as athletic director, girls' basketball and volleyball coach and math teacher.
The school's mascot? The Hurricanes.
She drives four hours round-trip each day from Geismar to Plaquemines Parish and back. Her husband travels through Louisiana and Mississippi for construction projects. They try to connect, even if not at home, a time or two during every week.
"It's kind of hard," Tom Collins said, "but we're managing it."
As for Landon, he's thriving.
"He knows to take what you can get out of every day," the football player's father said, "because you never know what's coming."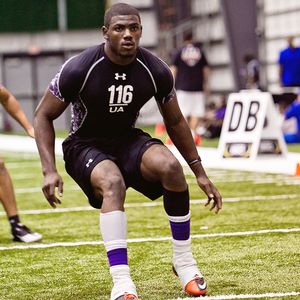 Davide De PasUA All-American Landon Collins has offers from many of the nation's top programs and hopes to visit USC, LSU, Tennessee, Bama and Miami this summer.
Collins, a safety, is a specimen at a shade under 6-foot and 210 pounds. Already selected for the 2012 Under Armour All-America Game, he ran an electronically timed 4.39-second 40-yard dash and recorded a 36-inch vertical leap Sunday at the New Orleans Under Armour combine, all while still recovering from a foot bruise suffered last fall.
More than just physical tools, though, distinguish Collins.
"There's a maturity there that I appreciate," said Saia, the Dutchtown coach. "He works so hard, and he doesn't get tired. Landon can go all day. We're going to lean on him a little bit more this season."
Collins has had plenty to admire nearby. He said he modeled his game after former Dutchtown safety Eric Reid, who moved into the starting lineup as a true freshman at LSU last season.
Running back Eddie Lacy, now at Alabama, starred at Dutchtown early in Collins' career. Standouts Kelvin York and Effrem Reed brought attention, too, to the high school.
But Collins may surpass them all in recruiting interest. He said he grew up a USC fan but lost some interest when coach Pete Carroll returned to the NFL after the 2009 season. Still, a recent scholarship offer from the Trojans pleased Collins. He said he hopes to visit USC this summer for a camp in addition to LSU, Alabama, Tennessee and Miami.
"I'm open," he said. "But the SEC is the best conference, because it gives you the best chance to make it to the next level."
Collins resists the temptation to savor the attention.
He doesn't brag about his accomplishments at school or read what fans write about him on the Internet. Collins doesn't even have a Facebook account, he said.
"He comes home and does his homework," his stepmother said. "When he's done, he's in his room, breaking down film. He's a very good kid. No big head. He just wants to play football."
So from Katrina, something good was born.
"I learned a lot from that situation," Collins said. "It bothered me, what happened down in New Orleans. It was hard to see. We lost everything."
They gained something, too. Call it perspective.
Mitch Sherman is a senior writer for ESPN.com. He can be reached at mshermanespn@gmail.com. Follow Mitch Sherman on Twitter: @mitchsherman
College Football
Nebraska/Big Ten/Recruiting reporter.
Joined ESPN in 2011.
Graduated from the University of Nebraska.
EDITORS' PICKS
Spring recruiting dates to know
Story »

Four invitations to The Opening handed out in Miami.
Story

Get to know the underrated 2016 QBs.
Hamilton
MORE COLLEGE FOOTBALL HEADLINES
MOST SENT STORIES ON ESPN.COM