Hoop dreams to gridiron greatness
It looked like hoops were in OT Edinburgh's future, but his switch to football is working
Originally Published:
May 26, 2011
By
Jamie Newberg
| ESPN Recruiting
NEW ORLEANS -- One of the best offensive tackles in Louisiana, Derek Edinburgh, almost never ended up playing football. In fact, at one time he was protecting the paint rather than protecting his quarterback.
"I was a basketball player," Edinburgh said, who averaged 12.0 points and 10.0 rebounds this past season. "I wanted to be the next Shaq [O'Neal]. I have played my whole life and it's what I wanted to do. Then I came out for football and loved it. I now love the game of football, and in so many ways basketball has helped me so much, especially with my footwork."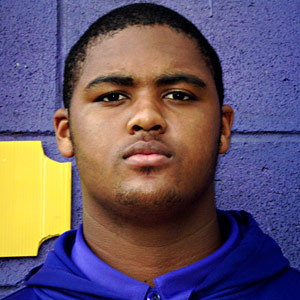 Jamie NewbergDerek Edinburgh has verbal offers from Arizona, Utah, Arkansas, Colorado, Michigan, Pitt and others.
Only 16 years old, the New Orleans (La.) Edna Karr prospect stands 6-foot-8, weighs 330 pounds and wears a size 20 shoe.
"I just think in the big picture, especially considering just how young he still is, that Derek Edinburgh has such a bright future," Edna Karr coach Jabbar Juluke said. "Remember, he's only played three years of football. He has all the tools to be a first-round pick in the NFL."
Edinburgh knows he's a work in progress, but he also knows that he has a lot to work with. It's not often you find a lineman that big who can move that well.
"My strength is my size," Edinburgh said. "I have great height and I can move my feet. I am strong but I also know I need to get a lot bigger and stronger. I need to get better and better in the weight room. There are a few other things I am working on like my hips so I can bend better and I think I need to be more aggressive out there. That will all come."
Edinburgh has received offers from some programs since the May evaluation period like Arizona, Texas Tech, Vanderbilt, Minnesota, Arkansas, Utah, Colorado, Illinois, Michigan, Pitt, Kansas State, Louisiana Tech and Tulane. Plus, he's drawing interest from some of the big-time programs like Auburn, Alabama, Florida, Mississippi State and in-state LSU.
"I am not used to any of this," Edinburgh said. "It's humbling. But I have to admit it does feel good."
If all goes according to the family plan, Edinburgh will play in-state and perhaps eventually for the Saints one day. But for now, he just wants to evaluate all the college football programs.
"My whole family are LSU fans," Edinburgh said. "Everyone. They are big New Orleans Saints fans as well. Right now I am just open and want to figure it out."
Edinburgh says he plans on camping this summer at Alabama, Auburn, LSU, Florida and Florida State.
"I just want to see what's out there," Edinburgh said. "Distance is not a factor. The main thing for me is the atmosphere. I have to feel comfortable on and off the field. Plus, I am looking at the graduation rates."
It's interesting that Edinburgh has a slew of offers but is still waiting on some of the bigger programs in the SEC. Some good camp performances this summer and you never know. But teams need to remember that Edinburgh is basically a year younger than most in his shoes.
"Derek would really benefit from being redshirted," Juluke said. "Remember, he will only be a young 18-year old freshman during his first season in college football. This kid is a freak of nature and there's just no telling how good he can become. The sky's the limit."
Jamie Newberg has been covering recruiting in the Southeast and nationally for 19 years. He can be reached at jamienewbergbw@yahoo.com.
RecruitingNation
Jamie Newberg covers recruiting in the Southeast.
Email him at jamienewbergbw@yahoo.com.
EDITORS' PICKS
Wrapping the weekend on On The Trail Live
Watch replay »

Indiana's win over Missouri will give Hoosiers coach Kevin Wilson plenty of material.
Early Offer

Ranking the year's top recruiters.
Crabtree