Commentary
Super Mario
Mario Edwards following in dad's footsteps and showing why he's No. 1 in ESPNU 150
Updated:
June 9, 2011, 3:05 PM ET
By
Mitch Sherman
| ESPN Recruiting
The summer heat of Texas doesn't bother former NFL cornerback Mario Edwards. He endured more searing conditions at age 16, fathering his namesake as he tried to make it out of Gautier, Miss., on nothing but determination and a bundle of football talent.
So when young Mario Edwards Jr., more than a decade later, quit his dad's demanding 6 a.m. workouts, the elder Edwards let him go without a battle. There was only one way to teach the kid.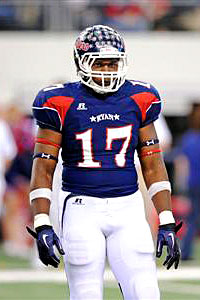 Courtesy of Mario Edwards Sr. Mario Edwards is following in his dad's footsteps by playing at Florida State.
"He thought he was done," Edwards said, "but I'd have him back out there in the evening. Same thing all over again."
Soon, Junior learned to do it the right way -- on the first try.
"That's how I played football, with great intensity and great work ethic," said Edwards, a star defender at Florida State from 1996 to 1999. "I'd like to think it's one thing I gave [Mario Jr.], that desire to work. Because now, the way he has embraced the game and learned, he plays the way any coach in America would want.
"He's all-out, full speed all the time."
An unbending desire to succeed -- mixed with an abundance of talent, a football pedigree and his 6-foot-4, 275-pound frame -- have elevated defensive end Mario Edwards Jr. of Ryan High School in Denton, Texas, to the No. 1 spot in the ESPNU 150 unveiled Wednesday.
Committed to Florida State to follow his father, Edwards Jr. inherited all the best traits from the former five-year pro with the Dallas Cowboys and Tampa Bay Buccaneers.
But he's much more than just a chip off the old block, already outweighing his dad by nearly 80 pounds. His doctor told the younger Edwards he would grow to at least 6-6 -- a frightening thought for offensive minds posed with the challenge of slowing him.
Despite his size and potential to grow, he's intent on remaining on the edge defensively.
"A lot of people think I'm 250," Edwards Jr. said. "I carry my weight really well. And basically, what made me want to go to Florida State was that they had my best interest. All the other schools thought I would get too big.
"They all said there's a chance I could move inside. Florida State said they didn't care if I was 300 pounds, as long as I could keep my speed."
Craig Haubert, recruiting coordinator for ESPN, said Edwards reminds him of former Clemson star Da'Quan Bowers at this stage.
"He has prototypical size for an NFL defensive end," Haubert said. "More important, there's some savvy in there. He has moves. He has a pass-rush arsenal. You can sense that there's a plan of attack when he rushes the quarterback. He's more than just a good athlete. He's a good football player."
Edwards Jr. collected 18 sacks last season and 127 total tackles, helping lead Ryan to 15 straight wins and a berth in the Texas 4A finals, where it lost to Austin Lake Travis.
His goal as a senior? To win the title, top 20 sacks and 150 tackles.
"I want to go out with a bang, without a doubt," he said.
His father never had it so good. Edwards Sr. took custody of little Mario at three months of age. He had recently finished his junior year at Pascagoula High School on the Mississippi Gulf Coast and realized his best chance to provide the life he envisioned for his son was to earn a football scholarship to college.
FSU provided the opportunity. The elder Edwards thrived in Tallahassee, while Mario Jr. stayed in Mississippi with his grandmother, Ruth Chambers, and Mario Sr.'s sister and two brothers. By the end of the elder Edwards' career at Florida State, Mario Jr. had spent considerable time around the football team.
He grew more immersed in the game as his father earned 47 starts for the Cowboys and played on the NFL's top-rated defenses in 2003 and 2004.
"He's been with me through thick and thin," Edwards Sr. said.
Last year, when the younger Edwards transferred to Denton Ryan from nearby Prosper High School on the northern edge of the Dallas-Fort Worth Metroplex, Edwards Sr. joined coach Joey Florence's staff to work with the secondary.
"I'm addicted to it," he said. "I'm addicted to the game."
Edwards Jr. inherited that, too.
"I give his daddy all the credit," Florence said. "He knows what it takes. He brings that professionalism and NFL-caliber energy to our practices."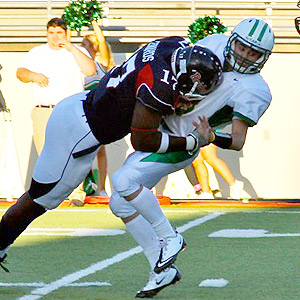 Photo by Stacie ForestACC quarterbacks are going to have to keep their heads on a swivel once Mario Edwards gets to college.
And the younger Edwards brings an NFL-caliber threat off the edge. Ryan doesn't get too fancy with how it uses Mario Jr. He stays on the right side. Offensive schemes designed to slow him get creative, though they don't often work.
"He's fun to coach, I know that," Florence said.
Edwards Jr. said he started to "get it" by about his sophomore year of high school.
"The older I got, the more I understood it's not just catching the ball and running," he said.
Florence compares Edwards Jr. to former Ryan star and Texas defensive tackle Derek Lokey. Edwards Jr. looks set to break many of the school's strength records set by Lokey early in the previous decade.
More importantly, he's a leader like Lokey.
"Derek kind of changed the whole culture of our school," the coach said. "Kids followed him. Mario's got that same charisma."
Ryan, which has played for the 4A title in five of the past 11 years, began offseason training Monday morning.
The school modeled its conditioning program after the regimen used by TCU. The temperature reached 97 degrees Monday and Tuesday in Denton. It didn't bother the younger Edwards.
His father watched with satisfaction.
"A lot of it is instinctive with Mario," Edwards Sr. said. "But you don't give a baby a T-bone steak and turn him loose. You've got to feed him slowly and give him a little bit at a time. I just had to realize he was young and ahead of the curve.
"He was always a man among boys. Now he understands that he can be one of the best players in the county."
Mitch Sherman is a senior writer for ESPN.com. He can be reached at mshermanespn@gmail.com. Follow Mitch Sherman on Twitter: @mitchsherman
College Football
Nebraska/Big Ten/Recruiting reporter.
Joined ESPN in 2011.
Graduated from the University of Nebraska.
SPONSORED HEADLINES
MORE COLLEGE FOOTBALL HEADLINES
MOST SENT STORIES ON ESPN.COM
2012 ESPNU 150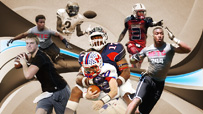 Hard-hitting DE Mario Edwards leads the way in the release of the 2012 ESPNU 150.
Rankings release