Commentary
Leonard Williams takes flight
ESPNU 150 DE stacking up offers like he stacks up opposing quarterbacks
Updated:
June 9, 2011, 1:32 PM ET
By
Jamie Newberg
| ESPN Recruiting
Scott Wilson received a text last Monday. One of his star players didn't have a ride to Monday workouts because his mom's car was broken down. But defensive end Leonard Williams (Daytona Beach, Fla./Mainland) didn't care.
"The text read that he would start walking to school," said Wilson, Mainland's head coach. "Leonard asked me for a ride and to pick him up on the way. What you don't realize is that he lives about five miles away and he would have walked all the way here had I not met him. That's how committed he is to the game of football."
[+] Enlarge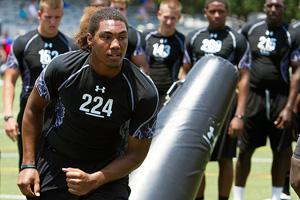 Davide De PasMost of the SEC has offered ESPNU 150 DE Leonard Williams, but he could be down to Florida and Auburn.
Williams, 6-feet-4 and 256 pounds, is one of the most coveted defensive end prospects from the Sunshine State and a member of the ESPNU 150 (No. 107). Last fall as a junior he recorded 99 tackles, eight sacks and 14 tackles for loss. But there was a time when he couldn't even play the game.
"Leonard has always been super passionate about the game of football but he was always too big to play for Pop Warner," said his mother, Aviva Russek. "He was too big and they always sent him home crying. Leonard always wanted to play the game because his dad [Clennon Williams] played football for Washington State."
In fact, Williams didn't suit up to play football until he got to high school. He played as a freshman and sophomore and then blossomed as a junior.
"This last year he really flourished with football," Russek said. "He just took flight and really came into his own."
Now he is one of the nation's most sought-after defensive line prospects. He's just about the total package.
"To me, he so explosive off the ball," Wilson said. "He uses his hands to get separation. When he does that he's unblockable. He also has a motor that doesn't stop. Leonard has quickness in the hips and he play at a low level. He comes off the ball low and doesn't stand straight up. His eyes are up field and he just goes and gets the football."
Going into his junior campaign Wilson wanted Williams to work on his hips so he could cut his opponent in half. This off-season he wants Williams to continue to work on his hands.
"He already does a good job with his hands," Wilson said. "But it's something he can keep working on and he can play with better technique. I really believe that wherever he goes he will be playing right away. He's already pretty advanced."
According to Williams and Wilson he has more than 30 scholarship offers from teams such as Florida, Florida State, Auburn, Tennessee, Alabama, USC, Notre Dame, Rutgers, Ohio State, Georgia and others.
"Right now I do not have a favorite school," Williams said. "I have seen FSU, Florida and Miami. And I obviously need to see more schools out there like USC, Auburn, Tennessee and Georgia. I lived out in California for six or seven years and I really want to camp this summer at Southern Cal."
Wilson says Williams will attend the team camp at Florida State this summer. Regardless of whom Williams picks, his head coach believes they are going to land the real deal, both on and off the field.
"Leonard is one of those people that gives 100 percent at whatever he does," Wilson said. "It doesn't matter if it's the weight room or on the field. He's a genuinely good person who is very respectful and has a good heart. Our coach's love him because he's such a good kid. Leonard always has a smile and is always happy."
Williams knows what he wants in a school and in a program. When football is over he wants to be an athletic trainer. So now Williams just needs to figure out where's the best place for him. He's just not in that much of a hurry.
"He can almost pretty much name his school," Wilson said. "And he's not worrying about recruiting right now. Leonard is keeping everything open. But he a clear understanding of what he needs to do and he knows he needs to go somewhere that fits his criteria, especially sports medicine. Leonard knows you can't play forever and everyone around here really wants to see him succeed."
Now he's living the dream. Soon he will pick a school and start the next chapter of his life.
"I will support whatever Leonard does," Russek said. "I always knew he was going to be special since he was a child. We will all be supportive and I just want him to get his education. Recruiting is up in the air and it's Leonard's decision. He has to be comfortable with it. We don't want where we live to hinder his decision. We will support him wherever he goes to school."
Goldman cuts list
Eddie Goldman (Washington, D.C/Friendship Collegiate Academy) is the nation's No. 2-rated prospect and the top defensive tackle. Just this week, he cut his school list to 15 Miami, Florida, FSU, South Carolina, North Carolina, NC State, Clemson, Maryland, Virginia, Alabama, Auburn, Georgia, Cal, LSU and Oklahoma.
"For me, it's been a positive hectic," said his father, Eddie Muhammad. "I don't mind it because I am a football junkie. It's surreal to me because I am talking with coaches that I have watched play. It's been overwhelming at times. I enjoy it, but Eddie just wants to keep his head down and work hard and play. He wants to help his team get better. Even with the magnitude that he's under he tries to fly under the radar. He doesn't want the spotlight."
Goldman has seen quite a few schools already. He has made unofficial visits to Miami, Georgia, Clemson, NC State, UNC, Maryland, Auburn, Alabama, Florida and FSU.
"He wants to get out and get around," Muhammad said. "He wants to get out west and see Cal and I know he would like to get down to Coral Gables again. When he was there it was under the Shannon regime. Right now he doesn't have any visits planned but I know Miami, Cal and Virginia could be his first visits."
In the end, it's going to be a huge recruiting battle for this 6-4, 310-pound defensive tackle.
"It's going to be a process," Muhammad said. "He will look at the coaching styles of the defensive coordinators and defensive line coaches. He wants to be in tune with the environment to make sure it fits his personality. Of course academics will be a key because they have to enhance him as a young man. He wants to be a productive person in society and a premium football player. Of course style and scheme will be important. Eddie will be looking for that balance."
Roland is a dynamic athlete
Shaq Roland (Lexington, S.C./Lexington) is the No. 46 overall player in the ESPNU 150 and the No. 8 athlete. And athlete is the appropriate term to use when talking about Roland. Not only does he have football scholarship offers from teams such as South Carolina, Florida, Georgia, and Alabama, but he also will have the opportunity to play another college sport.
"Shaq is one heck of a basketball player," said Scott Early, his head football coach. "He's a two guard, and there are a lot of SEC and ACC teams that have offered him a basketball scholarship. He has talked with schools about playing both sports. But I think his first love is football."
Roland, 6-2 and 180 pounds, is hoping to make his commitment before the season. He has already visited South Carolina, Alabama and Georgia. He has one more trip to make, to Florida this month, before he makes his decision.
"That's his plan," Early said.
Harold has a handful
With 26 scholarship offers ESPNU 150 member Eli Harold (Virginia Beach, Va./Ocean Lakes) has plenty to choose from.
"I like Virginia, Florida and North Carolina," Harold said. "I also like Penn State and NC State. I would like to get out and see some schools, but I need to check with my brother, who is my guardian. I may have to wait and take official visits once the season starts."
Harold, 6-4 and 220 pounds, is listed as the No. 18 athlete, but he may be best suited as a defensive end at the next level.
Road tripping
Two ESPNU 150 prospects from the state of Alabama, Prattville defensive lineman Justin Shanks and Auburn offensive lineman Caleb Peterson, hope to hit the road this summer and see a ton of schools.
Shanks, 6-3 and 293 pounds, is the No. 11-rated defensive tackle and No. 118 overall.
"I want to see Clemson, LSU, FSU, Louisville, Kentucky and Tennessee this summer," Shanks said. "I have already seen Alabama and Auburn. I wouldn't mind heading out west too. I am considering schools like USC, Oregon, Stanford and Texas. I may have to see them with my official visits. Right now my plan is to have a top five by the end of the summer."
Peterson, 6-4 and 300 pounds, is the No. 4-rated offensive guard prospect and No. 76 overall.
"Right now I like Alabama, Southern Miss, Auburn, Arkansas, Stanford, Georgia Tech, Mississippi State, Louisville and Vanderbilt," Peterson said via text message. "That would be my top nine. I'm going to visit them all to help me make my decision."
[+] Enlarge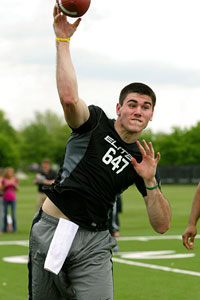 Tom Hauck for ESPN.comESPNU 150 QB Chad Kelly will visit Alabama and Clemson this month.
Kelly headed south next week
Quarterback
Chad Kelly
(Buffalo, N.Y./Saint Joseph's Collegiate Institute) hopes to see two Southern schools next week with planned road trips to Tuscaloosa and Clemson.
"I am going to Alabama on June 13 and 14 and then headed to Clemson on the 14 and 15," Kelly said via text message. "Things could change and I may go to Clemson all three days."
Kelly said his favorites right now are Florida State, Alabama, Clemson, Michigan State and Syracuse. He's the No. 5-rated quarterback and an ESPNU 150 member (No. 80).
Mississippi athlete favors six
ESPNU 150 member Anthony Alford (Petal, Miss./Petal) likes six schools, five of which he already has visited.
"I like Nebraska, Ole Miss, Mississippi State, Southern Miss, LSU and Alabama," Alford said via text message. "I have seen them all but Alabama. I want to check them out this summer."
Alford, 6-0 and 205 pounds, is the No. 13 ranked athlete and No. 99 overall.
Notes
• Four-star defensive tackle Jordan Watkins (Atlanta/Woodward Academy) visited Alabama last weekend, and he will make unofficial visits to Miami and Florida this weekend.
• ESPNU 150 member Andrus Peat (Tempe, Ariz./Corona Del Sol) texted me last week that he would visit Notre Dame and Texas this summer and would like to see Auburn and Florida.
• Four-star athlete Beniquez Brown (Florence, Ala.), another member of the ESPNU 150, said he will visit Georgia and Florida over the next few weeks. This week he visited Mississippi State.
RecruitingNation
Jamie Newberg covers recruiting in the Southeast.
Email him at jamienewbergbw@yahoo.com.
SPONSORED HEADLINES
MORE COLLEGE FOOTBALL HEADLINES
MOST SENT STORIES ON ESPN.COM