Commentary
Top two separate from pack
Keith Marshall, Johnathan Gray have the tools; Barry Sanders Jr. poised to gain ground
Updated:
June 16, 2011, 11:49 AM ET
By
Billy Tucker
| ESPN Recruiting
Similar to last year, this is a top-heavy running back class with two five-star prospects, a handful of upper-tier runners, then a drop-off. In 2011, we saw a great complement of speed and power with the No. 1- and No. 2-rated backs -- and it's the same makeup in this year's class.
Keith Marshall (Raleigh, N.C./Millbrook) has the game-breaker speed and explosiveness of Isaiah Crowell, and Johnathan Gray (Aledo, Texas) is your ultimate load-back in the mold of his future Texas teammate Malcolm Brown. While styles contrast, both are legitimate contenders for the top spot, and it may come down to senior and postseason evaluation as both are slated to play on ESPN in next year's Under Armour All-America Game.
After Gray and Marshall, you have a good mix of backs. Some possess elite speed while others already boast college-ready power. Alex Ross (Jenks, Okla./Jenks) and Rushel Shell (Aliquippa, Penn./Hopewell) are 200-plus-pound workhorse backs with the ability to carry both defenders and their respective teams on their backs. When it comes to eluding and separating in the open field, Barry Sanders Jr. (Oklahoma City/Heritage Hall) and Mario Pender (Cape Coral, Fla./Island Coast) are as good as it gets in 2012.
While last year's RB class had heavy representation from the state of Texas, this year's top backs are spread out, with seven states represented in the top 10.
Top prospects

Marshall
Keith Marshall (Raleigh, N.C./Millbrook)
5-11, 190
College: Undecided
This class' biggest game-breaker at the position, Marshall can score from anywhere on the field. His speed and sudden change-of-direction skill are rare, particularly for a 190-pound back with balanced strength. He can elude in tight spaces or in the open field, and his ability to go from 0-60 when he gets a crease is what makes him so dangerous. It all combines to make him the back in this class with the best chance to make a difference early.

Gray
Johnathan Gray (Aledo, Texas/Aledo)
5-10, 190
College: Texas
Perhaps the most decorated junior running back in the history of Texas football. Gray's stats, which include 59 touchdowns last fall, eight alone in the championship game, are mind-boggling. On film, he reminds us of Malcolm Brown. He lacks a bit of Brown's bulk but has the edge in speed and lateral quickness. Gray has proved he can carry the load and gain the tough yards between the tackles, but he is not just pure downhill power. He can take the stretch play outside and turn the corner and has the long speed not often found in strong inside runners.

Shell
Rushel Shell (Aliquippa, Pa./Hopewell)
5-11, 215
College: Undecided
Shell may not have faced the same competition as Gray, but he has shredded defenses in a similar fashion for more than 5,000 yards in his career. His blend of size, speed and power are coveted as a prospect, but what really struck us on film during ESPNU 150 reviews was the number of runs this 215-pound back broke for 40-plus yards. He's fast enough to separate at the next level, but it's his power and yards-after-contact production that translate best to the college level. Shell is perhaps the best-rounded of the top three backs.
Others to watch
Barry Sanders Jr. (Oklahoma City/Heritage Hall)
5-10, 190
College: Undecided
It's striking how similar in style Sanders Jr. is to his father, one of the best ever to play the position. Balance, elusive cutting and the ability innately to feel defenders closing all seem to have been inherited. A foot injury caused him to miss a handful of games as a junior, and his ability to bounce back could see him bounce up our running back board. This is a very talented running back with big-play ability on any carry.
[+] Enlarge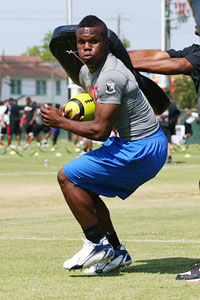 Tom Hauck for ESPN.comTexas A&M commit Trey Williams runs as hard as anyone in the class, but can his frame take the every-down grind in the Big 12?
Trey Williams (Houston/Andy Dekaney)
5-8, 180
College: Texas A&M
Williams runs as hard as fellow Texan Gray but simply lacks his frame at only 5-foot-8 and 180 pounds. However, it's hard to question his strength and effort on his compacted body. The future Aggie runs with urgency and a decisive downhill style that allows him to move the chains for great production. Our discussion is whether this explosive prospect can continue putting up big numbers as an every-down back, or is he a complementary runner in College Station?
Robert Lewis (South Gate, Calif./South East)
5-10, 160
College: SMU
Yes, he is small, but Lewis is as quick and sudden as it gets in this class and one of its best all-purpose prospects. He can change direction on a dime and cause headaches in space for opposing defenses. He has excellent suddenness and speed to burn as well. It will be interesting to see if non-BCS SMU will be able to retain this national sleeper through National Signing Day.
Top fullback

Pinner
Jahleel Pinner (Mission Viejo, Calif./Mission Viejo)
5-11, 231
College: USC
USC needs to avoid mistakes in its next few recruiting classes and put an emphasis on system-fitting prospects of need. The position of fullback is not usually of high recruiting importance for most programs but is for those deploying a pro-style offense. Pinner is the top at his position in 2012. He is a load of a back with the strength to help improve the Trojans' power running game as both a runner and blocker. His pass-receiving skills need continued polish as does his blocking to excel, but Pinner brings a lot of flexibility to a backfield.
Notes
• Oklahoma has an under-the-radar gem with in-state Alex Ross. He wears No. 28 and has a size-to-speed ratio similar to Adrian Peterson's coming out of high school.
• Mario Pender has a chance in our eyes to vie for a top-three spot with another big season. He lacks the size and power of Shell and Ross ahead of him, but is more of a game-breaker.
• Byron Marshall (San Jose, Calif./Valley Christian) was one of the more scrutinized running backs during our 150 film review. No question his versatility and speed are some of the best in this class; his ability to produce between the tackles as an every-down college back was debated.
• Matt Jones (Seffner, Fla./Armwood) fell just outside as we still are not sold that his best fit at the next level is as a true RB. Looks to run away more than run over at 210 pounds. May develop into an H-back or get a look on defense with improved physicality.
• A good year for power backs in Georgia this year; Kenyan Drake (Powder Springs/Hillgrove), Kenno Loyal (Decatur/Columbia), Mike Davis (Stone Mountain/Stephenson), Imani Cross (Gainesville/North Hall) and Justin Taylor (Atlanta/Booker T. Washington) are all good-looking load-carriers.
• Speedster Daje Johnson (Pflugerville, Texas/Hendrickson) could be the best back in the country nobody is talking about. He is committed to TCU.
Scouts, Football Recruiting
• Recruiting coordinator for ESPN RecruitingNation.
• Nearly a decade of college coaching experience.
• Was recruiting coordinator at nationally-ranked Division II colleges.

2012 POSITIONAL BREAKDOWNS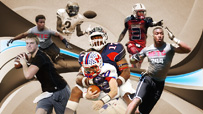 ESPN Recruiting will be breaking down every position throughout the month.
Postional breakdowns