Commentary
Cayleb Jones competes with a smile
Friendly demeanor belies Texas WR commit's desire to be the best player on the field
Updated:
June 16, 2011, 11:51 AM ET
By
Corey Long
| ESPN Recruiting
Four-star wide receiver Cayleb Jones (Austin, Texas/Stephen F. Austin) wants to be your friend. The 6-foot-2, 185-pound Under Armour All-American says he can make friends with pretty much anyone he meets.
He has a welcoming smile and a charismatic personality that rubs off on his teammates and his classmates.
However, everything changes when Jones steps on the football field.
"All the friendships are gone and the smile is erased once he steps on that field," head coach L.D. Williams said. "He's goes from being the nicest guy you've met to one of the fiercest competitors I've ever coached."
[+] Enlarge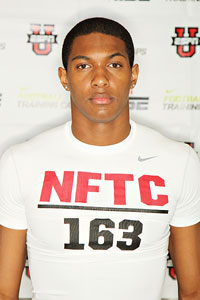 Tom Hauk for ESPN.comCayleb Jones will laugh at a good line or break one off himself, but between the lines he's all business.
Jones, who committed to Texas in February, admits that competition can sometimes get the best of him.
"If we're in a competitive environment I want to win, I need to win," Jones said. "If we're doing a drill I have to be the guy that finishes first."
Jones is responsible for one of the most amazing high school football catches in recent memory -- a one-handed snag in traffic in an early season game against Belton (Texas). Jones had 12 other catches in that game, a 66-63 victory for Stephen F. Austin.
The catch is on YouTube, where more than 37,000 people have viewed it.
"I'm known a little bit for that catch, but I try to catch everything that comes my way, so it really isn't a big deal," Jones said.
Williams disagrees.
"He does things that normal receivers just can't do, and that's what makes him so special," Williams said. "In that game he had a couple of amazing one-handed grabs that helped us win."
Despite living in Austin in the past 10 years and growing in the Longhorns culture, Jones admits he had second thoughts before making his commitment.
"There were some days I didn't know whether I wanted to stay here or go to a new environment, but as the days went by, I knew what was best for me and my family," he said.
"I always liked other teams and thought about what it would be like to play at this school or that school, but it's easy to fall in love with the Longhorns."
Jones is a popular figure with his current teammates and his future ones. His competitive nature will be on display soon, when 2011 commit Miles Onyegbule stops by his house to play some video games.
"We're going to play a little 'NCAA Football,' and I'm going to have to give him a whipping," Jones said. "I'm the best at the game by far and he knows it, so he knows what's going to happen.
"Jackson Jeffcoat might stop by, too. He can get me at 'Call of Duty' sometimes, but in NCAA he knows what's going to happen."
Bonding with his future teammates is one of the advantages that Jones has living in Austin. Beyond the video-game battles, Jones just enjoys the opportunity to bond and take in some of their experiences.
"I already have an idea of how busy I'm going to be next year because they tell me about the hectic schedule all the time," Jones said. "It's a lot of fun to see the guys when I can, because they have become older brothers in a way. They are guys I can definitely look up to."
Jones also loves watching movies. He just saw "The Town" Tuesday night, a 2010 movie with Ben Affleck and Jon Hamm.
"It's a great action movie that's set in Boston. If you haven't seen it I would definitely recommend it," Jones said.
As a Texas commit living in Austin, Jones also has a good gauge of what the loyal Texas fan base is like. Many of them know him without even meeting him, and every now and then he'll get recognized out in public.
"Obviously high school football is big and Texas football is big, so people will walk up and say that they saw me on the Internet or watching a highlight tape or something," Jones said. "It's real cool because they obviously love the program and they want to know the players and what we're about."
Most of Jones' time this summer will be spent in the city and around his future school. He communicates with a lot of the 2012 commits through Facebook and Twitter, and they will catch a lot of Longhorns games next year together.
He'll also be working on his personal goals, which might include improving his No. 20 ranking on the ESPNU 150.
"I'll be honest, I was a little disappointed in that ranking," Jones said. "I know I can be better, and I sat out a couple of games last year, and that might have worked against me.
"So right now I'm in the top 20, but I'm aiming higher than that. We'll see where I am when the next rankings come out."
He's also looking forward to the Under Armour All-America Game where he can make friends and compete with the top players in the nation.
"I was so happy to get the invite; I watched the game the last few years and it's cool," Jones said. "You get to go to Florida for a week and hang out, work hard and compete with the best in the nation.
"The practices look intense. I can't wait to compete out there. I'm excited just thinking about it."
Reporter, RecruitingNation
Covers recruiting in the Southeast
Joined ESPN in 2009
SPONSORED HEADLINES
MORE COLLEGE FOOTBALL HEADLINES
MOST SENT STORIES ON ESPN.COM
2012 POSITIONAL BREAKDOWNS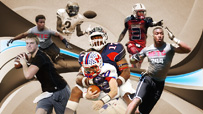 ESPN Recruiting will be breaking down every position throughout the month.
Postional breakdowns