Commentary
Detroit team beats heat in Florida
Max Exposure takes title in inaugural UA IMG Madden 7 on 7 tournament
Updated:
June 27, 2011, 2:43 PM ET
By
Jamie Newberg
| ESPN Recruiting
BRADENTON, Fla. -- It will be a fun trip back to the Motor City for Max Exposure, as this team from Detroit took home the IMG Madden Football Academy 7-on-7 Championships presented by Under Armour. Max Exposure beat Team Tampa 28-16.
"That was unbelievable," said running back Dennis Norfleet, the tournament's MVP. "I really enjoyed myself and thought I played well. The team played well. It just shows you that you can come from anywhere and win. I am proud of how we came out and played."
Max Exposure head coach Curtis Blackwell is proud of his kids. He knows that it's more than a passing tournament.
[+] Enlarge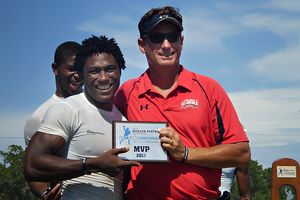 Jamie NewbergDennis Norfleet pulled a stunner late Tuesday, switching from Cincinnati to Michigan.
"We have a great foundation for these kids," Blackwell said. "It's called 'Lifting As We Climb Foundation.' We run it after school and we help expose the Detroit kids to things to help them from academics to life. Playing on this team is a reward. Eleven of our 14 players have scholarship offers and to come down here and win was just great."
Max Exposure was led by rising junior quarterback Shane Morris. Morris, who has committed to Michigan, was stellar on Sunday after a slow start on Saturday afternoon. He and Norfleet made enough big plays in the end to topple teams from all over the state of Florida.
"Shane has been with us since the ninth grade," Blackwell said. "He did an excellent job today. Of course Norfleet is always such an exciting player to watch. He's got to be one of the best in the country. He's a playmaker and no one can cover him. Those two played great here but so did everyone."
It was a tournament with a lot of talent. Max Exposure, South Florida Express, South Florida Blur, Tampa, Pro Impact (Jacksonville), and all the others all showed it on the IMG fields over the weekend's action.
"This tournament falls within the brand mission for Under Armour of getting better," said Daryl Jones, head coach of Under Armour's football combines. "I know the level of talent and competition enabled all these athletes to get better this weekend."
Perhaps no team had a more difficult road through the tournament than Tampa. As of Thursday, it didn't have a quarterback. Many members of the team participated in a team full pad camp on Thursday, Friday and Saturday before showing up to IMG on Saturday afternoon. Tampa played four pool games on Saturday and eight on Sunday. It had to beat Max Exposure through the loser's bracket after losing to Pro Impact, meaning Tampa had to beat Max Exposure twice. Tampa won the first time before losing in the final.
"To think we almost didn't show up," said Woodrow Grady, coach of Team Tampa. "We were missing some key guys but we have some talent and knew we could play with anyone out here."
Overall, it was a good event and very competitive, especially for the first time out for IMG. It's likely just the beginning for IMG as it gets more involved with the 7-on-7s.
"We are obviously very satisfied with the event," said Chris Weinke, director of IMG's Madden Football Academy and former Heisman Trophy winner. "There was talent across the board and guys competed very hard. We want to be recognized as having one of the best 7-on-7s and build this thing out so teams want to come back. We did it the right way and I think the players really enjoyed the trip. We feel like we have the ideal environment for 7-ons."
Norfleet favors three
IMG 7-on-7 MVP Dennis Norfleet (Detroit/Martin Luther King, a three-star running back, says he's down to three schools.
"Michigan State, Cincinnati and Tennessee are my three favorites and they have all offered," Norfleet said. "I have seen all three already and they each have their own positives. I kind of get a different feeling at each school and I like them all."
Norfleet is not tall (5-7), but he's thick, fast, quick and strong. Best of all he's versatile and can really catch the football and make something happen. Last season as a junior he rushed for more than 2,000 yards and 34 touchdowns.

Morris
2013 QB loves Maize and Blue
Shane Morris (Warren, Mi./De La Salle) made an early commitment to Michigan. This rising junior signal caller gave his pledge to the Wolverines last month.
"The new Michigan staff is just amazing," Morris said. "I just love everything about them. They are so personable and down to earth. I think I will fit right in. I'm a pro-style guy with an accurate arm and good footwork."
Morris, 6-3 and 187 pounds, threw for 1,400 yards as a sophomore. He also holds verbal scholarship offers from teams such as Michigan State, Stanford and Tennessee.

Cooper
Cooper was sensational
You could make a strong case that wide receiver Amari Cooper (Miami/Northwestern) had the best weekend of the all of the players at IMG. Cooper, 6-1 and 180 pounds, was sensational from the opening game on Saturday and virtually unstoppable on the star-studded South Florida Express. He should be a recruit who's stock skyrockets this fall.
"Florida State, Miami, West Virginia, Vanderbilt and UCF are all recruiting me very hard," Cooper said. "And those are the schools that I am focusing on. It will come down to my parents and going to a school that not too far away. And I want to win."
Diggs will be road tripping
Four-star safety prospect Jordan Diggs (Fort Myers, Fla./Bishop Verot) is getting ready to embark on a long road trip, where he and other prospects in the area will unofficially visit a slew of schools over a two-week period.
"A bunch of us are going to see a lot of schools," Diggs said. "Some schools we will visit and others we will camp at. We are going to see everyone in the Carolinas, Tennessee, Georgia, Ole Miss, Nebraska, Georgia and some others."
This summer Diggs already has camped with the Gators. Florida has not offered. Neither has FSU nor Miami. But Diggs has nearly 30 other offers.
"The last big one I got was Notre Dame," Diggs said. "Some other big ones are Ohio State, Ole Miss, Nebraska, Maryland and South Carolina. Teams like LSU and Georgia are showing a lot of interest but have not yet offered. The same with the big three [Florida, FSU, and Miami]; they are all recruiting me but have not offered.
"Right now I am wide open."
Diggs, 6-1 and 198 pounds, is the No. 16-ranked safety.
QB names top five
Nathan Peterman (Jacksonville, Fla./Bartram Trail) was one of the more impressive quarterbacks at the IMG 7 on 7. Peterman, 6-2 and 215 pounds, says he has a top five schools.
"I like Cincinnati, Vanderbilt, Wake Forest, UConn and Southern Miss," Peterman said. "They have all offered. My latest offer was from Vandy. That came last week when I visited up there. I really like the new coaching staff."
Peterman is hoping for another offer, from a school he says is showing a lot of interest.
"I sure hope Florida State offers me," Peterman said. "They are recruiting me so we will see what happens. If they did offer they would certainly be in my top five."
According to Peterman he also has scholarship offers from Miami (Ohio), Western Michigan, and FIU.
Gator commit almost ready
Florida commitment Brian Poole (Bradenton, Fla./Southeast) is just about ready to get back to work on the football field. Poole, ranked No. 136 in the ESPNU 150, broken his right ankle in his spring game.
"I made a tackle in the game and my ankle rolled," Poole said. "I think I will be back and ready in two to three weeks."
This four-star prospect recently committed to the Gators. A big reason why he selected Florida over teams such as Florida State, Miami and Notre Dame is the coaching staff.
"I love my position coach [Travaris Robinson]," Poole said. "We have a great relationship. I love the staff in general and I also love Coach [Will] Muschamp and the direction of the program."
Poole is the No. 9-rated cornerback prospect. He's 5-10 and 190 pounds. Last season he recorded 58 tackles and four interceptions. He also rushed for 995 yards and posted 21 touchdowns.

Sneed
Sleeper WR at Armwood
One of the top wide receiver performances over the weekend was from
Javonte Sneed
(Seffner, Fla./Armwood). Sneed, 6-0 and 185 pounds, played with a slight hamstring pull and still was a major factor in the Team Tampa run to the championship game.
"I have scholarship offers from South Alabama, North Texas, UAB and Iowa State," Sneed said. "I think USF could be close to offering me. They seem to be really recruiting me hard. I am going up to South Alabama on the 28th for a visit. Right now I would say they are my leader along with USF, but the Bulls have not offered."
Tampa '13 safety blowing up
There's no question Leon McQuay [Seffner, Fla./Armwood) will be one of the most coveted safety prospects in America next year. He's already claiming verbal scholarship offers from Florida, Florida State, Vanderbilt, Notre Dame, Ohio State, Tennessee, Boston College, USF and UAB.
"There are some more but I can't remember who," McQuay said. "Florida was the first. To be honest, I am kind of shocked with these. I don't even know what to say."
McQuay said he's open with the process and hopes to get to one school this summer or fall.
"I would like to get to go see Tennessee," McQuay said. "I want to visit them."
If you follow recruiting then the McQuay name should be familiar to you. McQuay's older brother, Khiry, is now attending Iowa Western (Council Bluffs, Iowa.). He was a standout cornerback from the class of 2010. He redshirted last season at Butler Community College (El Dorado, Ks.). He played receiver at Butler but will move back to cornerback at Iowa Western.
One to watch from Jacksonville
Big cornerbacks are hard to find. If you are searching for one you may want to check out Charles Henry (Jacksonville, Fla./Raines). He's 6-2 and 175 pounds. Henry doesn't have any offers but there are some teams showing interest.
"Georgia Tech, Florida International, Michigan State, West Virginia, FSU and Kentucky are all recruiting me," Henry said. "Kentucky, FIU and West Virginia are probably showing me the most interest."
Henry recorded more than 50 tackles, four interceptions and had 12 pass breakups last season as a junior. He has camped this summer at Georgia Tech and Georgia Southern. He will camp next month at Auburn and South Carolina.
Tragedy sends team home
Darrell Turner, a linebacker from Gateway High School in Monroeville, Pa., was shot and killed Thursday night in a shopping center parking lot in Durham, N.C. He was part of Team Swag, a 7-on-7 team from Western Pennsylvania that was heading to the IMG Madden Football Academy 7-on-7 Championships.
The team stopped in North Carolina to make an unofficial trip to Duke on Friday. The team immediately headed home.
Weinke led the tournament with a moment of silence for Turner, his family and teammates. Flags were flown at half-staff at the IMG football facilities over the weekend.
IMG's All-Madden Camp
At the end of July, IMG will serve as host for its All-Madden Camp presented by Under Armour and also put together the 2011 IMG All-Madden team. IMG is expecting 150 players to attend. Many of these players were nominated based off their performances at a previous Under Armour combine or event. The camp will be structured like an NFL mini-camp.
For more information please email IMG at football@imgworld.com.
RecruitingNation
Jamie Newberg covers recruiting in the Southeast.
Email him at jamienewbergbw@yahoo.com.
SPONSORED HEADLINES
MORE COLLEGE FOOTBALL HEADLINES
MOST SENT STORIES ON ESPN.COM
EDITORS' PICKS
What to watch at UA All-America game
Storylines

How Missouri and Auburn were built.
VanHaaren

Josh Malone picks Tennessee.
Story »