All you need to know for national signing day
Signing day coverage
On Wednesday, ESPN.com will feature a running blog with news and analysis from signing day, a six-hour chat with prospects from around the country and up-to-the-minute signings in RecruitTracker. ESPNU will feature "election-style" coverage from noon to 7 p.m. ET with analysis from Scouts Inc.'s Tom Luginbill, Craig Haubert and Todd McShay.
If you're a college football fan and haven't followed the recruiting Class of 2007, it's not too late to catch up on how your team will be restocking this offseason. Here are the CliffsNotes with all you need to know on recruiting's big day.
• The big boys of recruiting -- Florida, USC, Texas and Notre Dame -- have once again put together top-five classes, but there's an unexpected team crashing their party. Steve Spurrier and South Carolina currently sit with the No. 4 class, and their top four prospects are offensive skill players who fit the Fun 'n' Gun offense.
• The No. 1 prospect changed three times this year. Notre Dame-bound quarterback Jimmy Clausen (Westlake Village, Calif./Oaks Christian) topped the initial ESPN 150 ranking. He's polished, accurate and smart, but he's not the Second Coming. He was replaced in the top spot a few games into his senior season by his teammate, USC-bound running back Marc Tyler. Clausen was great, but Tyler was the engine that propelled Oaks Christian's undefeated team. Tyler suffered a season-ending broken leg in November, opening the door for running back Joe McKnight (River Ridge, La./John Curtis) to become the new No. 1. McKnight posted 15 yards per rush and 30 yards per reception and scored 30 touchdowns his senior season. Both Clausen and Tyler remain top-10 prospects.
• There are several "legacy" players in this class, sons of well-known players or coaches. Tyler is the son of former NFL RB Wendell Tyler. Minnesota-bound ESPN 150 QB Clint Brewster (Denver/Mullen) is the son of new Golden Gophers coach Tim Brewster. ESPN 150 center T-Bob Hebert (Alpharetta, Ga./Greater Atlanta Christian) is the son of former NFL QB Bobby Hebert. Louisville-bound QB Matt Simms (Franklin Lakes, N.J./Don Bosco) is the son of Phil Simms and brother of Chris Simms. Baylor-bound defensive tackle Matt Singletary (San Jose, Calif./Valley Christian) is the son of Pro Football Hall of Famer and current 49ers assistant coach Mike Singletary.
Top undecided prospects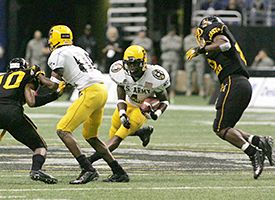 Alissa Hollimon for ESPN.comBecause of John Curtis Christian High School team rules, No. 1 prospect Joe McKnight didn't begin looking at schools until after his senior season.
Joe McKnight
, RB (River Ridge, La./John Curtis Christian)
The most dynamic player in the 2007 class has narrowed his choices to three schools: Ole Miss, LSU and USC and has decided not to take all five of his official visits. He fits in well at USC, and the Trojans certainly would know how to use him, considering their experience with Reggie Bush. However, we get the sense McKnight might prefer to stay closer to home. Regardless, he is a difference maker and can be expected to be on the field right away. We'll find out where he lands when he opens our signing day show on ESPNU at noon with his announcement.
Noel Devine, RB (Fort Myers, Fla./North Fort Myers)
The best pure runner in this class is a high-risk, high-reward choice, and Tuesday, he reportedly chose West Virginia over Florida State and Alabama. For a while Devine appeared set on attending postgraduate Milford Academy to get his academics up to NCAA standards, but a report on SI.com this week said Devine might be very close to qualifying. In addition to the academic issues, Devine carries some personal baggage, as well. Both his parents died of AIDS, he has fathered two children and was nearly adopted by Deion Sanders before returning to Florida from Sanders' Texas ranch. Given all that, and his vast potential, we hope he doesn't wind up as just another high school football legend -- that would be a shame.
Terrance Toliver, WR (Hempstead, Texas)
It was down to Florida or LSU, and both could have used his services, with top performers from each squad departing. Tuesday, Toliver reportedly chose LSU. He fits in really well in its offensive scheme and has the mental and physical capacity to play as a freshman. He's a Dwayne Jarrett type, only faster. He will confirm his decision with us on signing day on ESPNU.
Marvin Austin, DT (Washington, D.C./Ballou)
While Florida State did not land safety Michael McNeil (Auburn), don't expect it to lose Austin. He officially visited Tennessee, USC and Illinois in the fall, and Butch Davis and North Carolina have gotten into the picture of late. With the Tar Heels making a late push, we feel Austin will be choosing between UNC and FSU. Austin will also announce with us on ESPNU on signing day.
Antwain Easterling, RB (Miami/Northwestern)
The most underappreciated back in this class on the field, he also carries baggage off the field. According to a report in the Miami Herald, Easterling is enrolled in a 26-week state program for youthful offenders that will drop charges of lewd and lascivious battery against him once he completes it. With an outstanding blend of power and speed, Easterling has all the tools to shine at the next level. With Miami all but eliminated from contention, expect Easterling to land at either Rutgers or North Carolina, though he did miss his visit to UNC due a conflict with taking the SAT test. Southern Miss also could be a dark horse.
Teams to watch
Alabama
Considering its late push to make a dent in the 2007 class, you have to be impressed with what the Tide have accomplished in a short time. More importantly, their push has made a huge statement to the Class of 2008 about the direction the program is going. Alabama very easily could land WR Brandon Gibson (Mobile, Ala./UMS Wright) and WR/KR Marquis Maze (Tarrant, Ala.), which would give it some much-needed offensive firepower. If coach Nick Saban and his staff have proven anything, it's that they rattled some cages and sent a message in a four-week span.
Miami
First-year head coach Randy Shannon has made a strong impression by stealing away QB Robert Marve (Tampa/Plant) from Alabama and solidifying Miami's depth chart under center. ESPN 150 DE/LB Allen Bailey (Darien, Ga./McIntosh Academy) is already on board, and if the Canes can land WR Deonte Thompson (Belle Glades, Fla./Glades Central), fans should come away feeling very good about their new hire. Keep in mind that in 2008, Miami will be working extremely hard to take over South Florida in recruiting, and Miami Northwestern High School is loaded.
North Carolina
Davis is in the mix for several undecided ESPN 150 recruits and already has four ESPN 150 prospects verbally committed. If UNC has a big national signing day, it can shoot up into the top 10.
Tom Luginbill is the national director of recruiting for Scouts Inc. and a college football and recruiting studio analyst for ESPNU.
Henry Gola is the recruiting editor for ESPN.com.
RecruitingNation
Senior National Recruiting Analyst for ESPN.com
Coached in four professional football leagues
Graduated from Eastern Kentucky and Marshall
SPONSORED HEADLINES
ESPN TOP HEADLINES
MOST SENT STORIES ON ESPN.COM
EDITORS' PICKS
UA Game matchups to watch.
Story

Bold Under Armour Game predictions
Crabtree

31 days for Malik Jefferson's decision.
Story