ESPNU All-American Game in Orlando in January
Originally Published:
June 25, 2007
ESPN.com
Joe Montana, Emmitt Smith and John Elway all jubilantly said they were going to Disney World after winning the Super Bowl. This January, the nation's best high school football players will head there too for the first ESPNU High School All-American Game.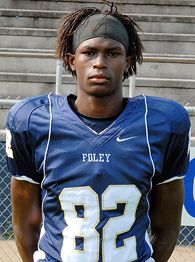 Tom Lee/Foley High School AthleticsThere is a lot of pressure for No. 1 prospect Julio Jones to sign with an in-state school.
The game will air nationally on Jan. 5 on ABC at 2 p.m. ET. The nation's top two prospects, Foley High School (Ala.) wide receiver
Julio Jones
and St. Peter's Prep (N.J.) versatile quarterback
Will Hill
, are among the players who have agreed to play in the game so far.
"It is both exciting and overwhelming," said Jones, who last year caught 75 passes for 1,306 yards and 16 touchdowns.
"It's fun -- it lets people around the country get a feel for who I am as a player," said Hill, who last year led his team to the N.J. state championship. "I won't pay too much attention to the cameras though."
That won't be an easy task. Besides the game itself on ABC, ESPNU will televise the week's practices and ESPN2 will air a special skills competition on Jan. 4. Players will hone their skills against the nation's best, and fans will get a glimpse of the college and NFL stars of tomorrow.
"It's very important to find out just what your talent level is when facing the best players available," said Hill. "It lets me know what I need to do to get better."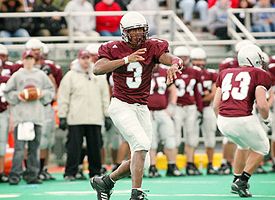 Hill family/St. Peter's PrepWill Hill will be an impact and game-breaking player in college.
"It is very important to compare myself against the best players at each position and I really want to prove myself against the top cornerbacks," said Jones, who last year had 137 yards and two touchdowns in a matchup against LSU signee
Phelon Jones
.
ESPN Scouts Inc. will select the 75-80 players who will participate in the game.
"Both Jones and Hill are as good as we've seen," raved ESPN.com and Scouts Inc. national recruiting director Tom Luginbill.
"Julio Jones is a freak at wide receiver. Over the last three classes, there hasn't been an offensive player as physically dominant as he is at wide receiver. And Will Hill is fun to watch -- simply a big play waiting to happen."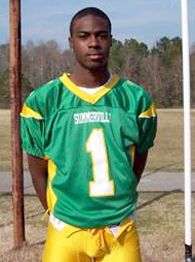 Green familyWide receiver A.J. Green helped Summerville High School (S.C.) to a 12-1 record last season.
Forty players have already been selected, including other star prospects like Van High School (Texas) running back
Jermie Calhoun
, an Oklahoma commit, and Summerville High School (S.C.) wide receiver
A.J. Green
, a Georgia commit. The remaining players will be nominated during the upcoming high school football season, giving players who have big senior seasons a chance to participate.
"We look forward to growing this all-star game into one of the country's premier sporting events for amateur athletics, while also giving even more prep athletes an opportunity to showcase their talent on a national stage," said Burke Magnus, vice president and general manager, ESPNU.
While they gain unprecedented national exposure, the players also stay at the Disney Wide World of Sports Complex, take a trip to Disney World, enjoy a New Year's Eve celebration in Orlando, view the BCS Championship Game together and participate in an awards banquet.
Under Armour All-America High School Football Game Coverage
Saturday
• Zoom Gallery
• Parker leads Silver to 17-14 win
• Game Blog
• Walker opts for Fighting Irish
• Edwards stays in-state with LSU
• Upstart Jarboe heading to Oklahoma
• Pryor earns U.S. Army Bowl MVP
Friday
• Zoom Gallery
• Practice report
• Chan: U.S. Army Bowl preview
Thursday
• Zoom Gallery
• Stars shine at Burger King Skills Challenge
• ESPN 150 changes: Bowers pushing for No. 1
• Spencer Adams picks Clemson |


• Practice report
• Lawlor: All-American players roundtable
Wednesday
• Zoom Gallery
• Practice report
• Lawlor: USC commits take in Rose Bowl win
• Watch: Standouts | Landry Jones and E.J. Manuel
• Watch: RBs and WRs | QBs

Tuesday
• Zoom Gallery
• Morning practice report
• Afternoon practice report
• Omar Hunter de-commits from Notre Dame
• Watch: Overall | QBs | Linemen | Coaches

Monday
• Zoom Gallery
• Morning practice report
• Afternoon practice report
---
•
Matchups to watch
•
Team rosters
|
Alphabetical rosters
•
80 top players head to Orlando for week of football and fun
•
Top pro, high school coaches will instruct players
•
Schedule of events
•
Burger King All-American Varsity Skills Challenge