WR Julio Jones tops 2008 ESPN 150
Originally Published:
July 23, 2007
By
Henry Gola
| ESPN.com
There are fast wide receivers, and there are physically intimidating wide receivers. Then there is 6-foot-4, 215-pound speedster Julio Jones, who is both.
The freakish athlete, who last year hauled in 1,500 receiving yards and 15 touchdowns for Foley (Ala.) High School, ranks as the No. 1 prospect in the ESPN 150 for the Class of 2008.
"From intangibles to talent level, Jones is the total package," says Scouts Inc. national recruiting director Tom Luginbill.
"He is polished, strong, gifted and the most physically dominating prospect in this class."
Naturally, Jones has his pick of where he'd like to play college football. He hasn't narrowed down his list of schools yet and probably won't decide until national signing day nears in February.
Rounding out the top five are: St. Peter's Prep (N.J.) quarterback and athlete prospect Will Hill; Jeannette (Pa.) quarterback and athlete prospect Terrelle Pryor; Van (Texas) running back Jermie Calhoun (Oklahoma verbal commit); and Summerville (S.C.) and wide receiver A.J. Green (Georgia verbal commit).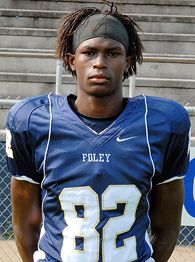 Tom Lee/Foley High School AthleticsJulio Jones is the first wide receiver to rank No. 1 in the ESPN 150.
Bragging rights for the best football state this year go to Florida, with 32 ESPN 150 prospects; Texas has 24, while California and Georgia have 15 each.
"Florida is loaded, especially with defensive speed and at linebacker," Luginbill said. "As always, it's a good year to be recruiting any of those states."
Miami (Fla.) ties with Texas for the most verbal commitments among ESPN 150 prospects with eight, followed by Notre Dame with seven and Oklahoma, Georgia and Ohio State with six each. Verbal commitments are non-binding and not official until letters of intent are signed in February.
Myron Rolle (Florida State) topped the 2006 ESPN 150. Joe McKnight (USC) finished as the No. 1 prospect in the 2007 ESPN 150 after both Jimmy Clausen (Notre Dame) and Marc Tyler (USC) held the honor earlier that year.
The ESPN 150, which ranks the top high school football prospects, is compiled by Scouts Inc.
Henry Gola is the recruiting editor for ESPN.com
SPONSORED HEADLINES
ESPN TOP HEADLINES
MOST SENT STORIES ON ESPN.COM
2008 ESPN 150


More than 2,500 high school prospects will receive Division I football scholarships, but only the best of the best make the ESPN 150.
• Julio Jones tops ESPN 150 | ESPN 150 rankings
• Work ethic pushes No. 1 prospect Jones
• Will Hill's Jersey escape
• Luginbill: Elite WRs, speedy D define '08 class
• Special ESPN 150 chat wrap: Luginbill
• Tucker: ESPN 150 sleepers you need to know
• Haubert: Ten players on the cusp