Learning Southern pronunciation... and other freshman observations
Originally Published:
September 10, 2007
By
Rebecca Gray
| Special to HoopGurlz.com
"The key to change... is to let go of fear."
If you have never heard this quote, then you might want to familiarize yourself with it. My last summer as a high-school student went by faster than I even could blink. At the end of my season, I was announced as Miss Kentucky Basketball and very excited about my future. Over the summer, the states of Kentucky and Indiana pick a guys and girls group of the best all stars in the state. We play one game in Western Kentucky and one game in Indiana at Conseco Fieldhouse. After that, I officially finished my high school career, and college came quickly.
June 16, 2007, was the start of summer school. I graduated from high school on June 2, and just a short time later, I was an official college student. Moving in was a very exciting time. My suitemate was another freshman, Cetera DeGraffenreid. We quickly noticed that being a women's basketball player at the University of North Carolina was going to be sweet. The rooms were amazing and were so different from what people tell you a "regular" student gets. We are very lucky as freshmen to have what we have. The rooms were awesome and now all that was left to do was to start summer classes -- easy, right?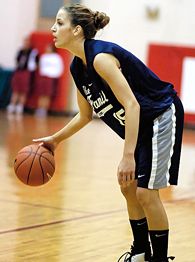 HoopGurlz.comRebecca Gray ranked as a top-50 prospect in the Class of 2007.
College is
way
different from high school. Walking into two new summer classes as someone fresh out of high school was difficult. The reading is the biggest transition you will face academically. In high school, you might read one book in English, and you will have maybe two months to read it. As for college, wow, you might have four different books for individual classes and maybe a month and a half to read. Now, juggle that with summer workouts, on top of the papers you are also writing for those classes, and finding breathing time and time to eat! Time is of the essence! No joke! Using every second of your time is so critical. Time management is hard at first, but as you find a routine, and commit yourself to it, then you will be fine.
As Cetera and I began to find our groove, we also found time to have fun. While we were in classes daily, coach Sylvia Hatchell held numerous camps throughout the summer. When you are a sophomore and above, you are allowed to work the camps and get paid! Man I can't wait until next year! Anyways, as we attended the camps, we also got to see the players. Now think about it -- Rashanda McCants, Erlana Larkins and Alex Miller. You see them ball on TV all the time, and now I am on the team with them. It was obvious in the beginning that we would get along just fine. If you know me any at all, you know I'm goofy and have a great sense of humor. Turns out, the whole team also does. We are already able to cut up in front of one another, make jokes and just do what we do best (besides playing ball) -- be goofy.
Now coming to UNC from the great state of Kentucky, it seems I also brought along my accent. I am not even from the foothills of Kentucky, but I guess I still have that touch. Take for instance, Appalachian State beat Michigan in football. I say it like app-a-lation, and you would have thought that I had slipped and fell in front of everyone or something. They just laughed and laughed, and I was like, "Ok then how do you say it?" Apparently everyone east of the Appalachian Mountains pronounces it, app-a-LACH-ian, and swear that they say it "right." I guess bringing all these different backgrounds from all across America can have its harmless debates at some point. All in all, it will soon go down as great memories.
We have now started workouts, and we go Monday to Thursday. Monday and Wednesday are sprint work and pick up games; Tuesday and Thursday are individual workouts and weight training. As a high-school player, I can say that I was in the gym just about every day. Doing that when I was younger helped me transition to the physical work load college puts on you. High school workouts cannot hold a candle to anything in college. To start out, assistant coach Andrew Calder makes the team match in whatever we do. If you fail to match, you get what we call a "6 a.m." Trust me, you don't want anything to do with that. Basically if you slip up at all, you get 6 a.m's.
For those of you wondering what in the world that is, it is when you get up and have to do an hour of study hall from 6 a.m. to 7 a.m. If you really messed up, it could involve some running as well. Preseason conditioning is very important. National championships are won during the preseason. You must maintain the mindset of, "Nobody is going to outwork me!" Here at Carolina, we take pride in our work ethic and push each other everyday to ensure we become the best we can be. Summer time is your time and your responsibility to your team to get better. This also carries into the preseason, then, as you go along, you put everyone's skills together to create a team.
The first couple of months of college have definitely been learning experiences. I actually already have had one "6 a.m." for forgetting to turn in a syllabus to coach Calder. I have already passed two college courses, became friends with my teammates, and have not gotten lost going to class yet. College is a major change, hard at first, but the freedom is wonderful. With freedom also comes responsibility. On a daily basis I must make sure that I have done my reading, any homework, turned in anything that needs to be turned in, and be on time to everything. The beginning has been quite a ride for me. I am stoked and very excited for our team and our future. I feel that great things come to people who work hard. Always keep a positive mind frame, and make sure that you are working your very hardest.
"The will to persevere is often the difference between failure and success," American inventor David Sarnoff once said.
Until next time, keep it cool and keep ballin!
Rebecca Gray is a freshman on basketball scholarship at the University of North Carolina. A 5-foot-10, sharp-shooting guard out of Georgetown, Ky., Gray was ranked 47th in the 2007 class and an Honor Roll selection by HoopGurlz.com. She was named Miss Basketball in the state of Kentucky after averaging 25.6 points, 6.3 rebounds, 4.1 steals and 4.8 assists during her senior season at Scott County High School, where she also finished as its career scoring leader with 2,907 points.
For more in-depth coverage of women's college-basketball prospects and girl's basketball, visit HoopGurlz.com
ESPNHS HoopGurlz
HoopGurlz intern
Played college basketball at North Carolina, Kentucky, Union College
Former Kentucky Miss Basketball, nationally ranked prospect
EDITORS' PICKS
Camp season begins with NFTC Miami.
Primer

Get to know the underrated 2016 QBs.
Hamilton

These five 2016 QBs could start from Day 1.
Hamilton
MOST SENT STORIES ON ESPN.COM