Commentary
Coaching system needs overhaul
Originally Published:
January 3, 2008
By
Glenn Nelson
| HoopGurlz.com
Just the other day, I was watching a familiar high-school program play a familiar style. Frenzied defense coupled with a shoot-the-three offense. This team shot a lot of threes, all right. Most, however, were so bereft of mechanics and touch that Chris Hansen, my colleague at HoopGurlz.com, joked that he was monitoring whether the basket and backboard were going to survive.
Every year this team plays the same style. And every year the same thing is evident -- in an offense built upon penetration and three-point shooting, no one teaches the players how to penetrate and shoot the basketball.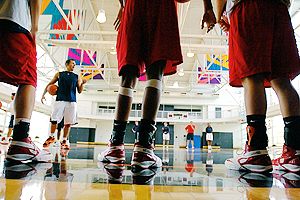 HoopGurlz.comCurrent coaching methods are leaving many lacking basic shooting fundamentals in girls basketball.
So where are the players to turn? How about the Nike Skills Academy? Great program. Truly. But, unless you are one of the country's elite, you're out of luck. How about the guardian of the sport in this country -- USA Basketball? Break out your U.S. passport and sign right up, correct? Er, no. That is, unless you have the makings of an Olympian.
I have been contemplating this commentary for quite some time. After all, I wrote Part One back in September (see: Coaching I). But the problems are so overwhelming and the solutions so daunting, I've had to force myself to fulfill my promise of a follow-up piece. It is my last bit of unfinished business for 2007.
I'm not leaving 2007 kicking and screaming, by any means. In fact, I'm closing my eyes, reciting, "there's no place like home," and hoping that, when my eyes jut back open, the world, in 2008, has returned to its Technocolor, Bluetooth-enabled, wireless, high-definition self. That's because the more technology has shaped and pushed athletics, the more the leaders of girls basketball seem entrenched in the old, black-and-white, Cold War era days, the last of which were ruled by Reaganomics and the trickle-down theory.
You remember "trickle down," don't you? Improve the entire sport -- in which even the women have lost their global hegemony -- by providing the best training to the already good players. It didn't work in economics, and it certainly hasn't been working in girl's basketball, either.
If I had just a dollar for every time a college coach lamented last summer about not wanting to see "another great athlete who doesn't have a clue how to play basketball," I could darn near solve global warming. Every year we think the players are getting better at a younger age, but, ultimately, that's only because more and more of them have And1 dribble moves or can fly and dunk or almost dunk. Honestly, every year seems to bring more posts who stand as erect as mummies on the boxes, defenders who only bend their knees to pick up their iPod earbuds and more and more complaints that the level of shooting continues to drop, nationwide.
The solutions seem simple, but, really, it's an entire way of thinking that must be changed, and that's the difficult part. I recently had a coach complain that her players wouldn't run her plays. She wanted to re-write her playbook. I suggested we teach the kids how to dribble, jump-stop and pivot, throw and catch passes, make cuts, set picks and run pick-and-rolls. Wouldn't you know, after a few weeks of such instruction, the players virtually could run any set you threw at them -- because every set (or play) is composed of a combination of the same, basic basketball maneuvers.
Question: Since most offensive sets begin with a wing entry, how many coaches teach their players how to gain separation from defenders? And how many teach their players to backcut?
At the club and high-school level, there is an inordinate emphasis on teaching plays, as opposed to how to play. I would argue that the pressure to win pervades each circle, mutating the core intent, which in high school is education and in club ball is further skills development and exposure. The constant detouring to ego-quenching victories is a large reason the game is in the shape it is today.
I also would argue that the opportunities for teaching how to play are more abundant in the girls game. (Sweeping statement alert) In my experience, females want a path laid out. They want to know where they are going and why. Explain a drill and ask for questions. At a boys practice, you're typically met with silence; at a girl's practice, you may have just unleashed a sea of hands. But, for many coaches, that concept is as alien as teaching penetration being more than screaming, "take her!" That it actually is about teaching dribble moves, change of pace, change of direction, attacking a defender's hips, reading angles and defenses, protecting the basketball, balance, likely passing lanes and finishing.
The drills that occupied the time between practices and games at USA Basketball's Youth Development Festival last June seemed to many of the players to be random and, they complained, a waste of time. Never mind that the former NBA coaches who conducted the drills created what, at times, seemed a hostile environment to the girls. The most lacking aspect was a sense of building toward something.
At Nike Skills, the instruction was top-notch and organized, and the instructors nurturing and full of explanations. However, the instruction touched but a miniscule percentage of the girls playing basketball at the high-school level.
Particularly after the U.S. women settled for bronze at the World Championships, the ivory towers appear to be in full panic mode. Unfortunately, the American way too often fixates on quick fixes. For the sake of the game's future, it's time to overhaul the elitist, self-serving system now in place, where the rich not only get richer, they also get skills, often for free.
We've got an idea: The women's program at USA Basketball needs to wrestle itself from the NBA's outmoded grip and the sneaker companies, in addition to imprinting their brands on what they hope are the next generations of cash cows (btw, I'll gag the next time I hear one of their representatives say, "It's all about the kids."), need truly to give back. In the long run, teaching the teachers will make the biggest impact. In the long run, all will profit.
Our way would be trickle-down, then trickle-back-up. Assemble the sport's best and brightest high-school coaches. Pay their way to the U.S. Olympic Training Center. House them, feed them for a week, whatever it takes. Teach them how to teach the basics -- to girls. Make a condition of this education the requirement that, within the next year, each coach will conduct a similar training session in her or his region. Pay for that, too. Next year, take a different group of coaches and do the same thing. And the year after that.
With several cycles of such training, you very well will have created a nationwide squadron of educators, as well as a national ethic of fundamental basketball, where a player equipped with the essentials is the norm. The elite -- those invited to USA Basketball events and tryouts, Nike Skills Academies and the like -- will be fundamentally sound and athletic, ready to learn advanced skills and schemes.
In tandem with this program, somebody (USA Basketball?) needs to take charge of a certification program for coaches. Take a page from soccer. When I coached soccer, I had to undergo a background check, plus take a certain number of hours of continuing coaching education. Sounds good to me. When I started coaching youth basketball, all I had to do with start a team. Not a good idea.
It would be difficult to make certification a requirement, since there really is nobody that sanctions every game and event ever held in girls basketball (the NCAA only sanctions evaluation events, for example). However, if parents refused to place their children with non-certified coaches, certification would become a de facto requirement.
Much as I'd like to claim credit for cooking up a trickle-down-and-up approach to training our players, it actually is one that is in vogue around the globe. The starting point for such efforts? The United States.
For more in-depth coverage of women's college-basketball prospects and girl's basketball, visit HoopGurlz.com
ESPNHS HoopGurlz
Founder of HoopGurlz
Coached girls' club, high school and middle school basketball
Co-founder, former editor-in-chief of Scout.com and former NBA columnist/sportswriter
SPONSORED HEADLINES
ESPN TOP HEADLINES
MOST SENT STORIES ON ESPN.COM