Commentary
Physical ailments not slowing down Delle Donne
Originally Published:
February 19, 2008
By
Glenn Nelson
| HoopGurlz.com
Elena Delle Donne bristlles at suggestions that she may be "fragile." The Wilmington, Del., native is the No. 1 ranked senior in the country, after all. The better half of the human race may not be as full of hubris and bluster as the other, but a girl does have her pride.
[+] Enlarge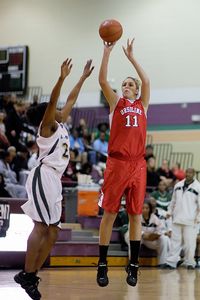 Hoopgurlz.comElena Delle Donne has re-established herself atop the national high-school scene.
The case against Delle Donne, if you will, includes a flu that kept her out of a Nike Skills Academy, severe ankle sprains that kept her away from Beaverton, Ore., again, as well as USA Basketball's U18 tryouts; last summer's hiatus which kept her out of everything and a case of mononucleosis that prevented her from playing in this season's Nike Tournament of Champions, arguably her grandest stage, plus a handful of other games with Ursuline Academy.
Last spring at USA Basketball's U19 tryouts, Delle Donne befriended a player who had a similar, though not as lengthy, litany of physical ailments. That player, Angie Bjorklund of Spokane, Wash., is now enjoying a spectacular freshman season at Tennessee. Like Delle Donne, Bjorklund had a reputation for pushing her body a little too hard.
"If you play against a player like me or Angie," said Delle Donne, who recently was named the Women's Basketball Coaches Association (WBCA) national player of the year, "when you come off the court you won't say we're fragile. When you work extra hard, it takes an extra toll on your body. I think I have at times overworked myself."
Delle Donne says she has made the connection between overwork and breakdown -- "I think I got it now," she said - and has quickly re-established her turf atop the national high-school scene. Since returning from her bout with mono, she has averaged 31.4 points despite almost never seeing the light of a fourth quarter. Not coincidently, Ursuline Academy, which dropped from national rankings during her absence, has gone undefeated with Delle Donne on the floor.
The list of the vanquished includes traditional New York power Christ the King, regionally ranked Archbishop Carroll and nationally ranked Cardinal O'Hara of Pennsylvania. In an attempt to re-establish its national stature, Ursuline has made a so-far unsuccessful attempt to schedule a game against Murry Bergtraum, the unbeaten New York powerhouse currently ranked No. 1 by ESPN.
"That dream," Delle Donne said, referring to a high national ranking or even national championship, "kind of went away." During her absence, Ursuline went 4-6. Delle Donne almost was prevented from making the trip to Chandler, Ariz., for the Tournament of Champions, then ended up almost regretting the fact that she went. "It was horrible," she said. "I really love that tournament. To watch my team play so hard, and not even be in the running was difficult to watch."
The high point of Delle Donne's post-mono stretch has been a 51-point scoring binge against Caravel Academy during which she made eight of 10 three-pointers and missed only six of 17 shots, all told. It was the second 50-point performance of her career, the first coming against St. Elizabeth and current Rutgers freshman Khadijah Rushdan during her sophomore year.
"I hit my first two 3-pointers early, so I knew my shot was on," Delle Donne said. "The other (50-point) game was a championship, a closer game and a lot more fun. This time, I had no idea I had 50 points. If I would have guessed, I would have said somewhere in the 30s."
Delle Donne says she paid special attention to her much ballyhooed jump shot, staying after practice with her father Ernie or trainer John Noonan. In all games this season, she is shooting nearly 60 percent from the field, including more than 40 percent from three-point range.
She'd set the tone -- literally -- for a red-hot season during Ursuline Academy's opener against Archbishop Ryan. Delle Donne made nine of 16 shots and finished with 33 points despite feeling "off." Turns out she had a 102-degree fever that she was unable to shake for a week.
Delle Donne initially was told by her doctor that she probably had a cold. The diagnosis of mono didn't arise until her mother Joanie described symptoms to the doctor of Delle Donne's sister, Elizabeth. The biggest problem for Delle Donne was an enlarged spleen. However, her doctor also was not satisfied with her blood work, keeping her out another couple weeks. Delle Donne said she was so eager to return, she insisted on having her blood tested once or twice a week.
She had only four practices before playing against Christ the King, but Delle Donne said she felt she had "so much more energy" compared to her mono-induced fatigue, she hardly noticed if she was lacking any conditioning.
As far as source of her illness, also referred to sometimes as the "kissing disease," Delle Donne said mono was "something that was going around."
She added, "I don't even have a good story to tell."
That is quickly changing, however.
For more in-depth coverage of women's college-basketball prospects and girl's basketball, visit HoopGurlz.com
ESPNHS HoopGurlz
Founder of HoopGurlz
Coached girls' club, high school and middle school basketball
Co-founder, former editor-in-chief of Scout.com and former NBA columnist/sportswriter
SPONSORED HEADLINES
ESPN TOP HEADLINES
MOST SENT STORIES ON ESPN.COM
EDITORS' PICKS
Will facilities upgrade help Maryland recruit?
VanHaaren »

Inside the culinary competition for recruits.
Crabtree »

Does tradition matter to today's recruits?
VanHaaren