Commentary
New era of stars to emerge at McDonald's game
Originally Published:
February 19, 2008
By
Glenn Nelson
| HoopGurlz.com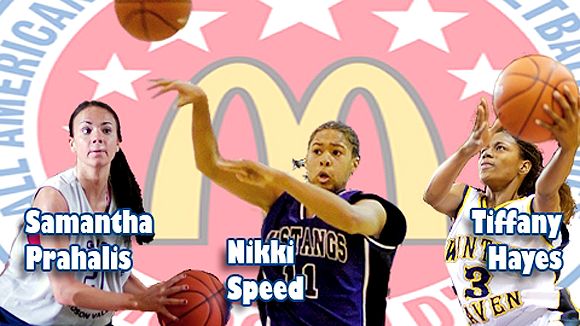 HoopGurlzPrahalis, Speed and Hayes headline the McDonald's All-American rosters.
On display at the McDonald's All-American Game for girls, March 26 in Milwaukee, like neon on a dirigible, will be the emerging new order in women's college basketball.
That order of course will continue to include perennial powerhouses Connecticut and Tennessee. But the Huskies and Lady Vols are having to make room for the likes of LSU and Rutgers, both of which are generously represented on the East and West teams announced Tuesday night on ESPNU, which also will carry the game live.
C. Vivian Stringer's Scarlet Knights have three recruits -- Jasmine Dixon (Long Beach, Calif.) Brookly Pope (Dallas) and Nikki Speed (Pasadena, Calif.) -- on the West team and two -- April Sykes, the Crawford, Miss., native ranked No. 2 overall in the HoopGurlz Hundred for 2008 and Chelsey Lee (Miami) on the East. Rutgers' opponents in last year's women's NCAA championship game, Tennessee, also has five selections, including Amber Gray (West Chester, Ohio) Glory Johnson (Knoxville, Tenn.), Alicia Manning (Woodstock, Ga.) and Shekinna Stricklen (Morrilton, Ark.), on the East and Alyssia Brewer (Sapulpa, Okla.), on the West.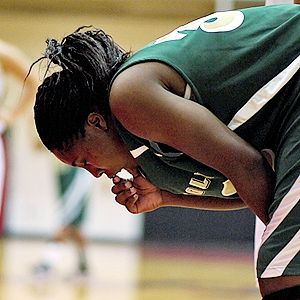 HoopGurlz.comJasmine Dixon is one of three Rutgers' commits in the game.
The annual reminder that these honors often are the product of politicking or ballots cast by those who do not see a wide spectrum of players is evident by the ommission of two highly touted Ohioans, Cierra Bravard of Sandusky and Shay Selby of Geneva. Bravard, a 6-foot-4, record-breaking scorer headed to Florida State, is ranked 7th overall in the class by HoopGurlz, while the Duke-bound Selby is widely considered the best point guard in the class, a status she cemented on a national stage at USA Basketball's Youth Development Festival last spring. Both have been selected to play in the Women's Basketball Coaches Association (WBCA) all-star game in Tampa, Fla., on April 4.
Elena Delle Donne (Wilmington, Del.), the No. 1 player in the class, is on the East, while future UConn teammate Tiffany Hayes (Winter Haven, Fla.), is on the West. Like Rutgers, LSU has three future players on the West squad, including LaSondra Barrett (Jackson, Miss.), Ayana Dunning (Columbus, Ohio) and Destini Hughes (Kennedale, Texas).
North Carolina (Chay Shegog of Stafford, Va. and She'la White of Portsmouth, Va.) -- both on the East)and USC (Ashley Corral of Vancouver, Wash., and Briana Gilbreath of Katy, Texas -- both on the West) also had two recruits named McDonald's All-Americans.
All of the honorees are ranked as college prospects among the top 45 in the country by HoopGurlz.com.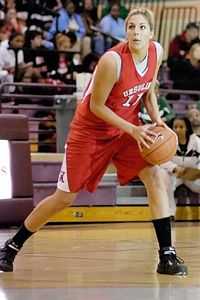 HoopGurlz.com No. 1 Elena Delle Donne will suit up for the East team in Milwaukee.
Though 12 players were named to each team, selectors, including HoopGurlz, voted for 20 total players in the final of several rounds of balloting.
Several of the All-Americans will participate in JamFest, Monday, March 24, which includes the slam dunk, team ball and 3-point competitions.
The East
The top five players in the HoopGurlz Hundred -- in order: Delle Donne, Sykes, Glory Johnson, Gray and Lynetta Kizer, the top-rated post -- are here. It's unlikely that the five will be packaged as a starting unit, however, as none are points guards. For that position, East coach Sherri Retif of Germantown Academy in Fort Washington, Pa., has the choice of scintillating performers Samantha Prahalis of Dix Hills, N.Y., an Ohio State signee, and sweet-shooting She'la White of Portsmouth, Va., who is headed to North Carolina.
This squad's hallmark is its outstanding size. The point guards and 5-11 Shenise Johnson (Henrietta, N.Y.), one of the most punishing sub-six-footers in the country, are the only East players not 6-1 or taller. Besides Kizer, the squad has two other centers in Lee and Shegog. Delle Donne, arguably the best long-distance shooter in the class, is the tallest player at 6-4.
[+] Enlarge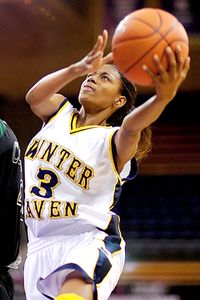 HoopGurlzTiffany Hayes, along with Delle Donne were two UConn commits selected to the game.
The other perimeter players -- Manning and Stricklen -- have an abundance of size. The most powerful of the forwards, Johnson and Gray add quickness to the equation.
The West
What this squad may lack in comparative size and glossy rankings, it makes up in more defined roles and, top to bottom, is bursting with creative juices. Also, while the East has three centers, this team has three point guards, giving coach Tom Klawitter of Parker High School in Janesville, Wis., a choice of ballhandling wizards Corral, Hughes, or the aptly named Nikki Speed, the Pasadena, Calif., native headed to Rutgers.
The centers offer versatility as Dunning, the LSU signee from Columbus, Ohio, can play high or low power, and Texas-bound Ashley Gayle of Las Vegas, Nev., is a difference-maker at the defensive end. Two of the forwards, Barrett and Brewer, are equally adept from the perimeter, with the shot or off the dribble, while another, Nneka Ogwumike, the Cypress, Texas, star who is headed to Stanford, is a wrecking machine inside the paint with quick moves and vacuum cleaners for hands. Though a guard, Dixon is, pound for pound, the most powerful inside scorer in the class.
Two of the West's main perimeter players, Gilbreath and Hayes, offer Swiss Army Knife all-around versatility, and Hayes may have had the most eye-opening summer of any player in the country. Expect a lot of fireworks from the other main perimeter provider, Pope, who along with future Rutgers teammates Sykes of the East, are pre-game favorites for MVP honors because of the depth of their offensive arsenals.
Discuss This on Our Message Board:

Click Here

Glenn Nelson is the founder and publisher of HoopGurlz.com. He is a member of the McDonald's All-American Selection Committee, Parade All-American Selection Committee, SportsShooter.com (Click for Porfolio), Asian American Journalists Association, National Association of Photoshop Professionals, National Press Photographers Association, Online News Association, Society of Professional Journalists and U.S. Basketball Writers Association. Glenn also founded and coached two select girl's basketball teams and previously was the editor-in-chief at Scout.com, a managing editor at Rivals.com, and a longtime, national-award-winning basketball columnist and writer for The Seattle Times. His work has appeared in several books and national magazines. He is co-author of "Rising Stars: The Ten Best Players in the NBA" (Rosen Publishing, 2002).
ESPNHS HoopGurlz
Founder of HoopGurlz
Coached girls' club, high school and middle school basketball
Co-founder, former editor-in-chief of Scout.com and former NBA columnist/sportswriter
SPONSORED HEADLINES
ESPN TOP HEADLINES
MOST SENT STORIES ON ESPN.COM