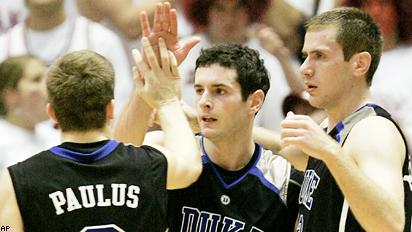 Same Old Story
The song remains the same when it comes to the Big Ten vs. ACC. Behind No. 1 Duke's 75-67 victory Wednesday night, the ACC won its seventh straight Challenge.
Story

2002 ACC/Big Ten Challenge
Indiana got revenge on Maryland, but the ACC proved to be too tough for the Big Ten again, winning its fourth straight ACC/Big Ten Challenge.


End text -------------------------
The Matchups
Ohio State 69, Virginia Tech 56
Recap | Box score
Roster
Stats
Blue Ribbon
Roster
Stats
Blue Ribbon
Wake Forest 91, Wisconsin 88
Recap | Box score
Roster
Stats
Blue Ribbon
Roster
Stats
Blue Ribbon
Florida State 97, Purdue 57
Recap | Box score
Roster
Stats
Blue Ribbon
Roster
Stats
Blue Ribbon
Clemson 96, Penn State 88
Recap | Box score
Roster
Stats
Blue Ribbon
Roster
Stats
Blue Ribbon
Illinois 68, North Carolina 64
Recap | Box score
Roster
Stats
Blue Ribbon
Roster
Stats
Blue Ribbon
Michigan 74, Miami 53
Recap | Box score
Roster
Stats
Blue Ribbon
Roster
Stats
Blue Ribbon
Michigan State 88, Georgia Tech 86
Recap | Box score
Roster
Stats
Blue Ribbon
Roster
Stats
Blue Ribbon
Maryland 83, Minnesota 66
Recap | Box score
Roster
Stats
Blue Ribbon
Roster
Stats
Blue Ribbon
Virginia 72, Northwestern 57
Recap | Box score
Roster
Stats
Blue Ribbon
Roster
Stats
Blue Ribbon
Duke 75, Indiana 67
Recap | Box score
Roster
Stats
Blue Ribbon
Roster
Stats
Blue Ribbon
Iowa 45, NC State 42
Recap | Box score
Roster
Stats
Blue Ribbon
Roster
Stats
Blue Ribbon