Memphis survived Washington's FT misses; did he?
Darius Washington's free-throw misses and subsequent jersey-over-his-head picture are indelible Championship Week images. Memphis has overcome the moment, but has Washington?
It is the moment every college basketball player dreams about, or at least those with the guts and fortitude to step to the foul line with no time remaining and your team's postseason hopes hinging on your sinking three free throws to win a conference tournament and a berth in the NCAA Tournament.
Former Memphis point guard Darius Washington Jr. was only a 19-year-old freshman when fate put him in that position during the 2005 Conference USA finals against sixth-ranked Louisville. With the Tigers trailing by two, Louisville's Francisco Garcia inexplicably fouled Washington on a missed 3-point try at the buzzer.
The Tigers, who had lost their last four games to finish the regular season, had to win the tournament to earn a spot in the NCAA Tournament, so if Washington sank all three, Memphis was going dancing. If he made only two, the Tigers would have to test their luck in overtime. Anything less and the Tigers would be relegated to the lesser NIT for the third time in four years.
Standing 15 feet from the basket, and with a sold-out Tiger-friendly crowd in FedEx Forum and a national TV audience watching, Washington calmly sank the first foul shot. He was so confident that he turned to Memphis coach John Calipari and the Tigers' bench, as if to suggest the game was over.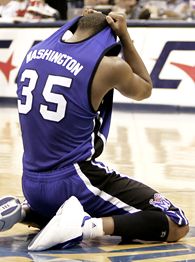 AP Photo/Mark HumphreyAfter the third FT missed, Washington slumped to the FedEx Forum's court.
But his second attempt bounced off the rim. Washington's confidence clearly was shaken, and then he missed the third shot. Immediately, he sank to the floor at the foul line and pulled his jersey over his head while the Cardinals celebrated their improbable victory on the Tigers' home court.
It didn't take Memphis long to recover from Washington's missed foul shots. The Tigers advanced to the final game of the 2005 NIT after losing to Louisville, and last season Memphis was a No. 1 seed in the NCAA Tournament. The Tigers lost to eventual national runner-up UCLA 50-45 in the finals of the Oakland Region. This season, the Tigers are 26-3 (15-0 in Conference USA) and are ranked seventh nationally going into Saturday night's regular-season finale at SMU. Memphis has the nation's longest winning streak at 18 games and will probably be a No. 2 or No. 3 seed in the NCAAs.
Clearly, the program moved on. But although Washington said it didn't take him long to forget the shots that are still an indelible image in college basketball's postseason lore, he never reached his full potential before bolting Memphis last spring after his sophomore season. Calipari insists his former player didn't let the missed shots against Louisville destroy him.
"I think he was driven by it, there's no question about it," Calipari said. "He grew and wanted to be in that position the first time and even more so after that. He wanted to be the guy making those free throws. I wish he would have made them. I think we could have learned as much by making all three and winning the game as he did missing them. But I think every experience you take something from it. I think in his case, it was, 'You know what? I'm not going to be afraid, and I want to be there again.'"
If Calipari could do it again, the Memphis coach said he would have called timeout after Washington missed the second attempt.
"I could have calmed him down," Calipari said. "I would have put it on me. I would have simply said to him, 'If you miss this now, they're going to think I missed it because they'll think I iced you. They won't believe I called this timeout. So just go up there and shoot it.' I believe he would have made it and [we would have] gone into overtime and won the game."
Although both Calipari and Washington's father said the point guard quickly regained his confidence, his production slipped during his sophomore season. He averaged 13.4 points and 3.1 assists per game during the 2005-06 season and never seemed fully comfortable playing point guard. He slowly lost playing time to backup Andre Allen, a popular Memphis native.
"He was the same player, just more hungry," Darius Washington Sr. said this week. "It was just understanding what took place and just dealing with it head on. I think it was a situation where we talked about it and dealt with it. He watched it hundreds and hundreds of times on TV. I told him, 'You know, the sun is still going to come out tomorrow and we've still got to do what we've got to do. Things like that happen.'"
After the Bruins eliminated the Tigers from last season's tournament, Washington signed with an agent on the eve of the NBA draft after only two college seasons. He wasn't selected and now plays professionally in Greece. Repeated attempts to contact Washington for this story were unsuccessful.
"It took a couple of weeks to get over it," Washington told ESPN.com during the summer of 2005. "It happens, you know? It's part of the game. I shot the free throws and it just didn't go my way."
Calipari said he advised Washington that he wouldn't be selected in the NBA draft. Washington Sr. said his son was told by scouts and NBA people that he would be selected. When he signed with the agent, it made him ineligible under NCAA rules to return to Memphis for this season.
"What I do with all these kids is I tell them where they're projected to be drafted," Calipari said. "I say, 'I'm going to support you, but you have to accept where you're being projected. As long as you accept it, I'll defend whatever decision you make.'"
What if Washington had made the foul shots? Would things have turned out differently? His father said neither he nor his son has even pondered the thought.
"When I talked to him after the draft and his name wasn't called, he said missing the free throws hurt him more than not being drafted," Washington Sr. said. "He could control missing the free throws. The draft was in somebody else's hands, so missing the free throws were harder than him not getting drafted."
Washington Sr. said he is confident his son would step to the foul line again, with everything riding on his shots.
"If he's ever put in that position again, he'll give it his best shot," Washington Sr. said.
Mark Schlabach covers college football and men's college basketball for ESPN.com. You can contact him at schlabachma@yahoo.com.
College Football and Basketball
College football writer for ESPN.com
Author of seven books on college football
Formerly at the Washington Post and the Atlanta Journal-Constitution
SPONSORED HEADLINES
MORE MEN'S COLLEGE BASKETBALL HEADLINES
MOST SENT STORIES ON ESPN.COM
EDITORS' PICKS
Some rivalry games should never be altered, and some that have gone away need to return.
Four Corners »

Is it time to worry about Kansas freshman Kelly Oubre?
Daily Word »

Kentucky's wall of bigs is intimidating.
Gasaway