Another night of Duke just being 'Duke'
Updated:
November 28, 2001, 2:02 AM ET
By
Gregg Doyel
| Special to ESPN.com
CHICAGO -- Duke was undefeated, and Duke was No. 1. But four games into the season, what you still didn't know was this: Was Duke, you know, Duke?
The answer Tuesday night: affirmative.
"Duke's still Duke," said Iowa power forward Reggie Evans. "When they beat you by 18, you know they're still Duke, and they deserve the ranking."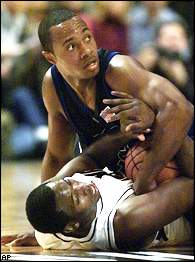 Jason Williams and Duke looked, well, like Duke in routing Iowa Tuesday night.
In running No. 13 Iowa off the court 80-62 at the United Center, the top-ranked Blue Devils used the national stage of the ACC/Big Ten Challenge on ESPN to reassert their place in the college basketball scheme of things: at the top.
Until Tuesday, Duke really hadn't beaten a premium opponent since winning last season's national championship. Seton Hall may or may not be an NCAA tournament team, but a power Seton Hall is not. Duke only beat the Pirates 80-79 in the season opener at the Maui Invitational, and while the Blue Devils won that tournament, they didn't exactly wade through hell and back to do it -- beating South Carolina in the semifinals and Ball State in the title game. Then Duke beat the heck out of undermanned Portland, 104-62, on Sunday.
What did it mean? You didn't know. Until Tuesday. And then Iowa coach Steve Alford knew.
"Duke is a good basketball team," he said. "They exploited our weaknesses tonight. Boozer, Williams and Dunleavy outscored our whole team, and Recker and Evans had tough nights."
Indeed, Duke center Carlos Boozer, forward Mike Dunleavy and guard Jason Williams combined to score 65 points, three more than the Hawkeyes. Iowa's offensive output was stymied by Duke's defense of Evans and small forward Luke Recker, who combined for 23 points -- Evans was averaging 21.6 points by himself coming into the game -- on 10-for-29 shooting.
Duke didn't just beat a ranked team on a neutral court, either. The United Center crowd of 17,296 was about as Big Ten-oriented as you'd expect, and a lot more yellow-and-black than you'd think given that Iowa City is almost a four-hour drive from here. The crowd cheered every Recker basket with a deep "Luuuuu," and met every foul called in favor of Duke with a noise that sounded almost the same.
If anyone lost their composure, though, it was the Hawkeyes.
First, an Iowa player floored Williams on their way to the benches for a television timeout. Williams charged toward the Iowa bench, but was restrained by coaches and teammates. While that was going on, Duke coaches yelled at the referees. While that was going on, Iowa director of basketball operations Sam Alford yelled at Duke's coaches. Assistant Chris Collins yelled back. It was ugly. It was beautiful. Especially to Duke coach Mike Krzyzewski.
"We played very well against an emotionally charged Iowa basketball team," he said. "And we had to play that way to win."
A scary side to this whole night, however? The Blue Devils only played their best basketball for about 11 minutes, a stretch that covered the end of the first half and the start of the second. But in those 11 minutes, Duke turned a 19-16 deficit into a 51-34 lead -- hitting five 3-pointers, getting out in transition, hounding Iowa players into turnovers and missed jumpers.
Those 11 minutes were what Krzyzewski had wanted to see.
He hadn't seen that Duke all season, most notably in the Blue Devils' victory against Portland. After that game Krzyzewski kept the team in the locker room for 30 minutes -- about 25 more than usual -- before meeting the media. He said the delay was a result of him giving his players their itinerary for the Chicago trip, but if you're smart enough to get into Duke, you don't need 30 minutes to be told where and when to meet the team bus.
"Coach got our attention (after the Portland game)," Williams said, presumably talking about something more than the team's focus on its travel plans.
"
Duke was Duke tonight. We contributed to that, but when Duke's playing its best, you better bring your 'A' game. "
— Luke Recker,
Iowa senior guard
After flailing away from 3-point range for much of their first four games, and hitting just 28.9 percent, the Blue Devils made more of a concerted effort Tuesday to pound the ball inside to Boozer. The 6-foot-9 junior showed his gratitude by producing one of his best statistical games in college, a 22-point, 14-rebound manhandling of Iowa's Evans.
The Blue Devils helped Boozer on defense by sending a second defender to double team Evans every time he touched the ball, but Boozer led the effort by denying Evans the ball in spots he normally gets it.
Recker also found the Duke defense unlike any he'd seen. On the occasions he got past Jones, Recker found his way to the basket blocked by along-armed defender like the 6-9 Dunleavy, or a quicker player like Williams or Chris Duhon.
"Duke was Duke tonight," Recker said. "We contributed to that, but when Duke's playing its best, you better bring your 'A' game."
And even that might not be enough.
"We need to play with a lot of emotion," Krzyzewski said. "The teams that play against us play with a high level of emotion, and we have to match that or exceed it. Tonight we showed up and played really well."
Iowa, which had beaten No. 19 Memphis and lost in the final second to No. 5 Missouri, had no chance Tuesday night. A night that left you wondering how many teams will between now and April.
Gregg Doyel covers college basketball for The Charlotte Observer and is a regular contributor for ESPN.com. He can be reached at gdoyel@charlotteobserver.com.
EDITORS' PICKS
Can Purdue's A.J. Hammons be a consistent force?
Myron Medcalf »

How did Coach K run Duke's program from abroad?
Brown »

How did the major programs fare overseas?
Jeff Goodman