C-USA poised to clean up come March
Originally Published:
January 14, 2004
By
Pat Forde
| Special to ESPN.com
In the zero-sum game that is college basketball, one league's misfortune can be another's lucky break. Thus we find Conference USA dancing over the prone carcasses of the Big Ten and Pacific-10.
The latter two leagues appear to be in the process of throwing away some of the NCAA Tournament bids they're accustomed to -- and C-USA is positioned to catch them.
Ever since the tournament expanded from 48 to 64 in 1985, the Big Ten has placed at least five teams in the field. Nine times it placed six or seven. But this year, the Big Ten might have a hard time finding that many bid-worthy teams. The league is a disaster area -- and the Pac-10 might be just as bad, with no more than two teams worth bragging about at this point.
Which brings us to our favorite dysfunctional, divorce-pending league.
The power rankings love C-USA, especially the short-timers that are waiting to jump to the Big East. Louisville is No. 1 in the Sagarin Ratings and No. 3 in ESPN.com's Daily RPI through Tuesday's games. Ken Pomeroy's ratings rank Cincinnati No. 1 and the Cardinals second. Five C-USA teams are in the RPI top 45, and eight are in the top 67.
Charlotte, a traditional slow starter/strong closer, is 10-3 and off to its best 13-game record under Bobby Lutz. UAB, which nearly won the league tournament last year, has a shiny No. 32 RPI ranking. Banged-up Memphis is coming off a bad loss at Southern Mississippi, but has played very well when fully healthy. And defending champ Marquette will be heard from, despite a surprisingly low RPI of 62. (In fact, the Golden Eagles might be heard from Wednesday night, when they host Cincinnati.)
C-USA has never had more than four teams in one Big Dance, always deferring to the BCS conferences. Now, closing in on a breakup, could this be the league's best year?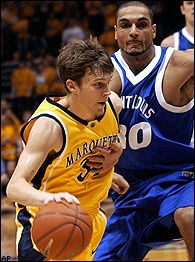 Travis Diener and the Golden Eagles may have plenty of C-USA company in the NCAA Tournament this year.
"This conference has risen as one of the best in basketball right now," Louisville coach Rick Pitino said. "It's a shame it is breaking up, because it was becoming one of the premier conferences."
"Top to bottom, it's taken another step," said Marquette's Tom Crean, whose team became the first to earn a Final Four trip for C-USA last year. "This is as strong as it's been in my five years. There's been some unbelievable scores."
Among them:
Louisville beating two No. 1s in a span of two weeks, Florida in Freedom Hall and Kentucky in Rupp Arena.
Charlotte opening the season by shocking defending national champion Syracuse in the Carrier Dome.
Memphis beating Missouri when it was ranked No. 11 and Marquette beating Notre Dame by 13 when the Fighting Irish were No. 20.
Cincinnati bludgeoning everyone in its path by an average margin of 26.2 points, best in the nation. Louisville is close behind with an average victory margin of 23, winning its first two league games by an astonishing average of 39.5.

"The league is just better this year," Lutz said.

Nobody is more improved within the league than Cincinnati. A season that began a year ago with Bob Huggins recovering from a major heart attack was a struggle throughout, especially by Cincy standards.

The Bearcats went 17-12 overall, just 9-7 in conference play, and lost in the first rounds of both the league tournament and the NCAA Tournament. They fell out of the rankings in early December and never returned.

A soft early schedule has kept Cincinnati largely off national television and off national radar, but this team has the trademarks of a classic Huggins team. The Bearcats have muscle (forwards Jason Maxiell and Eric Hicks, plus 260-pound center Robert Whaley, whose playing time has been curbed by sporadic work habits). They have athleticism (Florida transfer James White and senior guard Tony Bobbitt, who ranks second in the league in steals). And the big change from last year: they have shooters (Bobbitt and Field Williams, who is shooting 48.5 percent from three-point range but is no longer limited to stand-still shooting).

Bobbitt came in from junior college with a big rep last year, but was more often a big headache, as his play vacillated wildly. This year Bobbitt is averaging 14.1 points and 2.6 steals. "He's been terrific," Huggins said. "He's done what we've asked him to do day-in and day-out in practice."

"We can make shots," Huggins added. "A year ago we were the gang that didn't shoot very straight. We can really stretch the defense with Tony Bobbitt and Field Williams, and (Kansas State transfer) Nick Williams is starting to play the way we envisioned him playing when he came here.

"We've got a long way to go defensively and we don't rebound the ball nearly as well as we have in the past, but we can make shots. That's kind of the great equalizer."

If shooting is the equalizer, some teams are more equal than others. That's where Louisville comes in. The Cardinals are simply overwhelming and demoralizing opponents right now -- doing it first with relentless defense and pressure, but secondly with devastating barrages of outside shooting.

The Cardinals are sixth nationally in 3-pointers made per game at 9.5, and lead the league in accuracy at 40 percent. Taquan Dean is shooting 49 percent beyond the arc -- and taking plenty of them. Dean was a school-record 9 for 11 from 3-point range in a rout of VMI.

But the man setting up his teammates for so many open shots is swingman Francisco Garcia, who is playing so well that the Cards have not missed Reece Gaines much at all. Playing point forward, the tremendously skilled and unselfish Garcia is everywhere: leading the league in assists at 6.1, fourth in assist-to-turnover ratio at 2.35 to 1, fourth in steals at 2.1, seventh in blocked shots at 1.8, and eighth in scoring at 15.5.

"Our chemistry is off the charts right now," Pitino said, crediting best friends Garcia and Dean for leading the way in that area. " ... Two of our young stars are extremely humble and hard-working, and they're great kids and great teammates."

Mark your calendars for the first Cincinnati-Louisville collision: Jan. 21 in Freedom Hall. But don't forget about the second flight of Charlotte, Memphis, Marquette and UAB.

In fact, the second flight benefits from a major C-USA scheduling change for this season. With its divisions more lopsided than Quasimodo, the league went to a single division and has every team playing every other, while playing three teams twice.

Louisville takes it between the eyes. The teams it plays twice: Cincinnati, Marquette and Memphis. The Bearcats get off only slightly lighter with the Cardinals, Memphis and DePaul.

Advantage, Charlotte, UAB and Marquette -- which also benefits from Southern Miss moving its home game against the Golden Eagles to Green Bay. (Money talks, and the Golden Eagles walked. And if Bob Knight can put a tire store logo on his sweater, can you really be surprised that a program would sell a home game?)

But in addition to scheduling inequities, there are legitimate questions to ask about whether the lower half of the house divided might drag down the upper half. C-USA has six teams with RPIs in triple digits, ranging from 102 to 165. Once again, the expansion that brought in football-first schools Texas Christian (RPI No. 139) and East Carolina (No. 165) serves as a basketball anchor.

However, the mood is upbeat in this short-timer-intensive league right now, and the attitude is predatory. Bigger leagues could be leaving bids on the table, and C-USA appears ready to grab them with both hands.

Games to Watch
Cincinnati at Marquette, Wednesday
First of the marquee C-USA matchups is a showdown between two ultra-tough programs that have waged some memorable battles in recent years. Bearcats haven't won in Milwaukee since Kenyon Martin wore black.
Southern Mississippi vs. Marquette in Green Bay, Friday
Golden Eagles come back 48 hours later to play the most controversial "road" game of the year in C-USA. Cash-strapped Southern Miss moved the game it was supposed to host in Hattiesburg for a profit, producing howls from other schools in the league.
Mississippi State at LSU, Saturday
The highlight should be a big-time collision in the paint: State's Lawrence Roberts vs. the Tigers' Jaime Lloreda and Brandon Bass. The competition for rebounds should be fierce.
Florida at Vanderbilt, Saturday
Commodores are 11-0 in Nashville but haven't played anyone there on the level of the Gators. David Lee is on a tear, and the Lee-Matt Freije matchup should be worth the price of admission.
Charlotte at Memphis, Saturday
A win here for the 49ers would establish them as a league title contender. Tigers need a bounce-back week after a ghastly loss at Southern Miss.

Around the South



Mississippi State entered a major three-game stretch this week that will definitively declare whether this team is contender or pretender. The Bulldogs hosted Kentucky Tuesday night, then play at LSU on Saturday and at Florida next week. The Bulldogs figure to have the talent to be in the SEC race for the long haul, but starting it 1-3 (MSU beat Arkansas in its SEC opener, before losing to Kentucky) would make for a serious hole to climb out of. Even a 2-3 start could be viewed optimistically if State is competitive in the losses.
Whatever esteem boost Tennessee might have gotten from beating Georgia by 24 to open SEC play had to evaporate Saturday in ville. Florida torched the Volunteers by 38, Tennessee's worst loss ever to the Gators. Florida shot 65 percent from the field, an endorsement of the team's renewed commitment to sharing the ball and an indictment of the Vols' defense. Tennessee hosts Vanderbilt on Wednesday, its seventh ranked opponent in the next nine games -- a crash course on competitiveness after a benign non-conference schedule.
Kentucky has established a pattern: take out the other team's leading scorer. Lawrence Roberts was the first to at least approach his average in Tuesday's 67-66 loss to the 'Cats -- scoring 15 points and grabbing 14 rebounds. Prior to that, however, Vanderbilt's Matt Freije was the fifth straight leading scorer to be snuffed out by the Wildcats' smothering defense. Freije was held scoreless for nearly 28 minutes last Saturday and finished with 13 points, six below his average. The previous game, North Carolina's leading tandem of Rashad McCants and Jawad Williams went a combined 3-for-14 and scored seven points. Austin Peay's Adrian Henning was held to nine points. Francisco Garcia of Louisville scored just 10. And Eastern Kentucky point guard Matt Witt went 0 for 9 and scored just two points.
DePaul double-double machine Andre Brown missed the Blue Demons' trip to Cincinnati over the weekend and is still limited by a knee injury. Dave Leitao's team started league play with losses to Charlotte and Cincy, and now must follow with Memphis and UAB this week. That's a tough stretch to survive without your best inside player.
Memphis forward Rodney Carney came back Saturday after missing time with a fracture above his eye. Guard Jeremy Hunt is questionable with a knee problem. Other players have been dealing with an assortment of injuries. As John Calipari put it, "The warmup line doesn't look real good."
Charlotte coach Bobby Lutz isn't turning cartwheels over his team's 10-3 start, its best start in the coach's six years at the school. To the contrary, "We're honestly disappointed," he said. "We felt like we let a couple get away from us." The 49ers lost by four points in the season opener to George Washington, by seven at Alabama and then lost in overtime at Rhode Island after leading much of the game. On the other side of the equation, Charlotte also escaped with a three-point, double-overtime win at Old Dominion.

Quote to note


"It's like a 50-man marching band comes out on the field, and 49 turn right, and Johnny turns left. And Johnny's people say, 'What's wrong with those other 49?' And they yell at the band director and say, 'Keep marching, Johnny! Keep marching!'"
-- Memphis coach John Calipari, on coddled modern players and their "people" doing the coddling.

Pat Forde of the Louisville Courier-Journal is a regular contributor to ESPN.com
EDITORS' PICKS
Look at the teams. This Final Four just feels big.
First look »

Duke's freshmen stars sent Mike Krzyzewski back to the Final Four.
Brown »

Travis Trice led Michigan State on an improbable run.
O'Neil »
MORE MEN'S COLLEGE BASKETBALL HEADLINES

MOST SENT STORIES ON ESPN.COM