Still looking for a fourth ...
Originally Published:
January 23, 2004
By
Pat Forde
| Special to ESPN.com
Generals are often accused of fighting the last war. Amateur bracketologists are open to charges of handicapping the last NCAA Tournament.
We look at last year's trends and developments and try to fit them to this year's teams. Using the 2003 tournament as a template, we have an announcement to make:
Ladies and gentlemen, Oklahoma State will win the 2004 college basketball national championship.
It's right there in front of your eyes, folks. In plain black and white. Check the latest Associated Press Top 25 and it will tell you that the Cowboys are 12-2 and ranked No. 24.
Same record and same ranking as Syracuse at this time last year.
For fans of coincidence, there's more: Like the 'Cuse, the Cowboys have been skulking around off radar, minding their own business, winning low-profile games in low-key fashion against a largely lenient early schedule. Like the 'Cuse, they have an excellent old coach who knows how to get a team to the Final Four -- but doesn't know how to win it when he gets there.
Unlike the 'Cuse, they do not appear to have a Carmelo Anthony to take over the Big Dance. So use this template at your own risk.
But be advised to at least keep an eye on Oklahoma State from here on out. Because you never know where that one Final Four oddball team is going to come from.
There's one in every Final Four, just about. A team that is not like the other ones -- a team that never had the hype, the high seed, the heavy burden of expectation.
Identifying the heavyweight teams that will make the Final Four is not difficult. Search the top of the rankings and the top of the standings in the power leagues. At least one, possibly two and perhaps even three of those teams have already revealed themselves as capable of reaching San Antonio. Duke, Stanford and Connecticut would be the easy selections right now.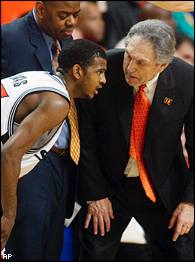 Is Oklahoma State this year's Syracuse? It's a stretch, but Eddie Sutton sure knows how to get a team to the Final Four.
The assignment here: Find the oddball. Ferret out the Final Four freak, the one team that is good enough to make it to San Antonio without anyone having suspected any such thing in November. Or even December. Or possibly even January.
Your Final Four oddball generally comes from one of two categories:
A late bloomer from a big-time conference that either began the season unhyped or lost some games early, did not win its league, but then got hot at the right time. (See: Indiana 2002, Wisconsin and North Carolina 2000, Ohio State 1999, Arizona 1997, Syracuse 1996, Oklahoma State 1995, Florida 1994.)

Among this year's possibilities: Mississippi State, Pittsburgh, Michigan State, roughly half the ACC, Texas Tech or -- there's that name again -- Oklahoma State.
A team from outside the BCS conference riding a star to the Promised Land. (See: Marquette and Dwyane Wade in 2003, Utah and Andre Miller in 1998, Massachusetts and Marcus Camby in 1996.)

The latter category offers three compelling possibilities this season: St. Joseph's, Gonzaga and Louisville.

On the 25th anniversary of Larry Bird carrying Indiana State into the Final Four unbeaten, Jameer Nelson is flirting with doing the same at St. Joe's. No, he's nowhere near as good as Bird -- but neither is the college game as good as it was in 1979. But the leading candidate for national Player of the Year honors is dominating games -- and if the Hawks keep running through the Atlantic 10 unimpeded, it might be difficult to deny them a No. 1 or No. 2 NCAA seed.

Gonzaga's star power is not quite as bright, but guard Blake Stepp leads a team with few weaknesses and lots of NCAA experience. (Had Stepp's bank shot not been a smidge too hard last year, the Zags knock out Arizona.) Mark Few's team will probably watch its RPI slide over the next few weeks in West Coast Conference play, and these guys seem to be chronically underseeded. But regardless of seed, no one will want to play them in March.

The Cardinals are riding the all-around brilliance of Francisco Garcia, who is playing like a skinny Scotty Pippen. His stat line against Cincy: 19 points, seven assists, four rebounds, two steals, two blocks and zero turnovers while playing point forward against voracious pressure defense. But the true star, and the reason Louisville must be considered ahead of St. Joe's the Zags or anyone else for the oddball Final Four spot right now, is Rick Pitino.

Minus four starters from last season, Pitino has brought this team together in a breathtaking rush. In preseason practice he was downplaying prospects for the year to the extent that he seemed to be insulting his players. But when the Cards opened the season with a loss to Iowa, the pessimism seemed well-founded. Questions at point guard and center made Louisville look like a top 25 impostor.

"We thought we were going to get our heads knocked off," said Taquan Dean, who has come on to fill the point-guard question emphatically.

Fifty-four days after Iowa, Louisville was devastating undefeated Cincinnati by 27, giving Bob Huggins his worst loss in more than 10 years and improving to 14-1. The Cardinals have beaten three teams ranked in the top 10 for the first time since 1985-86 -- which happens to be the last time they went to the Final Four (and won it all).

"I'm so shocked at this," Pitino said. "We've got really good players, but if you break them down and go one by one, you wouldn't be that impressed. But you put them together and they're great."

"I'm a little surprised, but we're not settling for this," said power forward Luke Whitehead. "We've had some quality wins against good teams, but we don't think we're that good. Last year, with the (17-game) winning streak, I think we started to get big-headed. I don't think that will happen to this team."

Indeed, Louisville's emotional even keel seems to be one of its biggest weapons. Reece Gaines was the emotional leader last year but sometimes was too emotional, letting mistakes ruin his focus. The leadership core of Garcia, Dean and Whitehead never seem to mentally stray from the task at hand, be it running the offense or locking up on defense.

"You win the game because of talent," Pitino said. "And when talent comes together, they're dangerous. This team is overly talented when it comes together."

Together as they are at this admittedly premature point of the season, Louisville has the look of a Final Four team.

And if you look hard enough, so do several others around the country.

Enjoy the next two months.

Pat Forde of the Louisville Courier-Journal is a regular contributor to ESPN.com
EDITORS' PICKS
Can these 10 players live up to expectations?
Medcalf »

Who was left out of our future power rankings?
Experts »

Our rankings are updated, and there's a new No. 1.
ESPN 100 »