Scrappy USC shaking up SEC
Originally Published:
February 10, 2004
By
Pat Forde
| Special to ESPN.com
Ask Dave Odom what time it is and you're advised to pull up a chair. You're likely to get a 10-minute answer on great timepieces Dave has known.
The South Carolina coach is, shall we say, chatty. He's never met a question that wasn't worth a filibuster response.
Monday morning on the Southeastern Conference teleconference, Odom was asked about Mississippi State coach Rick Stansbury's ejection last Saturday against Ole Miss. Odom said he didn't want to comment on it -- then rattled off about 1,000 words lauding the Bulldogs' play and the work of the assistant coaches in Stansbury's absence.
You can only imagine what team meetings are like.
"Coach does talk a lot, to say the least," Gamecocks senior point guard Mike Boynton said with a laugh. "He is very long-winded. But he's experienced a lot, and he's trying to pass that on to us and help us.
"He's been where we want to go, so we're all ears when he opens his mouth. It may take a while, but he's always got something good to say."
Funny thing, though. The one thing Odom doesn't want to prattle about right now is his team's wholly unforeseen 19-5 record -- probably his best coaching work since he was drawing up plays for Tim Duncan at Wake Forest in the mid-90s. Ask Odom to brag about his team and he goes from college-professor windy to Dirty Harry pithy.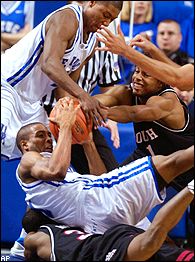 As much as its 19 wins, its one-point loss at Kentucky proved S.C. is for real in the SEC.
"We haven't done anything yet," has been the standard answer.
Odom's uncharacteristic terseness has a purpose, of course. He's trying to keep the Gamecocks grinding in pursuit of their first NCAA Tournament berth since 1998. Despite the flashy record, South Carolina has no guarantee yet -- not after the collection of cadavers they played in November and December. (On Tuesday, Carolina was a bubble-ish No. 42 in ESPN's Daily RPI rankings, thanks to playing the likes of Gardner-Webb, Idaho, Navy, Campbell, The Citadel, Charleston Southern, South Carolina State, Yale and Appalachian State.)
Odom defends the scheduling, saying his team needed the early confidence boost. He's also doing his best to convince his team that this is no time for self-congratulation. Going from being picked last in the SEC East in November to a run in first can be heady stuff. Odom knows that being the Surprise of the Year in the SEC in early February is not nearly as important as being the Surprise of the Year in March.
"I don't think we've arrived in any shape or form," Odom said.
Arrival might be a month away, but South Carolina took a meaningful step toward it last Saturday -- by losing. The Gamecocks' one-point defeat at Kentucky might have been their truest validating experience of the season.
"Maybe we do belong," Odom said. "Every time you win a game or play a game like we did in their home arena, like we did in Lexington, it gives you the feeling that maybe, just maybe, we do belong."
Carolina came away from that near-miss in Rupp Arena chesty enough for Boynton to say, eagerly, "We'll see 'em again in a couple weeks." But first the Gamecocks faced the other league titan, Mississippi State, losing in OT on Wednesday night in Columbia. It's hard to overstate what a win in that game would have meant for the home team, but another heartbreaker will keep Odom's boys looking for that first signature victory in the SEC.
Big games in February haven't happened for a few years in Columbia, and getting there hasn't been glamorous work. The one thing that has helped South Carolina return to SEC relevance is its defense. The Gamecocks are on the ball like papparazzi on Michael Jackson.
A smallish team uses its quickness and athleticism to trap in the half court out of zone looks. Carolina also plays a solid man-to-man that limits opponents to 36.6 percent field-goal shooting, 26.2 percent 3-point shooting and 57.5 points per game -- all of which lead the SEC, and the field-goal percentage defense leads the nation. Running offense against these guys is a chore and a bore.
"A lot of people talk about defense," Boynton said. "We try to really play it. It's not pretty and not fun, but sometimes you have to do things that aren't fun to achieve your goals. ... If you hold on long enough defensively, we think we'll make enough shots down the stretch to win the ballgame."
Sometimes just enough, with six of the Gamecocks' last nine games decided by six points or less, and/or going into overtime. South Carolina is not what you'd call explosive, ranking 147th nationally in scoring as of last week.
But a group that could accurately be called Team Nobody has found ways to communally get it done. The only guy on the roster with any recruiting rep is senior big man Rolando Howell, whom former coach Eddie Fogler signed away from Kentucky and other heavyweights, but he's never lived up to the hype. The rest of the Gamecocks are as anonymous as truck drivers.
The leading scorer and rebounder is junior forward Carlos Powell at 13.5 points and 6.7 boards, with 23 straight double-figure scoring games. He chose Carolina over West Virginia, Idaho, College of Charleston, Southwest Missouri State and UNC-Wilmington.
The only other Gamecock in double figures is guard Josh Gonner, who materialized out of the mists of junior college. Senior Boynton, who until this year had never averaged so much as three points per game, is the 3-point specialist and leads the SEC in assist-to-turnover ratio.
Those three are complemented by a statistically indistinguishable collection of Terance Kinsey, Kerbrell Brown, Renaldo Balkman and Howell (all between 6-feet-6 and 6-9, between 6.5 and 9.1 points per game, and between 3.8 and 5.0 rebounds). In terms of sex appeal, it ain't exactly Duke. Now you know why expectations were so low for a team coming off a 12-16 season.
"I can honestly say I didn't think we'd be 19-4 with Rolando (Howell) missing the first 12 games of the season and losing four starters," Boynton said. "But guys have started to believe we belong in this league. The confidence level is unmatched by any other team I've been on."
Roll it all together and Odom is the easy choice for SEC Coach of the Year to date. And if he wins it, we can all hunker down for a doozy of an acceptance speech.
Stansbury's outburst
Mississippi State coach Rick Stansbury is fairly fortunate to be on the bench Wednesday night when his scalding-hot Bulldogs visit South Carolina. Coaches have been suspended for the type of stunt Stansbury pulled on his way off the court after being ejected Saturday night.
When official Karl Hess whistled Stansbury for his second technical foul just 5½ minutes into the Bulldogs' game against arch-rival Mississippi, the coach reacted with a verbal tirade and then grabbed his throat while staring at Hess, implying that Hess choked.
Jackson Clarion-Ledger columnist Rick Cleveland said he believed Hess overreacted on at least one of the T's, which led to the first ejection of Stansbury's career. (The Dogs went on to win by 24 without him.) Nevertheless, Stansbury's gesture was out of line and put him at risk of being suspended for a key game, as his team is riding a huge wave of momentum. Fortunately for the Bulldogs, the SEC settled on just a reprimand.
Stansbury apologized for the gesture Monday. Now the question Stansbury needs to answer is whether he can handle the heat of the SEC race, with his 19-1, sixth-ranked team currently holding the best record in the league.
Lawrence Roberts continues to be the favorite for SEC Player of the Year, averaging 17 points and 10 rebounds and shooting 56 percent from the field. But a potent lineup has coalesced around the big Baylor transfer.
Guard Timmy Bowers is a major perimeter scoring threat (15.7 points per game) and has increased his game as a distributor (a team-high 4.2 assists). Wings Winsome Frazier and Shane Power are combining for 20.5 points and eight rebounds, with Frazier leading the team in steals and Power solidifying the lineup since becoming a starter last month. Power forward Branden Vincent is the enforcer, averaging 6.8 points and 6.7 rebounds. And the bench now has two concrete contributors: 7-footer Marcus Campbell and high-energy freshman point guard Gary Ervin.
There isn't much weakness in State's game right now -- provided the coach can keep his head.
Games to Watch
Mississippi State at South Carolina, Wednesday
Raise your hand if you thought in November that this would be one of the bigger games of the season in SEC play.
Louisville at Charlotte, Thursday
Cardinals torched the 49ers twice last year by an average of 31 points. Charlotte has improved enough to make this one a lot closer. LSU at Florida, Saturday
The SEC West hasn't won the season series with the SEC East since 1999, and last year was flattened 26-10. This year the West is only down 10-9, and a win by the Tigers in Gainesville would certainly help its cause.
Memphis at Marquette, Saturday
Tigers enter the week with a seven-game winning streak, making a move similar to their late 12-game streak last year. Golden Eagles are going the other direction, coming off consecutive losses to TCU and DePaul.
Murray State at Austin Peay, Saturday
Ohio Valley Conference Game of the Year. Governors have rallied from a bad start to go 11-0 in league play. Racers (9-1) have had just one bobble, at home against Samford. This is their only regular-season meeting.
Cincinnati at Wake Forest, Sunday
A close examination of the Bearcats' record reveals a team that still hasn't beaten much of anybody all season. Which makes this trip to Winston-Salem potentially huge for Cincy's NCAA seeding.
Around the South
Last year Kentucky dominated the SEC in just about every conceivable manner. This year the Wildcats are simply outfinishing the rest of the league. They've now won three SEC games by a single point, and another by three points. On the season they're a whopping 7-0 in games decided by five points or less, testament to experience, poise on the bench and a defense that just won't surrender an easy basket with the game on the line.

"In tight situations we focus so much on our defense," said point guard Cliff Hawkins. "If someone breaks down, they're going to have help."

Thanks to its mobile big men, Chuck Hayes and Erik Daniels, Kentucky has the ability to switch every screen in a last-shot situation, which eliminates defenders getting lost on picks and giving up an open perimeter jump shot.

"That helps a lot," Hayes said. "We can switch anything."

Kentucky plays Alabama on Tuesday without leading scorer Gerald Fitch, who will miss his second straight game with a sprained index finger on his shooting hand. If Fitch cannot regain his shooting form by March, that further decreases the Wildcats' margin for error. Without him, the Cats are a limited perimeter shooting team.
Vanderbilt has had a fine season, but it needs to win a couple of road games. The Commodores are 0-4 in league play on the road and 3-5 overall in SEC play. The NCAA selection committee would like to see at least a .500 league record, and will also keep a sharp eye on which teams have proven themselves away from the comforts of home. Vandy has four remaining road games: at South Carolina, Alabama, Mississippi and Georgia. Three of the four presently have losing league records.
LSU has quietly won four straight games. Not coincidentally, the Tigers have gotten very solid play from point guard Darrrel Mitchell in that time. Mitchell has averaged 14.5 points and 3.8 assists during the winning streak, making 14 of 15 free throws. The tough-minded sophomore also has made 15 of his last 25 three-point shots to take pressure off the interior tandem of Jaime Lloreda and Brandon Bass and keep defenses honest. That's a key for a Tigers team searching for consistent perimeter offense.
Conference USA's Player of the Year honor couldn't be more up for grabs. Louisville's Francisco Garcia was the front-runner, but he's missed two games with an ankle sprain and been hobbled in two others. After him, it's a free-for-all. The leading candidates, as best anyone can determine:

Garcia: averaging 15.3 points, five rebounds, five assists, 1.9 steals and 1.5 blocks per game. The conference's most versatile player.

Antonio Burks, Memphis: the senior point guard has been marvelously consistent, leading the team in points (16.3) and assists (5.0), while throwing in 2.5 steals per game and shooting 45 percent from 3-point range. He's narrowly ahead of freshman teammate Sean Banks, who looks like a lock for league Rookie of the Year.

Curtis Withers, Charlotte: leads the 49ers in scoring (16.7 points) and rebounding (9.8). In the last month Withers has averaged 19.8 points per game and reduced Charlotte's reliance on three-pointing opponents to death.

Jason Maxiell, Cincinnati: leads the Bearcats in scoring (14.5 points), rebounding (7.6) and blocked shots (2.3). He's also getting to the foul line more regularly (35 free throws in the last five games).

Cases can also be made for the likes of Marquette's Travis Diener, Saint Louis' Reggie Bryant or Southern Mississippi's Charles Gaines, but lack of significant team success hurts their chances.
After hosting South Florida on Wednesday, Cincinnati doesn't play another easy game the rest of the regular season -- especially if you consider how the Bearcats have struggled lately. The remaining schedule: at Wake Forest, at UAB, Louisville, Saint Louis, at Charlotte, at DePaul, Memphis. If Cincy is going to regain the conference throne it lost last year to Marquette, it will have to earn it the hard way.
The Bearcats aren't the only contender with a brutal stretch between now and conference tournament time. Louisville plays five of its last seven on the road, and the two home games are no gimmes (DePaul and Memphis).
DePaul finally has center Andre Brown back, after missing nine games with a knee problem. Blue Demons coach Dave Leitao deserves consideration for C-USA Coach of the Year for keeping his team in the hunt without Brown. DePaul is 13-7 overall and 6-3 in league play.

Quote to note


"Just let them keep sleeping on us. We like the fact that we're not ranked because teams aren't seeing how good we are. People just think we're average. They don't know we have a nice team. But we aren't sweating that."
-- Memphis forward Arthur Barclay, in the Memphis Commercial-Appeal, on the Tigers' lurking outside of the top 25.

Pat Forde of the Louisville Courier-Journal is a regular contributor to ESPN.com
SPONSORED HEADLINES
MORE MEN'S COLLEGE BASKETBALL HEADLINES
MOST SENT STORIES ON ESPN.COM
EDITORS' PICKS
If Louisville doesn't beat Kentucky, will anyone stop the Wildcats?
Eamonn Brennan »

This week's Wooden Watch goes beyond the box score.
Brennan »

Shaquielle McKissic took an unconventional route to ASU.
O'Neil »