Coach K crazy to leave Cameron
Updated:
July 2, 2004, 1:19 AM ET
By
Pat Forde
| Special to ESPN.com
This is not a memo to Mike Krzyzewski. It's not an open letter. It's not even an impassioned plea.
It's a primal scream through a bullhorn into a microphone rigged to Metallica's concert amps:
HAVE YOU LOST YOUR FLIPPIN' MIND?
You? Mr. Old College Try, considering coaching the Lakers? The guy who mawkishly champions all that's right with college sports might take over the franchise that displayed all that's wrong with pro sports during the NBA Finals? A man who has built an idyllic, autonomous Coach For Life fiefdom in the Carolina Piedmont is mulling a move to Silicon City and a league that first diminishes coaches, then devours them?
Krzyzewski to the Lakers verges on Jordan to the Birmingham Barons territory. Dick Vitale becoming a mime would be an only slightly stranger career move than this.
Mike, while you consider what has the makings of a spectacularly bad -- but utterly fascinating -- job change, a few points to consider: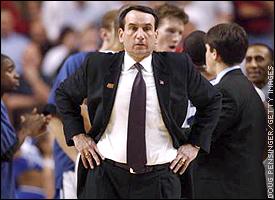 In the land of Krzyzewskiville, there is one ruler. The same wouldn't be true in Hollywood.
They don't slap their palms on the floor in the NBA. (If Shaq gets any thicker this offseason, he might not be able to see the floor beneath his feet, much less bend over and slap it.)
They don't have those precious group-hug huddles after every foul in the NBA. (Unless they're plotting a way to get the coach fired by the next TV timeout. Or, to be Laker-specific, plotting how to dynamite the ball out of Kobe's hands.)
They don't let big-name coaches bully refs into getting all the calls. (They save that for the big-name players.)
They don't have college newspapers to browbeat in the NBA, and they don't generally cotton to coaches ignoring the media for days on end. ("I love my kids," might no longer suffice as a multipurpose quote, either.)
They don't do the Cameron Crazies thing in L.A. (Go ahead, ask the Gucci Row crowd to put on the face paint and matching T-shirts and jump up and down for two solid hours. OK, maybe Dyan Cannon signs on. But that's it.)
And they don't do Krzyzewskiville. (In case you missed it, Duke students held something of a midnight vigil upon hearing the news of Coach K's possible departure. The same students who camp out for days in advance of a big game. At Staples Center they're happy if half the lower arena is full before the second quarter.)

Mike, you love all that rah-rah stuff -- the stuff that makes Duke everything that the NBA isn't. You built Duke's corny camaraderie -- the coaches love the players, who love the students, who worship you like some kind of ancient god. It's basketball set to the Barney theme song: I love you, you love me ... Annoying, but apt.

The cloying word that envelopes your program is "special." And it's true. Duke is smug, Duke is sanctimonious ... but Duke is special.

You want to give up your utopian setting for an opportunity to follow Rick Pitino, John Calipari, Jerry Tarkanian, Lon Kruger, Leonard Hamilton and others off the college-to-pros cliff?

Of all the coaches out there, only one is more quintessentially college than you, Mike. That's your old mentor, Bob Knight, the last man for the pro job. (In the pros, player grabs coach by throat. As Neil Reed knows, Knight works on the opposite assumption.)

But you have a little of the Knight autocrat in you, Mike. A little of the Knight ego. A little of the Knight despot, too.

I remember a TV timeout in a big game a few years ago, a game your team was losing at the time. I remember being behind the Duke bench to hear your right-hand man, Johnny Dawkins, drop screaming F-bombs into players' faces and obscenely impugn the masculinity of every starter in the huddle. Your face indicated that you had no problem with it, perhaps even encouraged it.

Dog-cussing the players within earshot of the stands clearly won't play in the NBA, where the chain of command works a little differently than at your alma mater, West Point.

And remember: You'd be entering a team dynamic so toxic that it chased out the ultimate ego juggler, Phil Jackson.

The temptation is understandable. You've sat on the same gilded throne for so long that the itch for a new challenge is natural -- especially now, with your professional finish line coming into view. The chance to coach the greatest talent tandem in the world -- provided the divas can live together, and Bryant avoids jail time -- would entice any coach. The lure of doing what so many have failed to do -- succeed on both the college and pro levels -- is obvious. The thought of quitting recruiting, of no longer losing your best players after a year or two, of not having to sweat admissions and final exams, would be liberating.

And your coaching strategies would seem fine in the NBA. You're a champion of free-flowing, improvisational offense and man-to-man defense. You don't feel a burning sensation in your chest if your team goes two trips downcourt without a called play. You're great at adapting style to fit personnel.

But your personal style doesn't adapt to the NBA's style. The rah-rah coach and La-La Land do not mix. That's where this whirlwind romance breaks down.

So think about it: Is this what you want for a swan song, Mike? To take the greatest post-Wooden legacy in college basketball and jeopardize it with a late-career fit of wanderlust? To go from revered Coach K to Coach KK (Kobe's Kaddy)? To be the 53rd college coach lured to The League, and the 52nd failure?

Larry Brown is the lone exception, and he's been much more a pro guy than a college guy all along.

You, Mike, are the ultimate college guy. It fits you and you fit it. That's why this isn't a whisper, it's a scream:

DON'T BLOW A PERFECT THING.

Pat Forde of the Louisville Courier-Journal is a regular contributor to ESPN.com
EDITORS' PICKS
Duke and Gonzaga changed things up and moved on.
Brown »

Louisville and Michigan State turned their seasons around in time to meet in the Elite Eight.
O'Neil »

Louisville broke through late in a close game to hold off NC State.
O'Neil »
MORE MEN'S COLLEGE BASKETBALL HEADLINES

MOST SENT STORIES ON ESPN.COM