Chaney should sit rest of season
Updated:
February 28, 2005, 9:11 PM ET
By
Pat Forde
| ESPN.com
Temple and John Chaney continued their strategic retreat Monday. From one game to three games to three plus the Atlantic-10 tournament, we're getting closer to a punishment commensurate with Chaney's crime against John Bryant and the game of basketball.
The only step left is for Chaney to recuse himself from any postseason tournament the Owls might make. Then we could have some closure to this tawdry episode of vigilante assault.
Jay Bilas' take
Whether John Chaney is suspended and for how long as a result of his actions in the Temple-Saint Joseph's game matters little to me. The important thing to me is an acknowledgment across the college basketball landscape that Chaney crossed the line.

It is unacceptable to instruct a player to intentionally foul to the point that players are in physical danger and raise the temperature of a sporting event to a level at which it was foreseeable that someone could get injured.

If Chaney had an issue with the officials, he needed to take it up with them or take it to the conference office. What Chaney did might not have been "illegal" under the rules, but it certainly wasn't right. Even if a player had not been injured, it still wasn't right.

Several coaches have come close to the line this year, and in years past, and little has come of it. Coaches and players need to adhere to ethics and sportsmanship, and Chaney did neither.

There is more to the game than winning. There is competing with honor and respect. Chaney, a good man and a good coach, behaved in a manner that was disrespectful to the game and to his opponent. His job is not just to win, it is to win the right way.

-- Read more from Jay Bilas on ESPN Insider
The original one-game penalty was window dressing, nothing more. The additional penalty of two more regular-season games was not good enough for practical purposes because the additional two games mean next to nothing. Temple, a probable NIT team, is not sitting on the NCAA bubble; it needs to win the Atlantic-10 tournament to make the Big Dance no matter what.
Chaney would have been back for that critical stretch. And putting him in the same building with Saint Joe's for the league tourney would have been asking for more trouble.
Now, at least, we have a penalty with some teeth. But it still stops short of the full bite Chaney deserves.
By taking out his frustration over officials' calls by calling in a hit on the opposing team, Chaney undermined the very spirit of the game. Worse, he publicly warned that he'd do it beforehand, then he had the temerity to half-brag about it afterward.
Only later did the coach seem to understand what he'd done, when he offered a seemingly sincere apology. He's tried to back it up subsequently by meeting with Bryant's parents, but the damage is done and Bryant has the cast to prove it.
Think about this: A few years ago the National Association of Basketball Coaches passed a resolution requesting that their members be referred to as "teacher-coach." What Chaney taught this week is the curriculum of prison yards, not higher education.
If it's vigilante, eye-for-an-eye justice Chaney wants, here's what the A-10 should give him: orders to sit as long as the player his goon injured. For Saint Joseph's senior forward Bryant, out with a broken arm because of an under-the-basket flattening by Nehemiah Ingram, that's the rest of the season.
Tell John Chaney we'll see him in October 2005. At the earlieSaint
Bryant is missing more than just a handful of games. He won't suit up when the Hawks play at George Washington on March 1, which is a homecoming game for a kid from northern Virginia. He won't suit up on Senior Day March 5 against Fordham. He won't suit up for his final A-10 tournament, or for an expected Saint Joe's bid to either the NCAAs or NIT.
Those are highlight moments in a collegian's career. And now they're gone, because a Hall of Fame coach couldn't handle the officials' failure to call moving screens. That's a travesty.
Problem is, full-contact basketball has become too pervasive. Bill Laimbeer, one of the original cheap-shot artists, might arch an eyebrow at some of the stuff that goes on today. Physical play, a reality in basketball, has teetered across the line into cheap play.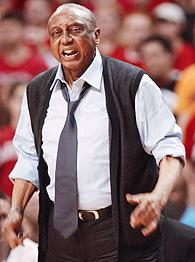 Mark Goldman/Icon SMIChaney's out-of-bounds act will tarnish his legacy.
With the emphasis put on weight training, collisions are more violent than ever in the paint. And players are taught to use their bodies to hammer on opponents -- from hard screens to hard box-outs, you cannot navigate the floor without taking shots these days.
I watched one recent college practice that included very matter-of-fact coaching orders to "stand up" all cutters coming through the lane. It was demonstrated to the players as a forearm shiver to the chest, or higher. It's such a common off-the-ball practice today that officials almost never call it a foul.
Given the progression of aggression, Chaney's goonball maneuver was probably inevitable. But hardly excusable.
Chaney has been a terrific coach and respected figure in college basketball for decades. He earned that respect the hard way, building a hardscrabble program at Temple and nurturing it with a unique style of play, with tough love, with occasionally risky recruiting, with impassioned stands on important issues, and with fearless scheduling. Few coaches have put such a personal stamp on their programs.
For that, he's earned the chance to get past this and finish his career with some dignity. Those calling for a firing are overlooking the man's decades of service to the game and to Temple.
But this kind of thing can (and will) taint a legacy. Chaney lost some respect this week, and he'll never get it back. Just as John Bryant will never get back the end of his college basketball career.
Pat Forde is a senior writer for ESPN.com. He can be reached at ESPN4D@aol.com.
EDITORS' PICKS
Look at the teams. This Final Four just feels big.
First look »

Duke's freshmen stars sent Mike Krzyzewski back to the Final Four.
Brown »

Travis Trice led Michigan State on an improbable run.
O'Neil »
MORE MEN'S COLLEGE BASKETBALL HEADLINES

MOST SENT STORIES ON ESPN.COM