Commentary
Big Ten, SEC weakest at reaching second weekend
Originally Published:
March 5, 2008
By
Andy Glockner
| ESPN.com
Much of the annual Selection Sunday debate is about major conference versus their mid-major counterparts. Although that makes for high-buzz chatter, the bid allocation each year is roughly the same -- the six biggest conferences grab 27 or so of the 34 at-larges.
If you want bigger bracket intrigue, try checking out the splits among those major conferences.
[+] Enlarge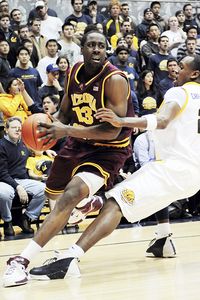 AP Photo/Thearon HendersonJames Harden and Arizona State have been a surprise in the Pac-10. But will the tough conference help them get in the NCAA tournament?
This season, the Big Ten has a chance to get five teams into the NCAA Tournament even though the bottom half of the league is undeniably bad. The ACC might only get five bids (or fewer) when 10 out of its 12 teams are in the RPI top 100. The Pac-10 is considered by many to be the nation's best league, and it could get cut off at five bids as well.
On the surface, that seems odd. It doesn't accurately reflect the conferences' perceived strengths. And because conference RPI can be quite flawed -- ask the Pac-10 about Oregon State's impact -- when used as a one-year snapshot, there really is no clean way to accurately measure the current conference hierarchy.
Taking that into account, what about examining a longer-term view that establishes a range of performance normalcy for conferences? Past performance doesn't guarantee future results, but if a conference keeps producing the same results year in and year out, regardless of which actual teams are involved, is it crazy to wonder if that league's overall track record should be contemplated when sifting through at-large candidates?
"[It should be] no factor whatsoever," said George Mason athletic director Tom O'Connor, this season's NCAA Tournament selection committee chairman. "It's still that particular team in that particular year. It has to be. It's the only fair way to do it for the kids that are playing."
Undoubtedly, evaluating teams in a vacuum is the fairest way to do it. But is it the most informed?
The following chart shows conference-by-conference bid yield (the overall percentage of each league's teams that made the NCAAs) so far this decade (2000-07), along with their average conference RPIs over that span.
ACC
Big 12
Big East
Big Ten
Pac-10
SEC
Bid Yield
47.0%
43.8%
40.7%
48.9%
46.3%
47.9%
Avg. Conf. RPI
2.6
4.1
3.5
4.0
5.8
2.1
On a yield basis, there's very little difference among the four leading conferences. The Big 12 lags behind a bit, but not far enough to be significant. The Big East is somewhat lower, but that's due in part to its larger size, which creates more accompanying deadwood at the bottom.
Take a look at the average conference RPIs, though, and maybe the allocation should be a bit different. Although the one-year version is dicey, over an eight-year span, conference RPI should at least provide a relative feel for how competitive a league has been (or scheduled in nonconference play), especially as compared to comparable leagues.
Looking at the combination of yield and conference RPI, it appears the ACC and SEC rightfully earned a higher percentages of bids, while the Big Ten and the Pac-10 seem to have been rewarded a bit too much.
Another proxy for league strength over time is to consider a composite picture of how far a conference's teams advance in the tournament. The next table shows the Sweet 16 and Final Four yields (the percentage of a conference's NCAA Tournament teams that made it to those rounds) over the past eight seasons:
ACC
Big 12
Big East
Big Ten
Pac-10
SEC
Sweet 16
43.6%
42.9%
45.7%
34.9%
43.2%
34.8%
Final Four
17.9%
9.5%
8.7%
16.3%
8.1%
8.7%
The ACC again looks very solid, ranking second in Sweet 16 yield and first in sending teams to the Final Four. The SEC, however, has been relatively poor at sending teams beyond the first weekend, although the past two seasons have been very strong (two national titles, three Sweet 16 teams in 2007 and a second Final Four team in 2006). The Big East, Big 12 and Pac-10 all are very similar in how they push teams through the bracket. The Big Ten has a hard time getting teams to the second weekend, but its best teams do much better than any league except the ACC.
[+] Enlarge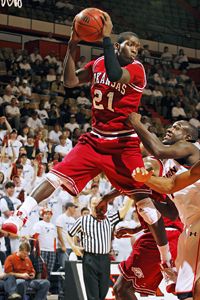 AP Photo/Todd J. Van EmstIs the SEC's recent NCAA tournament history for bubble teams a bad sign for Arkansas?
Now overlay those results onto the perceptions of today's conferences. ACC fans believe the league's rampant parity isn't being respected, and history implies that maybe they have a right to feel that way. The Big Ten is considered a top-heavy conference with a weak underbelly, and the numbers show that has been the case all decade. This season's Big East is highly competitive but isn't considered to have a one-seed or a true title contender, which basically describes its numbers (despite two national champs). In the Pac-10, Stanford and Washington State -- the second- and third-best teams in the league -- seem to have caps on their upside, which fits with that league's historic trend.
The timeframe used for this piece was arbitrary, and you likely would get a different picture if you extended or contracted it. But think for a minute about what any of this data implies. If there's a morsel of validity in the tables above, does that mean the ACC should get the benefit of the doubt when the selection committee ponders the final at-large spots? Does it mean that taking Arkansas last season was unwise, because the SEC's track record has been spotty? Should the committee ever think twice about taking a nonelite Big Ten team because the numbers say that team won't be around very long?
"[Debates like] that are what makes it exciting. People talk about it this time of year, and you guys write about it. And I think that's wonderful," O'Connor said. "Maybe if I wasn't on the committee and was outside the room, I'd have a different perspective. But being in the room, knowing what we have to do, we have to look at just this year. We zero in on that."
Andy Glockner is a regular contributor to ESPN.com's college basketball coverage and is the host of the ESPNU College Basketball Insider podcast. He can be reached at bubblewatch@gmail.com.
EDITORS' PICKS
Arizona is far stronger than its No. 7 ranking.
Gasaway

Wisconsin cruised to a win vs. Michigan State.
Recap »

BYU upset Gonzaga to end a wild day.
Medcalf »
MORE MEN'S COLLEGE BASKETBALL HEADLINES

MOST SENT STORIES ON ESPN.COM