A better Cardinal through chemistry
Originally Published:
December 31, 2003
By
Ed Graney
| Special to ESPN.com
One of the first sections you find on the official Stanford University web site is sub-titled, "Ten Qualities that Distinguish Stanford." Some of the points mentioned include a strong commitment to the humanities, two dozen research centers and institutes, a superb and committed faculty, small class settings and a pioneering spirit.
A suggestion for No. 11: Basketball program with exceptional chemistry.
It's as much an annual happening as a dancing tree.
Don't kid yourself. Few programs nationally could do what Stanford has accomplished thus far this season, entering Pac-10 play 9-0 and ranked seventh, despite its best player wearing street clothes.
Junior swingman Josh Childress has yet to take a shot or grab a rebound due to a stress reaction in his left foot. The preseason All-America candidate averaged 14.1 points and 8.1 rebounds as a sophomore and should see his first action this season against Washington State on Friday.
"Josh is such a special kid in terms of the kind of person he is," says Stanford coach Mike Montgomery. "He has been very, very supportive when he has been out. The other kids really like him, so we won't have any chemistry problems when he comes back."
Do they ever?
Stanford's program is built on players who embrace their roles as a mother does her ill toddler, kids who annually put the vision of winning far ahead of what a statistics sheet reads. This season is no different.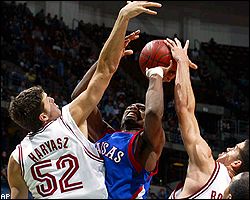 Stanford showed its first signs of being a national title contender when it upset then-No. 1 Kansas.
As Childress sat, others such as senior guard Matt Lottich and senior forward Justin Davis and sophomore guard Chris Hernandez and sophomore forward Matt Haryasz all stepped forward at different times to lead. The definition of Stanford hoops: Five players average between 9.2 and 14.2 points and four between 4.9 and 7.2 rebounds.
That type of balance and a consistently solid defensive effort allowed Stanford its third perfect non-conference record in five years.
"All players want to play more and be the featured guy, but all of our kids play hard and don't mind having (specific roles)," Montgomery said. "One thing we can't do when Josh comes back is stand around and watch him. Josh is also going to have to come back and defend and play hard."
Few, if any within the conference, feel Stanford will be negatively affected by adding a player of such caliber after enjoying so much early success. In 1996-97, the season Arizona won its national championship, guard Miles Simon missed the first 11 games due to academic troubles. He didn't start immediately upon returning, but eventually led the Wildcats to their title.
"The thing is, it always takes a player time to get back into game condition," Arizona coach Lute Olson said. "No matter what you're doing up to that point, the only way to be in basketball shape is to play basketball.
"Stanford has such talented kids each year and does such a great job recruiting, one player has never meant everything to that program. But (Childress) is such a good player, I can't imagine it being anything but positive."
Said Oregon coach Ernie Kent, whose team has experienced its own health issues with freshman forward Mitch Platt (ankle, out since Dec. 6, probable for Friday at USC): "I'm not surprised at all Stanford has done this well. I picked them at the (conference media day) to win the Pac-10. They just reload the system. Their kids have great character and that will allow (Childress) to come back into the rotation with no problems.''
Anything different would be a major upset. Not to mention very un-Stanford like.
The Cardinal might have Childress back Friday, but it won't have Montgomery. He will serve a one-game suspension for grabbing an official during a victory against Arizona State last season. It will be the first game Montgomery has missed in his 17-plus seasons at Stanford.
In a statement last March, Montgomery said: "The contact was inadvertent and there was no attempt to intimidate or threaten. It was an error on my part and I apologize for the incident."
A realistic Cougar
Dick Bennett knew the first day he set eyes on Washington State's basketball team: "This was going to be difficult, and it has proven to be just that,'' said Bennett, who inherited a 7-20 team that went 2-16 in Pac-10 play last season.
The first-year WSU coach who led Wisconsin to the 2000 Final Four has seen his Cougars get handled quite easily of late. Washington State won six of its first eight games, but has lost two straight by a combined score of 142-87.
Against Fresno State, Bennett's team managed 29 points.
Total.
"We have been very, very successful at not being good," said Bennett, whose team opens conference play this week at Stanford and Cal. "I've been down this road before. It's tough sometimes to change attitudes and habits. It usually gets worse before it gets better. Generally, you don't make a major shift the first year.
Games to Watch
Arizona at Arizona State, Saturday
If the Sun Devils hope to challenge the likes of Arizona and Stanford in the conference race, there is no better place to begin than protecting their homecourt against the preseason favorite. Sophomore forward Ike Diogu averages a league-best 24.9 points for ASU, while the Wildcats are led by sophomore forward Hassan Adams (17.4).
Fresno State at Hawaii, Saturday
The Bulldogs, (4-5 overall) inconsistent in their non-conference schedule, have their WAC opener on the islands. Fresno State has won two straight coming in. Senior point guard Shantay Legans leads the WAC in assists (5.7 average). Hawaii, meanwhile, has won five of six meetings with the Bulldogs, the lone loss coming last season in Fresno.
Oregon at UCLA, Sunday
The Bruins (which open conference by hosting Oregon State on Friday) have showed an ability to defend with toughness at times. Oregon has won five straight against the Bruins, the Ducks' longest streak of success in the series.
"The kids want to change. They say the right things. But you know, when the game is on the line and the pressure comes, they're going to revert back, and we have reverted quite often. It's tougher on the older kids. I respect that. The (change) usually happens with kids you have for a few years or those you bring in."
It hasn't helped that freshman point guard T.J. Paterick has missed three straight games with a bruised thigh.
"He's a little guy (listed at 6-foot-1) and is a walk-on, but he is without question our toughest kid in terms of taking a charge and challenging people,'' Bennett said. "That is not one of our strengths. I hate it that we have to go through this, that you have to get your head handed to you every so often.
"We're very good at being very bad. That's called a positive spin."
Around the West
No wonder those at New Mexico anxiously awaited the arrival of junior forward Danny Granger. The Lobos are 7-3, have won five straight and are 4-0 since the Bradley transfer became eligible. Granger didn't wait long to make an impact, earning Mountain West Conference player of the week honors after averaging 19 points and 11 rebounds in victories against New Mexico State and Northwestern State. On Monday, Granger scored 26 in the team's 82-63 victory against Penn State in the championship of the Lobo Invitational.

Another newcomer to the starting lineup, junior guard Troy DeVries, is averaging 12.5 points and five assists since becoming eligible as a transfer from Portland State.
Another impressive Mountain West team of late is Air Force, which won the biggest game in coach Joe Scott's four-year tenure by defeating Cal 49-44 in the final of the Golden Bear Classic in Berkeley. Air Force -- which improved to 6-2 and has won four straight -- held Cal to just six points the final 8:06. The Falcons have improved each season under Scott, whose Princeton-style system and ability to teach stifling defense has most opponents scratching their heads when preparing.

"(Air Force) is a tough team," Cal coach Ben Braun said. "They may not be a household name, but they're a good basketball team."

Quote to Note


"He has done a good job with it. He doesn't get caught up in what people say or think. He does everything we ask of him. He understands he's going to see different defenses every night to try and stop him. I always tell him preseason predictions are fine, but you have to prove yourself on the court. I tell him not to buy into all the hype and not to accept all the praise, because that way you don't have to accept the criticism after a bad game. And every player in America is going to have a bad game once in a while."
--Arizona State coach Rob Evans on how sophomore Ike Diogu is handling his preseason All-America status.

Ed Graney of the San Diego Union-Tribune is a regular contributor to ESPN.com. He can be reached at ed.graney@uniontrib.com.
SPONSORED HEADLINES
MORE MEN'S COLLEGE BASKETBALL HEADLINES
MOST SENT STORIES ON ESPN.COM
EDITORS' PICKS
Virginia's weakness has been revealed.
Gasaway

No. 4 Duke shocked No. 2 Virginia, handing the Cavaliers their first loss of the season.
Brennan »

Louisville's comeback to beat North Carolina in OT gave the Cardinals the high-profile win they've been missing.
Brown »