Iowa Pierce-ing things together
Updated:
September 17, 2003, 3:41 PM ET
By
Andy Katz
| ESPN.com
Steve Alford's contract runs through the 2008-09 season at Iowa, indicating his job is secure. But his head coaching career in Iowa City could ultimately be judged by how Pierre Pierce reacts to his second chance with the Hawkeyes, and whether the troubled guard is able to lead Iowa back to the NCAA Tournament.
Iowa enters the 2003-04 season as Alford's most veteran squad in five seasons under his watch, yet these Hawkeyes are probably his least talked about outside of Carver-Hawkeye Arena. The seniors come from Alford's first recruiting class, but the leader on this team will be Pierce, who is a unique redshirt sophomore.
Pierce is back on the team after a forced redshirted '02-03 season that started with Pierce being charged with third degree sexual abuse in October of 2002. He later pleaded guilty to assaulting the female student as part of an agreement. Pierce wasn't sentenced to jail, was given a deferred sentence and placed on probation. Iowa allowed Pierce to remain on scholarship and practice with last year's team, but he wasn't allowed to play a game last season, travel with the team, or sit on the bench during home games.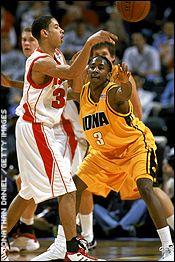 Pierre Pierce started 32 if 35 games as a freshman at Iowa in 2001-02.
Alford's decision to keep Pierce in the program during the legal process was met with mixed reviews. The athletic department's involvement and decision to keep Pierce in the program before any legal agreement was made also became a hot topic. Protests ensued and an Iowa committee separate from the athletic department investigated the university's role, saying last spring that the university shouldn't have been involved. An Internet petition against the agreement with Pierce garnered 2,140 signatures, while the Iowa Coalition Against Sexual Assault also responded negatively to the agreement.
"It was crucial that he wasn't put out on an Island," Alford said. "He had contact with his teammates and they had contact with him. I don't know how he could have handled it any better. I was extremely impressed of how he handled the whole situation and his teammates supported him through every turn."
Before making comparisons between Pierce's situation at Iowa and Missouri's treatment of Ricky Clemons last season, remember, Iowa never let Pierce play last season during the legal process. Missouri, meanwhile, suspended Clemons for just one game while Clemons' non-sexual assault case involving a woman was still on-going. And that's a major difference.
Alford didn't ostracize Pierce, but did take away some of his privileges -- starting with his being a visible member of the program. Clemons, who would plead guilty following the season, was suspended by Quin Snyder for one game and played out the rest of the 2002-03 season. Clemons still could have had a chance to sit out this season (without practicing) and then play in 2004-05. But while serving a 60-day sentence this summer, Clemons broke the rules of his agreement, crashing an ATV at the Missouri president's house after lying about his curfew to return to the correctional facility.
By dealing with Pierce's situation the way they did a year ago, the Hawkeyes and Pierce can start fresh. Iowa athletic director Bob Bowlsby didn't hesitate to put Pierce on the sidelines, even if it meant a sub-.500 mark in the Big Ten and missing the NCAA Tournament. Now, nearly a year later, Pierce is back in the spotlight and the NCAA Tournament is again a possibility.
"I'm very grateful that Iowa believed in me and gave me a second chance," Pierce said. "I want to make sure and do the best that I can for the University of Iowa. I could have left and that would have been the easy thing to do. But I chose to stick it out and enjoy my teammates and coaching staff and the campus. I want to play for this university."
Pierce was back in an Iowa game uniform last month, leading the Hawkeyes on a five-game tour of Australia with 20.8 points a game on better than 50-percent shooting. Easily the best athlete on the team, the swing guard also averaged nearly five rebounds a game.
It's clear that if Alford gets similar numbers this winter out of Pierce, a second trip to the NCAA Tournament in five seasons is possible. Experience is one thing, but making a deep run in March won't be because of senior guard Brody Boyd or senior forwards Glen Worley, Jared Reiner or Sean Sonderleiter.
Pierce spent his redshirt season working on his shooting, getting stronger, driving with the ball and making crisper passes. As a freshman, he produced 7.1 points, 3.3. rebounds and 3.3 assists. His shooting, however, is still suspect. After making just 16.7 percent on 3s as a freshman, the trip to Australia produced just one 3 in five games (1 of 11).
Off the court, the return to his own campus has been uneventful. He hasn't been the target of any heckling and hasn't been challenged by other students so far this semester. He's not sure, however, what awaits him on the road once the season begins -- especially in the Big Ten. He knows his actions not only affected him, but also his family. He said the past year was hard on his family and friends, but appreciated them sticking by him.
"He handled it all so well, with the media all saying bad things about him and the program," Reiner said. "He worked hard to get better. He can score and he's such a strong big guard. He moves so well without the ball. He's almost like Reggie (Evans) but as a guard. He gets to the line a lot and does a lot of things well."
Reiner's invoking the memories of Evans certainly raises Pierce to another level. The last time Iowa had a veteran squad was two years ago with Evans and Luke Recker as the senior leaders. Evans was viewed as the hardest worker on the team and would earn a starting spot on the Seattle Sonics despite going undrafted. As juniors, Evans and Recker led an inspired Iowa run to the Big Ten tournament title and a berth in the 2001 NCAA Tournament, where the Hawkeyes beat Creighton in the first round before losing to Kentucky in the second.
The 2001-02 season brought high expectations, as the over-hyped Hawkeyes were billed as a top 10 team, but imploded after a 13-4 start. The Hawkeyes went 5-11 in the Big Ten and finished 19-16 overall, missing the NCAAs and ending the season with a loss in the first round of the 2002 NIT.
Alford admitted to being too loose with his seniors during that season, and made a pact with himself that he wouldn't allow the players to run him anymore. He sought out his mentor from Indiana -- Texas Tech coach Bob Knight -- and went back to his core values. One of those values pertained to Pierce's situation at the time.
"We all bought into the system," Reiner said. "Instead of coach saying something and then we second guess, when he said this is the way it's going to be we listened. Instead of opening your mouth, you opened your ears."
Iowa finished last season 15-13 and 7-9 in the Big Ten. But it ended up being one of Alford's most satisfying seasons.
"We didn't have depth, but we had a very good year," Alford said. "If we had Pierce and (6-11 Erek Hansen, who was at Kirkwood JC in Iowa last season getting eligible) then we would have had a break through year. We knew the hype would go down without Recker and Evans."
The hype hasn't exactly returned, but Alford is convinced the talent and unselfishness is back at Iowa with Pierce and Hansen joining the aforementioned seniors.
"Of the five teams I have had here, I like this one the most," said Alford, who figures to mix sophomores Jeff Horner, Greg Brunner and Nick DeWitz into the mix behind Pierce and the seniors. "This team emulates more of what I want to do. We've got good size in Reiner (second in the Big Ten in rebounding at 8.4 a game), Brunner and Worley inside, big guards who can post and rebound, and have athleticism. Hansen is a shot-blocker, so we can gamble more on the perimeter."
Still, the season hinges on Pierce, who knows he doesn't have any margin for error off the court. He's in a fishtank and knows he has to be more careful. But, if he does stay out of trouble and plays as well as he did on the trip Down Under, Iowa does have a shot to move up in the Big Ten.
No, the Hawkeyes aren't better than Michigan State, Illinois or Wisconsin on paper. But, they should challenge Ohio State, Purdue, Minnesota, Indiana and Michigan for NCAA bids out a very deep conference.
"We shouldn't be (talked about as a Big Ten contender) until we prove it in the league," Alford said. "We took a step forward last year, playing the way we want to play and the locker room being the way we want it to be. We had a lot of things thrown at us in a 24-month frame. There were things you don't foresee as a coach and can't prepare for. But we're refocused and we're all doing a much, much better job."
Andy Katz is a senior writer at ESPN.com.
SPONSORED HEADLINES
MORE MEN'S COLLEGE BASKETBALL HEADLINES
MOST SENT STORIES ON ESPN.COM
EDITORS' PICKS
Michigan and Villanova are locked in a close one.
Gamecast

Kentucky is the unquestioned No. 1 team.
Power Rankings »

Villanova's balanced attack led it to victory against VCU.
Dana O'Neil »