The one and only Okafor
Originally Published:
October 17, 2003
By
Andy Katz
| ESPN.com
STORRS, Conn. -- Emeka Okafor's biggest decision this fall had nothing to do with basketball. It wasn't about staying at Connecticut or thinking about early NBA riches.
No, the national preseason player of the year candidate's agonizing decision had to do with long-term goals, those that might come long after he possibly leads UConn to a national championship and plays professionally into the next decade.
It had to do with whether he should apply to be a Rhodes Scholar. Makes one stop and think, doesn't it?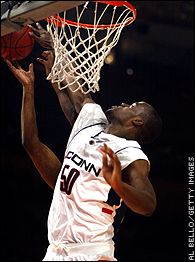 Emeka Okafor spent many a summer day refining his shot-blocking skills under the watchful eye of John Lucas.
Spending a year at Oxford University sounded sensational to Okafor. Connecticut head coach Jim Calhoun and academic advisor Ted Taigen, who is also a professor of ecology and evolutionary biology, both saw it as a chance of a lifetime. Ah, but there was a catch. Taigen said Oxford didn't care about the NBA, which meant Okafor couldn't defer going through the program until after his playing days in the NBA.
"I told him to consider it, because if you told me he was going to be a U.S. Senator or a CEO after he's done (playing), I wouldn't doubt it," Calhoun said.
How about if we started off by saying Okafor will be the Wooden Award winner and national player of the year?
"I can't think of a more complete basketball player," Calhoun said.
Make that a complete person.
Anyone who's watched the UConn center's development over the past two seasons knows he enters the 2003-04 season as the most dominant big man in the game. He changes everything on the defensive end, from blocking shots to patrolling the lane while the Huskies extend their defense on the perimeter. Yes, his offensive skills are still developing, but his conditioning is unrivaled -- to the point he doesn't take breaks from pickup games.
But what separates Okafor from others who stand 6-foot-9 and make NBA scouts drool is how his talents extend off the court. His character, drive and unrelenting work habits aren't limited to drills and desire between the lines. It's why his grade point average has hovered around a 3.8, and why there is little doubt he'll leave after this season and no doubt he'll do so with a degree after just three years at Connecticut.
As for being a Rhodes Scholar? Okafor said he chose not to apply for the honor because he'll likely be in the NBA next year.
"I just can't do it," Okafor said. "I can't. I've got too much going on. It would almost be too greedy if I did this. The way I plan things I want to have options available. I'm leaving my doors open once I graduate, but I want to play in the league and play next year."
To say Okafor should be the model for other college basketball would be unfair to the rest of those playing the game.
He's simply not of this era. Or, for that matter, any era before him.
"He's a rare breed," Taigen said. "He makes it look so easy, too easy. He's so far ahead of everyone. He's like Secretariat. He doesn't even see the rest of the field."
Okafor's dominance in the Connecticut classroom (he'll need to take only four credits in the spring to graduate with a degree in business and finance) is almost equal to his brilliance on the defensive end of the court.
Last season, Texas point guard T.J. Ford won the Wooden Award because he could change the game without necessarily being the game's leading scorer. Okafor does something similar without the ball in his hands.
"There aren't any dominant centers," said Syracuse coach Jim Boeheim, whose national champion Orangemen lost to UConn and Okafor twice last season. "He controls the basket so much. I compare Okafor to the great centers I've seen in this league -- and we're talking about (Patrick) Ewing and those guys."
It's hard to not get caught up in Ewing's NBA career when comparing him to Okafor. But coaches like Boeheim and Calhoun see definite similarities. Calhoun was quick to point out that Ewing didn't become a great shooter until he got to the NBA. So criticize Okafor's offense if you must, just don't let it cloud your perception.
"I've seen all of the great centers in this league," Calhoun said. "(Dikembe) Mutombo. (Alonzo) Mourning. (Rony) Seikaly. None of them could block shots like him. He's special."
How special? Texas associate head coach Frank Haith said Okafor makes an offense aware of his presence every possession. Texas beat Connecticut in the Sweet 16, but the Longhorns felt Connecticut could gamble more often against them defensively. Okafor scored 21 points, grabbed 17 boards and blocked six shots in the Longhorns' 82-78 win.
In Calhoun's mind, Okafor takes away the layup from every team in the country. From the time Okafor arrived, rebounding and blocking shots simply came naturally. And it's not as if Okafor is an offensive liability. Last season, he doubled his average from 7.9 ppg as a freshman to 15.9 ppg -- scoring 20 or more points eight times and registering 22 double-doubles.
"This is a player who can get 20 rebounds and still could have a 30-point game," Calhoun said. Okafor made 15 or more rebounds in six games last season. "He's got a full left hand and actually likes it better than his right hand. He's got a jump hook, a bank shot and is a much better shooter. And then add in that he's physical. You're not going to get the space around him. "The kids on the team are awed by him, by his work ethic. Just watch him, he doesn't cheat on anything, not a single rep in the weight room or a shot when he's working out."
Okafor's routine is well-documented. He doesn't deviate. He is driven.
"He doesn't take a possession off," said Connecticut freshman Charlie Villanueva of his first impressions of Okafor during pickup games this summer. "He's also very smart and that's what makes him so good."
"He's just standing in there in the lane and guys are afraid he's going to block their shot," said Connecticut senior point guard Taliek Brown.
So, as the preseason favorite to take home national POY honors next spring, exactly how is Okafor handling all this praise?
"I just try to be a presence," Okafor said. "I'm known for blocking shots and that's in (opponent's) heads. If they get past my guards, our team can feel comfortable that I've got their back."
Like the rest of the country, Okafor is aware of his offensive rep. He knows he's not a finished offensive product by any means. He has to improve his mid-range jumper and continue to polish that left hand that can do more than just swat shots.
But, again, what keeps Okafor grounded, while impressing anyone who meets him off the court, isn't his play on it, but rather his desire to cherish the education he's received off it.
"Everyone has their own way of doing things," Okafor said. "People always ask me if I get mad at people who take advantage of a free education. Everyone comes from different circumstances. I was fortunate that I was brought up a certain way and I've been doing it for 20 years."
And in his 21st year, Okfor will be rewarded with a college degree. He also could finish his last season at Connecticut as the national player of the year. The NBA career awaits, and after his playing days, Mr. Okafor just may find his way to Washington.
Andy Katz is a senior writer at ESPN.com.
SPONSORED HEADLINES
MORE MEN'S COLLEGE BASKETBALL HEADLINES
MOST SENT STORIES ON ESPN.COM
EDITORS' PICKS
Notre Dame has what it takes to win the ACC.
Adam Rittenberg »

Jay Bilas offers up the best teams in the land ... with some help.
Bilas & Gasaway

The rosters for both sides of the McDonald's All American Game have been released.
Borzello »