Lose soon, before it's too late
Originally Published:
February 11, 2004
By
Andy Katz
| ESPN.com
Lose. It's really what Stanford and Saint Joseph's should do, at least once before the NCAA Tournament starts. Both need to experience what it feels like again.
Massachusetts did just once during the 1996 regular season after a 26-0 start. And the Minutemen didn't do so again until Kentucky beat UMass in the national semifinal.
Did losing help UMass reach the Final Four? Yes. At least that's what John Calipari says. A single loss did more good than those 26 straight wins to open the season. It worked for his team back in '96. And, while he's now coaching Memphis and not Stanford or Saint Joseph's, he knows where each 20-0 is at this point of the 2003-04 season, and where each is headed.
Lose. Just let one slip away. Don't hit a miracle 3-pointer at the buzzer, or blow out another team by 30 points.
Calipari is not suggesting Stanford or St. Joe's tank one of its remaining seven regular-season games. But, should a loss happen on the way to Selection Sunday, neither should hang their heads too long. Or complain too much.
"They've got to lose before the tournament," Calipari said Tuesday. "The pressure to win is one thing. The pressure to win every game, while you're winning every game, is another. It's totally consuming. I was there. The best thing for us was losing that game. We lost it early enough to recover."
Calipari says the '96 win streak -- the longest such streak since UNLV won 34 in a row to reach the '91 Final Four -- was overwhelming. At the time, he says the players and the staff didn't say anything negative about winning every time out, but they felt the pressure of not losing the next time out.
"Both Stanford and Saint Joe's want to lose a game," Calipari says. "You don't want to go into the NCAA Tournament undefeated.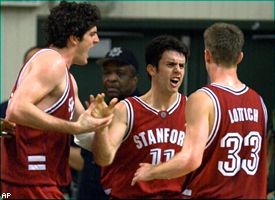 Chris Hernandez and his fellow Cardinal don't think about going undefeated, just "winning the next game."
"I wanted to win the national title, but running the table wasn't a goal. As soon as we lost, I knew it wasn't a big deal. You don't want that hanging over your head. They'll play looser if they don't have (being undefeated) hanging over their head."
Once exception to this rule over the past two decades was that '90-91 UNLV squad, which entered the season off a national title as the prohibitive favorite to do so again when it entered not only the season, but '91 NCAA Tournament with a 31-0 record. Losing, at least for those Rebels, wasn't as much a factor. The Runnin' Rebels expected to win every game. UNLV won 45 straight games over two seasons before losing to Duke in the national semifinals.
"Everyone always said we should have lost a game,'' former UNLV coach Jerry Tarkanian says of his '91 Rebels. "But I didn't want to lose one. Maybe it would have been better if we did."
Stanford and Saint Joseph's regular seasons to date are more akin to the perfection of the '79 Indiana State team. The Sycamores didn't expect to win every game along the way to the national championship game against Michigan State. Even with Larry Bird, the Sycamores entered the title game as the underdog and wound up losing to Magic Johnson and the Spartans.
Three teams -- Duke, Mississippi State and Utah State -- have lost just once this season. Each has since grown from its lone defeat. Stanford and St. Joe's would do the same, as long as that first loss doesn't come on or after March 18.
Duke's loss to Purdue in the Great Alaska Shootout back on Nov. 30 woke up the Blue Devils. Duke hasn't lost since, winning 17 straight into Wedneday's game against Virginia. The Blue Devils admit the loss forced them to create more balance offensively, run more sets, and understand the importance of not taking possessions off.
Mississippi State lost at home in the final seconds to Kentucky on Jan. 13. Mississippi State hasn't lost since, winning its first 13 games and last six in the SEC into Wednesday's matchup with South Carolina. That stunning setback to the Wildcats on a tip-in prompted Rick Stansbury to switch his starting lineup. He put big guard Shane Power in and took out big man Marcus Campbell. Stansbury said the team has become a more cohesive unit since the loss. He feels MSU is even more ready to go through the rest of the SEC regular season and SEC tournament.
Utah State lost at Utah on Dec. 3. Utah State hasn't lost since. That loss in the fourth game of the season seemed to humble the Aggies. Stew Morrill's team has remained focused since that non-conference defeat, rolling through its first 11 Big West games and winning 16 straight overall.
So, do Stanford and Saint Joseph's expect to go undefeated? Maybe. At least neither Stanford's nor Saint Joseph's players or coaches say they feel the pressure. Stanford's motto is, "we don't expect to go undefeated but we don't want to lose the next one." Not a bad way to trick yourself into a perfect season. But the Cardinal, as well as the Hawks, understand they might fall soon.
Good.
Losing might hurt for a few hours, but it won't hurt either nearly as long as a longer winning streak might. So go ahead Stanford and St. Joe's, lose a game, and do so sooner rather than later. It'll take the pressure off.
At least until the Madness starts for everyone -- perfect or not.
| | | | | |
| --- | --- | --- | --- | --- |
| Year | School | Started | Finish | NCAA Result |
| 2003 | Duke | 12-0 | 26-7 | Sweet 16 (Lost to Kansas) |
| 2002 | Duke | 12-0 | 31-4 | Sweet 16 (Lost to Indiana) |
| 2001 | Stanford | 19-0 | 31-3 | Elite Eight (Maryland) |
| 2000 | Syracuse | 19-0 | 26-2 | Second Round (Lost to Kentucky) |
| 1999 | Connecticut | 19-0 | 34-2 | Won National Championship |
| 1998 | Utah | 18-0 | 30-4 | NCAA Final (Lost to Kentucky*) |
| 1997 | Kansas | 22-0 | 34-2 | Sweet 16 (Lost to Arizona*) |
| 1996 | Massachusetts | 26-0 | 35-2 | Final Four (Lost to Kentucky*) |
| 1995 | Connecticut | 15-0 | 28-5 | Elite Eight (Lost to UCLA*) |
| 1994 | UCLA | 14-0 | 21-7 | First Round (Lost to Tulsa) |
| 1993 | Virginia | 11-0 | 21-10 | Sweet 16 (Lost to Cincinnati) |
| 1992 | Oklahoma State | 20-0 | 28-8 | Sweet 16 (Lost to Michigan) |
| 1991 | UNLV | 34-0 | 34-1 | Final Four (Lost to Duke*) |
| 1990 | Kansas | 19-0 | 30-5 | Second Round (UCLA) |
| 1989 | Illinois | 17-0 | 31-5 | Final Four (Lost to Michigan*) |
| 1988 | BYU | 17-0 | 26-6 | Second Round (Lost to Louisville) |
Andy Katz is a senior writer at ESPN.com.
SPONSORED HEADLINES
MORE MEN'S COLLEGE BASKETBALL HEADLINES
MOST SENT STORIES ON ESPN.COM
EDITORS' PICKS
This week's Wooden Watch goes beyond the box score.
Brennan »

Shaquielle McKissic took an unconventional route to ASU.
O'Neil »

Rashad Vaughn was the star as UNLV upset No. 3 Arizona.
Medcalf »