Former UMass coach reborn at Drexel
Updated:
October 5, 2004, 5:03 PM ET
By
Andy Katz
| ESPN.com
PHILADELPHIA -- In the last year, Philadelphia has been full of college basketball stories. The last 12 months have witnessed Saint Joseph's magical run, the rape scandal at La Salle that cost Billy Hahn his job, Penn's Fran Dunphy then flirting with his alma mater before deciding to stay with the Quakers and the ongoing entertainment from Temple's legendary John Chaney.
But the recent story that might be the best is the job Bruiser Flint has done at Drexel.
Not a member of the Big Five although still part of the fabric of Philadelphia basketball, Drexel doesn't get the same attention as the other Division I schools in the city.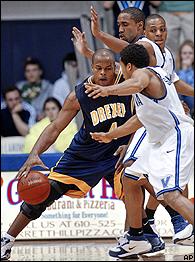 Brooks (here vs. Villanova) will be one of the Dragons' senior leaders.
The run Flint is on, though, speaks volumes to giving fired coaches a second chance -- immediately. He's gone 51-37 in three seasons. Flint won the Colonial Athletic Association coach of the year award a year ago, finishing 18-11 overall and 13-5 in the CAA. The Dragons lost to Villanova in the first round of the NIT, capping a successful run after the Dragons were picked to finish fourth in the league by some.
His success mimics that of Ralph Willard, who went from Pittsburgh to Holy Cross in a similar three-week fired-to-hired turnaround as Flint's journey from UMass to Drexel. Willard won three straight Patriot League titles and their accompanying NCAA berths during his first four seasons (before Lehigh went last season).
Now, like Willard's Crusaders who should challenge for the Patriot League title again (with Lehigh, Bucknell and American), Flint is expected to compete for the CAA bid with Old Dominion and VCU.
Flint was put in an unrealistic position when he was at UMass, replacing John Calipari, who led the Minutemen to the 1996 Final Four. Bumping up Flint was the right move but the expectations were too high as the Minutemen were thought, by some, to be national contenders. Flint was always competitive, finishing 86-72 in five seasons, including the NCAAs in 1997 and '98, before being forced out in Amherst.
His sweet redemption could come with a possible NCAA berth in March as Steve Lappas, his replacement at UMass, is trying to hold onto his job four years later without an NCAA appearance.
Flint, though, isn't thinking about sticking an NCAA berth in the face of a Minutemen administrator. His attitude, like Willard, has been tremendous since he arrived down a peg (or two for Willard) on the college basketball landscape.
"You've got to be realistic," said Flint, who gets the occasional head nod during a dinner in Philadelphia but can go largely unnoticed in this pro city. "You can't make it the place you came from. You have to understand the goals of what you're trying to do."
Willard said building a program, whether it's in the Big East or in the Patriot League, should be the same. But, like Flint said, expectations need to be lowered. The goal is to get to the NCAA Tournament, not reach the Final Four. The goals at Pittsburgh have remained the Final Four since Ben Howland and Jamie Dixon arrived to replace Willard. UMass would just like to get a sniff of an invitation to the NCAAs. Dreams of the Final Four are only in their sleep.
"Coaching is coaching," Willard said. "I never doubted I could still coach. People don't like to hire people directly after they were fired unless they previously knew you."
That's why it made sense for Drexel to hire native Philadelphian in Flint, who was a former Saint Joseph's guard. It was the right move, just like the one Holy Cross made when it went to an alumnus in Willard.
A coach doesn't often go from fired to hired so quickly, but these are two examples where it worked.
"A lot of guys want to get away for a year, to get out of the stressful environment," Willard said. "It's a public profession and you need to get away from it."
Flint is one of the "good guys" in the business. He is a bit wacky on the sidelines, sometimes standing inside the strip of court between the 3-point line and the sideline so much that during one game at the Palestra, a player had to run behind him, using him as a pick.
But his infectious personality has been a hit at Drexel and, four years after his arrival, his first class is on the verge of delivering a potential NCAA berth. Seniors Sean Brooks (14.4 ppg and 5.9 rpg), Phil Goss (13.6 ppg, school-record 90 3s in a season) and defensive guard Jeremiah King stuck with Flint the past three seasons. Add in 6-10 sophomore Chaz Crawford and freshmen Frank Elegar and Randy Hampton and the Dragons have the pieces in place for a title run.
"You can go less than an hour away to South Jersey, within Philly and Delaware and get a lot of mid-major kids," Flint said. "I had to travel a lot further at UMass. There have been a lot of changes up there (new AD) and I'm in a much more stable situation. I got lucky. I got a job in my comfort zone, in my hometown."
Going to Drexel ended up coming at the right time for Flint in his personal life. His father lost a battle with cancer last March, three days after the Dragons played Villanova in the NIT.
Flint and his father, James, were inseparable at Drexel. He came on most trips and was a constant presence in the locker room and in the basketball offices before he got sick.
"If I had been up there (at UMass) when my dad went through this, then I wouldn't have made it," Flint said. "I would have fallen apart. It was tough watching him and what the cancer did to him, but at least I was there. I know I wouldn't have been able to handle coming back periodically. Being around my family made a huge difference."
Flint loves working for the people at Drexel. He said he didn't enjoy his last few years at UMass. He made plenty of money, he said, but he wasn't on the same page as the administration and "I didn't enjoy going to work. I didn't have peace of mind up there. I do now and it allows you to do a better job."
Drexel added a few more seasons to Flint's existing contract this summer. Talk of him some day replacing Chaney at Temple is just talk. Chaney isn't going anywhere anytime soon and Flint doesn't have plans to bolt on Drexel. The Dragons gave him a second chance and he is paying them back by delivering on the promise that he would lead them from the America East to the top of the CAA -- and now possibly to the NCAA Tournament for the first time since a second-round appearance in 1996.
Andy Katz is a senior writer at ESPN.com.
SPONSORED HEADLINES
MORE MEN'S COLLEGE BASKETBALL HEADLINES
MOST SENT STORIES ON ESPN.COM
EDITORS' PICKS
Which teams' upperclassmen will produce this season?
Gasaway

Several ACC teams are on the rise this season.
Brown »

Under Armour Elite 24 matchups.
Rankin