Drexel's game plan tells story
Updated:
November 24, 2005, 3:05 AM ET
By
Andy Katz
| ESPN.com
NEW YORK -- Credit Drexel for the blueprint on how to challenge Duke.
Calipari's chance
NEW YORK -- Memphis coach John Calipari has his mantra of wanting to play anybody, anytime.

He did it at UMass, getting plenty of pops at No. 1 teams in the mid-'90s and culminating with a trip to the 1996 Final Four.

But Duke. No shot. Never happened, that is, until now.

"I've never coached against them," Calipari said of going against Duke Friday night in the NIT Season Tip-Off finals at Madison Square Garden.

"Duke doesn't play road games [rarely true road games unless part of the ACC-Big Ten Challenge] but you may get them on a neutral court," Calipari said. "I have great respect for them and their program. And the greatest thing for us and for them is that it's only November. It's only big for whoever wins it -- them or us."

But the reality is that Calipari covets this kind of shot. He's got Texas coming to Memphis on Jan. 2. He'll play Gonzaga on Dec. 27. He just beat UCLA on Wednesday night in the semifinals.

So, it's no secret how much he and the Tigers want this crack at Duke, especially since the Blue Devils are ranked No. 1.

"It's incredible," Memphis senior forward Rodney Carney said. "It's a dream come true. Everybody wants to get the No. 1 team on a neutral court. You want a shot to beat them. The other guys don't realize the severity of it but this is a big opportunity for us."

Memphis' players caught a glimpse of how Drexel played Duke -- attacking. Memphis plays a frenetic style this season and that approach worked well against UCLA. The Tigers jumped out to a 51-34 halftime lead behind 20 first-half points from freshman Shawne Williams. But he finished with only six more points. The underclassmen dominated team (of the top nine players only one is a senior and the rest are sophomores and freshmen) were outscored 46-37 in the second half as the Bruins awoke.

Shorthanded UCLA (down two potential starters), which is going with a youthful team as well, wasn't the aggressor early. Memphis intends on doing the same thing against Duke.

"I learned that Duke can't guard off the dribble," Williams said of watching Drexel go after Duke in the first half Wednesday. "We've got to come out and play hard and penetrate."

Whether or not Memphis can mimic Drexel's success will largely be up to the freshmen like Williams.

"Our problem is that we have so many young kids," Calipari said. "We were up 20 and we couldn't finish them off. We got selfish and went nuts ... We've got to go out there and just go."

Calipari wants to run, be the aggressor and attack. And, for the first time in his career, he's got his shot against Duke. He's not about to say it publicly but this is the kind of game he's wanted to get on Memphis' schedule since he arrived. Now he's got his shot, even if it's in November. He's still got a game against Duke when the Blue Devils are No. 1.

-- by Andy Katz, ESPN.com
The Dragons, of all teams, went right after Duke on Wednesday night from the opening tip of the NIT Season Tip-Off semifinals at Madison Square Garden.
Drexel had a lead of 11-8. The Dragons trailed by only one point, 41-40 at the half, and they were within a few possessions of tying the game in the final minutes before falling 78-68.
Memphis will get a shot at Duke Friday night in the NIT finals. The Tigers are playing attacking, pressing basketball and have more talent than Drexel.
So, how did the Dragons push Duke?
"They came right after us and took the first swing and to be honest we weren't ready to play," Duke senior Lee Melchionni said. "Every team is ready to play against us and, on this big stage, in our first road game, they knocked us back a bit."
Duke had squashed its previous opponents by an average of 33 points, the worst being a 53-point obliteration of Big East member Seton Hall.
"They attacked us and of all the teams we've played they've had the most confidence and that's saying something because Davidson, with its older group was confident coming into Cameron," Duke senior guard J.J. Redick said. "Playing on national TV is a big deal for Drexel and they came into the game thinking they could out-tough and out-physical us."
Redick hit it right. Drexel showed no fear. Drexel coach Bruiser Flint said as much earlier this week. Flint knew the Seton Hall result and he watched the Boston University and Davidson tapes and surmised that the Dragons, somehow picked sixth in the Colonial Athletic Association, had more talent and were "better" than the other teams that played Duke.
But that wouldn't be enough. To beat Duke, to hang with Duke this season, a team can't be timid.
"Before the game we said that you can't play with any fear," said Drexel junior guard Dominick Mejia, who was once in the ACC at N.C. State before transferring to Drexel. "A lot of teams have been crushed by them because they don't come out aggressive. We hustled, pressured the ball and rebounded."
Duke wasn't necessarily exposed in this game but there were some flaws that weren't evident in their previous games.
Drexel point guard Bashir Mason went right up the gut at Duke every chance he got. Duke senior forward Shelden Williams said Mason's ability to change from defense to offense on a dime was effective.
"We're not used to someone coming at us and forcing the pressure at the defensive end," Williams said.
"I thought Mason was outstanding in the first half," Duke coach Mike Krzyzewski said. "I'm not sure I prepared our guys as well for that type of initial thrust by them."
Mason, who was visibly upset after the game with his eyes still watery from crying, said he has never wanted to win a game as much as he did Wednesday night.
"You don't get many opportunities to play teams like Duke," Mason said.
"We were able to dribble drive and score," Flint said. "We lost our minds a few times and that's why they got a lead and a cushion because we took some ill-advised shots."
Drexel outrebounded Duke 40-30 and held the Blue Devils to 3 of 16 3-point shooting. Mejia (25 points) and Mason (15) went right at Redick, Sean Dockery and Greg Paulus. Redick had a steady game, finishing with 31 points, and Williams, who played with four fouls for most of the second half, still had 20. But the Blue Devils had to scrap for this win.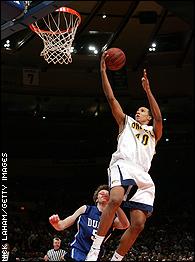 Drexel's Dominick Mejia helped take the game to Duke.
They lost DeMarcus Nelson in the first half to a hairline fracture of his right ankle, according to Duke. That forced freshman Martynas Pocius to play more and he didn't disappoint, going right at Drexel for seven points in 13 minutes off the bench. When Williams was out with foul problems, freshman Josh McRoberts (10 points and three blocks) and Paulus ran the team efficiently and allowed the Blue Devils to creep out to a more comfortable lead (nine points).
"I don't think I touched the ball for four straight possessions during that run," Redick said.
So, that helped the Blue Devils get better as they figured out that freshmen McRoberts, Paulus and Pocius can be counted on in tight situations. Pocius will likely get more time with Nelson out indefinitely.
Still, Drexel created the opening for others to follow: attack, attack, attack, off the dribble, finish and make perimeter shots. But just keep going after Duke from the opening tip to have a chance.
"Our drive was there and they allowed us to penetrate the lane and hit the open guys on the wing," Mejia said. "We had open shots and by penetrating we had a lot of post feeds and a lot of guys open on the wing. That's what happened throughout the game. We also got fast-break opportunities and we rebounded well."
Texas won't fear Duke on Dec. 10. But Indiana and everyone else in the ACC should take note of Drexel: go after the Blue Devils from the opening tip if you want a chance. They might not take the punch the way they did Thursday, but at least it gives you a chance.
Andy Katz is a senior writer at ESPN.com.
EDITORS' PICKS
Look at the teams. This Final Four just feels big.
First look »

Duke's freshmen stars sent Mike Krzyzewski back to the Final Four.
Brown »

Travis Trice led Michigan State on an improbable run.
O'Neil »
MORE MEN'S COLLEGE BASKETBALL HEADLINES


MOST SENT STORIES ON ESPN.COM