Florida can try to repeat with roster intact
Originally Published:
May 8, 2006
By
Andy Katz
| ESPN.com
How many meetings did Florida coach Billy Donovan have with his three highly touted sophomores about declaring for the NBA draft after the Gators won the national title?
One.
The transcript of that meeting with wing Corey Brewer, forward Al Horford and Final Four Most Outstanding Player Joakim Noah hardly was riveting, according to Donovan.
"I met with them on Friday after we got back Tuesday and I asked them, 'How do you want to handle the whole thing?'" Donovan said. "They said, 'Coach, we're coming back. That's what we want to do.' "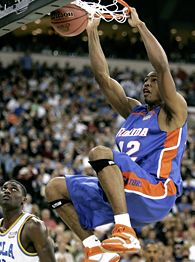 AP Photo/Mark HumphreyBig man Al Horford should be a load inside for the rest of the SEC.
It was over right there. Donovan didn't have to suffer any sleepless nights in April, wondering and worrying about which runner, agent, extended family member or friend was going to influence any of these three. The deadline to declare for the draft passed on April 29 without a murmur from the Florida campus, despite plenty of NBA personnel assuming that at least one of the Gators, if not all three, would crack and declare.
Just like that, the Gators, who return all five starters off the title team, are now the likely preseason No. 1 team and have a realistic shot to repeat as champs, which hasn't been done since Duke in 1991 and '92.
So, as coaches at Texas, Memphis and UCLA continue to say they're not fretting over their underclass draft fence-sitters who might or might not return to school, Donovan can move on without even a second thought.
"Our college game should celebrate guys like this," Donovan said about his threesome. "There was no influence on my part. We malign all the players who leave early, so we should pump up these guys who stay. Maybe when they were by themselves, with each other in their room, they talked about [declaring], but it wasn't talked about around [the coaches]."
The decision by the three Gators to return for their junior season is quite amazing in these transitory times in college hoops. North Carolina had four underclassmen a year ago -- juniors Sean May, Rashad McCants and Raymond Felton, and freshman Marvin Williams -- who jumped at the chance to go in the first round of the 2005 draft.
May was the only one of the four who publicly said he would stay after the title; he then changed his mind later in the month. No one could blame him after being named the Final Four's MOP.
That's why there was an assumption, even with the public statements at the team's banquet on that Friday following the title game, that the Gators would lose at least one of them to the draft.
"I've said all along that these kids are throwback kids," Donovan said. "They have a core set of values that are important to them."
Donovan noted that all three are driven by winning and improving. Donovan is convinced they will relish the challenge of being the hunted after the Gators entered last season as a complete unknown. They also clearly understand they have to improve their individual skills.
Donovan is big on one NBA stat: minutes played. If you're not playing, you're not going to make the coveted big money in the second contract.
"You've got two years of a guaranteed contract now to play to get the second contract," Donovan said. "If you don't play in that second year, you're never going to play for the same amount of money."
Donovan said these three players, who come from basketball-rich families, all get the concept.
All three are proof of what more minutes and a few more hours in the gym can do. Noah went from playing 9.4 minutes a game as a freshman to 24.9 a game his sophomore season and saw his scoring average jump from 3.5 to 14.2 points per game and his rebounding improve from 2.5 to 7.1 a game.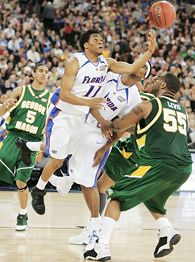 Andy Lyons/Getty ImagesDonovan expects Green to improve his shooting percentages.
Horford's minutes increased slightly (from 22.8 to 25.9) but his production soared (from 5.6 ppg to 11.3 and from 6.5 rpg to 7.6 rpg). Brewer, like Horford, didn't have a major minutes jump (from 24.7 to 28.1 a game) but he increased his scoring, too (from 7.5 to 12.7 ppg).
As soon as the team was back on campus after winning the title, these three -- along with every other returnee (the Gators only lose senior Adrian Moss) -- were doing individual workouts. The plan is for them to be on campus throughout the summer as well, beginning in early June after a brief respite away from Gainesville.
If there is one player, though, who Donovan will be anticipating seeing come August, it might be the "other" member of the current sophomore class.
Lead guard Taurean Green averaged 13.3 points a game this past season and had his share of double-figure games. He also had a terrific title-game floor performance against UCLA, despite making only 1 of 9 shots (0-for-7 on 3s). Green had eight assists, had only one turnover, had a steal and committed just one personal foul in besting the Bruins' Jordan Farmar.
"This will be a big offseason for Taurean, because he can make another jump from being a seasoned point guard," Donovan said. "He didn't shoot the ball well, but he did a nice job running the team."
Donovan expects Green to get his shooting percentages up (36.6 percent overall, 38.4 on 3s) with extensive work this offseason.
As for Donovan, the title hasn't altered his life yet. April recruiting didn't let him catch a breather. He said he was in Dallas, Houston, Oklahoma, West Virginia, a Nike clinic in Milwaukee and then in New Jersey -- all after the title game. The Gators also held their banquet, visited the White House, and had assistant Anthony Grant leave to take over for Jeff Capel at Virginia Commonwealth University. That meant Donovan had to spend time finding an assistant. He hired Notre Dame's Lewis Preston.
"Once I get into May, maybe it will soak in a bit more," Donovan said of the title.
He plans on chilling at a beachside condo with the family on weekends in May. Other than that, no vacations are planned until August.
That's when Florida will regroup, practice a bit in preparation for a Labor Day weekend trip to Canada and prepare for a chance to repeat as national champs. The Gators will have their share of tough nonconference games. They likely will face Ohio State on Dec. 23 in Gainesville, will meet Western Kentucky and Kansas in Las Vegas over Thanksgiving weekend, and play Providence and at Florida State, all before New Year's.
"Life hasn't changed," Donovan said. "The sun will come up tomorrow with a new set of challenges."
True, but Donovan avoided a huge challenge by having his roster return basically intact.
Andy Katz is a senior writer at ESPN.com.
SPONSORED HEADLINES
MORE MEN'S COLLEGE BASKETBALL HEADLINES
MOST SENT STORIES ON ESPN.COM
EDITORS' PICKS
Virginia's weakness has been revealed.
Gasaway

No. 4 Duke shocked No. 2 Virginia, handing the Cavaliers their first loss of the season.
Brennan »

Louisville's comeback to beat North Carolina in OT gave the Cardinals the high-profile win they've been missing.
Brown »