Wright doesn't expect Lowry to come back to school
Originally Published:
May 30, 2006
By
Andy Katz
| ESPN.com
So far, not one underclassman who has declared for the draft has even hinted that he's going back to school.
The list of players who are staying in the draft continues to climb each day, with the latest being NC State sophomore Cedric Simmons.
Barring some sort of revelation, don't be surprised to see Villanova sophomore guard Kyle Lowry join him.
Lowry has been one of this year's more intriguing draft prospects. He has first-round talent, yet there has been little buzz about where he'll land. That's in large part because Lowry has been stashed away in Bradenton, Fla., working out at the IMG Academy.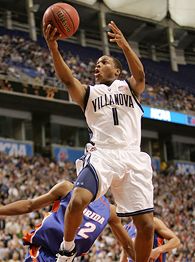 Elsa/Getty ImagesLowry can get in the lane against almost anyone.
Lowry will start working out for teams soon and has an NBA-sanctioned, but agent-organized workout schedule for June 7, in between sessions at the pre-draft camp at the Disney Sports Complex in Orlando. Agent Andy Miller, who has been acting as Lowry's adviser, will put Lowry, Simmons and Bradley sophomore Patrick O'Bryant on display. The latter two already have signed on with Miller.
"My gut is that he's going to go," Villanova coach Jay Wright said of Lowry staying in the draft.
"The only reason he hasn't signed with an agent yet is in case something happens and he got hurt or had a horrible workout, and [signing] didn't leave him the option to come back." Wright said the Lowry family is viewing his draft pursuit as an investment and doesn't mind paying the cost for his IMG stay -- one that could escalate into the thousands of dollars the more days he stays there to work out.
Lowry and his family, according to Wright, have been in regular contact with Villanova's compliance department, but Lowry officially could announce he's signing with Miller after the June 7 workout. According to Wright, Lowry already has a workout set up for Houston before the Orlando camp and then is scheduled to work out for Cleveland, New Jersey and New York afterward.
The workout in Orlando likely will be more of a skill workout for NBA personnel while the others will be more game-specific.
"He has handled this well and I hope it all works out for him," Wright said of Lowry, who was at times the forgotten man among Nova's stable of guards that included seniors Randy Foye and Allan Ray and junior Mike Nardi. Yet Lowry (11 ppg, 4.3 rpg, 3.7 apg) was the best on the squad at getting to the basket and was, by far, the feistiest of the group.
"The only negative scenario is if after June 18, a team says they're taking you in the first round, but sometime between the 18th and the draft a couple of guys slip and don't go in the first round, and he goes in the second," Wright said. "He is aware of that possibility."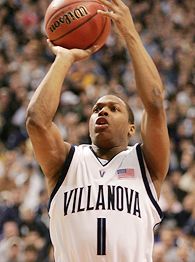 Elsa/Getty ImagesThere are lingering questions about Lowry's jumper, despite much improvement.
At least one NBA personnel director who watched Lowry at IMG said he felt the Villanova guard was ready to make the jump, despite being listed at only 6 foot.
"He's a great point guard and there is a need for point guards," Wright said. "He's an outstanding defender and one of the most intelligent players I've ever coached. He's NBA-tough, and you need a level of nastiness if you're that size."
Lowry's shooting is the typical knock against him, but he made a dramatic improvement in his sophomore year, going from 22.7 percent on 3-pointers as a freshman to 44.4 percent last season. Lowry missed the first seven games of his freshman year due to a torn ACL in his left knee.
"He only shoots when he wants to and can get to the rim when he wants to," Wright said. "He's an NBA point guard. If he stays another year, he's a lottery pick. He understands he's taking a chance. I'm very confident in the people around him."
Wright said Lowry waited until the final two days to decide if he was declaring. That came after Wright had submitted Lowry's name to the NBA's advisory committee. The committee, led by Stu Jackson, returned a verdict that he was first-round material. That was enough for Lowry to declare.
Meanwhile, there was a subplot surrounding Lowry's replacement. When Kelvin Sampson left for Indiana, Oklahoma signee Scottie Reynolds, a point guard out of Herndon, Va., was going to be available. Wright didn't have a scholarship at the time but knew the Lowry situation could break. He said he told Reynolds' coach, Gary Hall, that if Lowry returned, it wouldn't make sense for Reynolds to come and he wouldn't have a scholarship for him or any reasonable chance to offer starter's minutes.
Wright said that after Lowry announced he was declaring for the draft, he spoke on the phone with Hall. Suddenly Nova was a fit for Reynolds.
"It was perfect, he just fell into our lap," Wright said. "We're thrilled. We love this kid."
Wright said he thought Reynolds was the best guard he saw last summer and told Sampson as much when the two teams played in Villanova, Pa., in December.
"I remember telling my assistants, 'Why didn't we recruit him?' And we end up getting him," Wright said.
If Lowry does return, the Wildcats would then technically be one scholarship over the limit of 13. That's not likely, though. Even if it does happen, Reynolds isn't in danger of paying his own freight.
"He's got a scholarship," Wright said. "We have a number of different scenarios that could have everything work out."
With Lowry looking like he's on his way out, that's likely the only scenario Nova needs.
Andy Katz is a senior writer at ESPN.com.
EDITORS' PICKS
Keep an eye on these 25 teams this season.
Teams to watch

Thanks to new NCAA rules, some teams begin practice this week.
O'Neil »

Some returning players are ready to make an impact now that they're back.
C.L. Brown »