Canada trip helps Gators refresh, renew acquaintance
Originally Published:
September 5, 2006
By
Andy Katz
| ESPN.com
NIAGARA FALLS, Ontario -- Here came Joakim Noah, the Final Four MVP, a likely preseason All-American, the charismatic face of the national champion Florida Gators. He was strolling along a dock beside the Niagara River in Sunday night's dimming twilight, his hair in a ponytail, wearing flip-flops and shorts, carrying a single water ski.
Suddenly, Noah handed over his shirt and sweatshirt, grabbed a second ski, and headed for the water. To water ski. In the dark.
As Noah slipped into the river, he was asked when was the last time he had done this.
"When I was 12," said the 6-foot-11 21-year-old.
Someone in the dark asked if he has insurance. Noah said he did, although no one was quite sure if water skiing would be covered under a standard policy for potential NBA lottery picks.
Noah's first ride lasted about a minute before he fell. He quickly got up and was riding outside of the boat's wake, causing a ripple of water himself as he brushed past the dock screaming. After another fall and recovery, a voice came from the grass behind the dock. Matt McCall, the Gators' director of basketball operations, yelled, "That's enough! Coach says that's enough."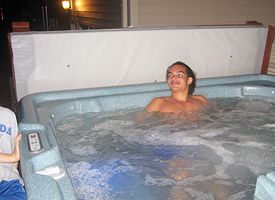 University of Florida Athletics After his waterskiing adventure, Noah found time to kick back in the hot tub.
Finally, Noah came ashore. He pounded his chest while yelling "Ndongo!" -- apparently the Gators' self-created war cry for this season.
"We made it up," Noah said, "and as long as we are 'ndongo' warriors, then we can win the national championship."
Sure, Noah's ski trip -- and a high-speed boat ride other Gators were taking at the same time -- might give the appearance that the Gators were a bit too cavalier over the weekend on their team trip to the Niagara Falls area. Spend a few days with this group, though, and you'll understand why coach Billy Donovan wanted to take this trip (to get the veterans back together and to indoctrinate the four freshmen who'll join the 10 returning players), why the Gators won the national title in April in Indianapolis, and plenty more reasons why they have a great shot to win it again in six months.
It all starts with the startling decisions by Noah, Al Horford and Corey Brewer to return for their junior year. With their talent comes the usual distractions of agents and runners looking to latch on to the next potential multimillionaire, but Donovan isn't worried.
"Why should they listen to someone now after they listened to our coaching staff and it got them in the position they're in?" Donovan asked.
He's probably right. Noah recently helped nix, for now, a Nike rep's request that Florida wear some hip experimental duds for the NCAA Tournament -- because, he said, the Gators aren't taking an NCAA berth for granted at this point.
In their own words ...
So why, exactly, did several of Florida's juniors eschew millions of dollars to return to school? Let the Gators explain it themselves:

"I don't know if I'll be in a situation next year or in a couple of years where I'm playing with players that I enjoy playing with. It all happened so fast and I didn't feel I was ready. I'm happy playing basketball and the things I love most about my life is basketball so why change that. Why be unsure about where I'm going to play and who I'm going to live with? I'm in a situation where I don't feel I have to put money on the table for my family. Right now, it's all about being happy, and I'm happy playing basketball with these guys."
-- Joakim Noah

"I stayed because I knew we were going to be better than last year and I just love my teammates. No matter what, I'm not going to have more fun than I'm having now. It was a real hard decision for me financially for my family, but I have to look out for my best interest, and after talking to my mom, the best thing was for me to come back." -- Corey Brewer

"I wasn't worried that they would leave because I know those three [including Al Horford] like the back of my hand. I had feeling they were all coming back. We all care about winning. Sure, they could have gone high in the draft, but at the end of the day, we have an opportunity to repeat what we did last year." -- Fellow junior Taurean Green

"What they did was totally uncharacteristic of the way it is [today]. They chose happiness and being with one another. It may not be like this again. They want another year of enjoyment." -- Billy Donovan
"These guys are a throwback group," Donovan said. "They don't sense they've got everything figured out. Last year at this time no one wanted to talk to us. There are a lot more distractions this season. We've got to limit them. That's a big challenge and one we're capable of handling. The reason they came back was to play with one another."
The NCAA allows schools to take a foreign trip once every four years. If the trip is before school starts, you cannot take incoming freshmen, but once classes begin, you are not allowed to have students miss class for the trip and it can't be within 30 days of the season's first practice (this year, that's Oct. 13) -- thus the Labor Day weekend timing for the Gators.
Florida actually set this trip up two years ago after canceling a trip to the Bahamas due to a few hurricanes in the area. On the surface, it didn't seem the Gators would still need it, since most of the team returned after winning the national championship. It's easy to be skeptical that this trip was kept solely to give the Gators 10 extra practice days (as allowed by the NCAA), with the games against two Canadian teams being no more than glorified scrimmages.
Once again, that couldn't be further from the truth.
"We had to get everyone back," Donovan said. "They all went their separate ways over the summer. Jo to New York. Corey to Tennessee. Al to the Dominican. We wanted to get them back to enjoy the reason why they came back and also get the four freshmen acclimated.
"I'm going to enjoy these guys every day," Donovan said. "I wanted these guys to enjoy why they came back."
That's not to say this trip was all vacation getaway. There was the commercial flight from Gainesville, the weather delays that stretched the travel time to Buffalo to 11 hours and a leaky bus roof that dripped on Donovan's head. That doesn't even count the impromptu film session for the freshmen to help speed up their integration.
"Focus on closing out, screening, spacing," Donovan told the newcomers during the review. "Come into the game with an edge. You can't give players in the SEC a crack, they're too good in this league and they'll score. Don't worry about the offense. It will come within the system."
What else did the freshmen learn on the trip?
"We learned that you have to be on time for everything," Marreese Speights said. That lesson was hammered home by the reception Brandon Powell received when he tardily hopped on the team bus before the first game, only to drop an iPod-type device while he was chatting on his cell phone
"Coach doesn't like when you're late, and we've learned that early," Dan Werner added.
The Gators' first game of the weekend was against Brock University, a school in St. Catharines, Ontario, some 20 minutes from the falls. Brock put temporary seating in its 1,200-seat gymnasium and the place was packed, with some tickets, according to one of the event organizers, selling for about $45 on eBay.
Donovan decided to start Walter Hodge and Humphrey in the backcourt with Brewer, Horford and Richard up front. At 7:12 p.m. on Saturday, Sept. 2, let it be known that Richard, on a post move, scored the Gators' first basket in their quest to repeat as national champs. At 7:20 p.m., Noah entered the game with the Gators already up 10-1.
Donovan tried a number of combinations. He looked at Taurean Green, Noah, Brewer, Powell and Speights. He also tried freshman Jonathan Mitchell with Werner, Noah, Green and Powell together before putting out his projected starters -- Horford, Noah, Brewer, Green and Humphrey -- for the start of the second half. As expected, Brock was no match. The final was 107-51, giving the public address announcer time to surf the Net, do a chat and instant-message friends all while leaning back occasionally to announce, "Al Horford with the slam."
Noah was besieged by autograph seekers in the postgame crush. A Canadian police officer (wearing a bulletproof vest on the outside, making him seem even more intimidating) actually had to usher Noah into the back. The Gators are getting used to this type of attention, though.
"It's crazy walking around campus," Green said. "We're like rock stars. Everything is different when you win the national championship."
After Sunday morning's delayed trip to the falls, Florida took on the Guelph All-Stars, a team the trip's organizers had paid $750 to drive an hour to St. Catharines so Florida wouldn't have to make an additional bus trip.
The contest was a bit chippy. The Gators had trouble handling Borko Popic, who looked like he was a regular YMCA player when he entered the gym but had a scrappy game and made some shots. It actually was 14-14 at one point in the first half, causing assistant coach Larry Shyatt to say, "Their best offense has been, after 10 seconds, beating us off the dribble."
Eventually, reality set in, and the Gators opened up a 52-26 halftime lead. Donovan, miffed enough at the referees to state that he was happy they didn't work in the U.S., didn't play his starters much in the second half of the eventual 84-55 win.
The trip ended with a team barbecue (at the home of friends of the Donovans) that begat Noah's water-skiing adventure, although the Gators first had to go through a separate adventure at customs. Horford, who is from the Dominican Republic and went back twice this offseason, was yanked off the bus by customs officials, who questioned his documents. McCall, who had the missing document, and Donovan had to go into the customs office -- and McCall was told to sit down by customs officials -- to make sure Horford was fine.
So what do three days with the Gators tell us about the upcoming season? As Donovan has said, they won the title last year by playing well at the right time against the right teams, but there's more to this club than that. Forget the talent; for whatever reason, the players all fit together. They enjoy themselves and each other, and if that dynamic continues throughout this season, through all the potential distractions for the individual players and the team, there's no reason to think they won't have a shot at doing it all again.
Andy Katz is a senior writer for ESPN.com.
SPONSORED HEADLINES
MORE MEN'S COLLEGE BASKETBALL HEADLINES
MOST SENT STORIES ON ESPN.COM
EDITORS' PICKS
VCU won its 12th in a row and is building toward March.
Brown »

Malcolm Brogdon's game and mind a big reason Virginia is undefeated.
Power Rankings »

The Big 12 is playing havoc with our rankings. Just take a look.
Power Rankings »