Marquette has markedly better deal than Seton Hall
Originally Published:
September 26, 2006
By
Andy Katz
| ESPN.com
Editor's note: ESPN.com is taking this week to look at scheduling decisions and their impact on the 2006-07 season.
Marquette coach Tom Crean put in a call to Milwaukee Bucks owner Sen. Herb Kohl to switch an NBA home game so the Golden Eagles could get ESPN's "College GameDay" at the Bradley Center.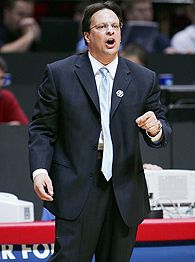 Lisa Blumenfeld/Getty ImagesMarquette's relationship with the Bucks makes scheduling a lot easier for Tom Crean.
Seton Hall couldn't get the Meadowlands to clear a date so it could play NC State there, thus putting the game off until 2007-08. Heck, if the Jets or the Giants make the playoffs, the Pirates can't schedule a home game for that date because of the need for parking.
Marquette and Seton Hall aren't the only Big East teams that play in pro arenas. Georgetown, Louisville, DePaul, Villanova, Connecticut, St. John's and Providence also share their building with a pro or minor league team, let alone other events like ice shows. The Golden Eagles and Pirates just represent the extremes as far as cooperation goes.
When you're dealing with a pro team's arena, it's all about control and cooperation. Marquette has it. Seton Hall doesn't.
"We're using 95 percent of the dates that we're offered," Crean said of sharing the Bradley Center with the Bucks and the AHL's Milwaukee Admirals.
Marquette is playing only one nonconference road game -- at Valparaiso. Crean said in years that the Eagles play at Wisconsin, they won't play another nonconference road game unless they're in an exempted tournament.
"We want to have a minimum of one Saturday a month," Crean said of the home schedule. "[And] Saturday night is a big night for the Bucks in the NBA."
The difference is that Marquette could play in the afternoon and the Bucks can play at night.
"We have a great relationship with Senator Kohl and the Bucks, and we don't really deal with the [American Hockey League] Admirals since they mostly play on Friday nights," Crean said.
Other Big East arrangements
According to the Big East, Georgetown's schedule can be tough to manage in November and December, with the Wizards' and Capitals' seasons underway, but with only four nonconference road games this season, it appears the Hoyas were able to get dates.

St. John's doesn't have many issues in nonconference play, since it can play a few games on campus. The bigger issues with the Red Storm and the Big East occur more in conference play, with the Knicks, Rangers and other Madison Square Garden events competing for dates.

Villanova only plays three games at the Wachovia Center, so that's not much of a problem. Connecticut splits its schedule on campus and with a minor league hockey team at the Hartford Civic Center, which hasn't bothered the Huskies one bit. DePaul and Providence go against minor league hockey. Once again, that's not much of a struggle.

"We've got 19 home games, so I don't have much to complain about," Providence coach Tim Welsh said.

Louisville does have issues at Freedom Hall, but only on specific dates. The Cardinals can't get into Freedom Hall for most of November, leaving them with two exhibitions and one home game against Northwestern State. Late February becomes a problem, too, as the building once again is booked for non-sporting events.
"[Without football,] we generate 97 percent of our budget," Crean said of his team's contributions to the athletic department.
Seton Hall doesn't have football, either. But the Pirates are in such a predicament that they don't have much choice.
Seton Hall is in a tournament at BYU to get extra games, and the Cougars don't have to return the game, so a Mountain West team is getting a Big East team at home without a return. The Pirates did get late dates against Penn, Princeton and a neutral site game against Virginia Tech in Madison Square Garden, and just got a home date against Saint Mary's, but must return that game. The Pirates also are returning a game to Morgan State in the MEAC.
"That was a long-standing contract that pre-existed before me," Seton Hall athletic director Joe Quinlan said of the game in Baltimore.
Up until two weeks ago, Seton Hall had six games left to schedule, largely due to scheduling conflicts at the Meadowlands. New coach Bobby Gonzalez said he never knew how difficult scheduling at Seton Hall would be.
"Plenty of people walk out on contracts and I'm not going to do that. Anyone who plays in a public building has a struggle with dates," Quinlan said.
Still, the fact that the Pirates are playing at Morgan State and at BYU (in a tournament) isn't very Big East-like. Too bad, because Seton Hall had no choice but to take more non-traditional, Big East nonconference road games.
Remember, though -- this is a 16-team league with plenty of diverse interests, let alone a diversity of funds. Providence had to go home-and-home with Wichita State the past two years while Syracuse gets the Shockers this season in a one-way game without a return. Scheduling disparity like this is all a part of being in a conference as vast as the new Big East.
Andy Katz is a senior writer for ESPN.com.
SPONSORED HEADLINES
MORE MEN'S COLLEGE BASKETBALL HEADLINES
MOST SENT STORIES ON ESPN.COM
EDITORS' PICKS
Andy Katz looks at a change to the NIT Season Tip-Off
Watch

Which teams will pass the ball best next season?
Brennan »

Who are the best rebounding teams headed into next season?
Story »