Brackman, busy with baseball, hasn't decided on return
Originally Published:
October 5, 2006
By
Andy Katz
| ESPN.com
The question for NC State first-year coach Sidney Lowe was simple: Has highly rated major league pitching prospect Andrew Brackman decided to continue his basketball career into his junior season and begin practice next Friday?
The answer: "[A decision] has not been made," Lowe said Thursday.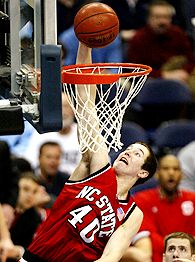 Travis Lindquist/Getty ImagesBrackman is a slam dunk to be an early first-round pick in the 2007 MLB draft.
Practice is now just a week away and Lowe still has no idea if his 6-foot-10 big man, who would be the Wolfpack focal point inside, will be on the team, let alone begin practicing next Friday.
Brackman is considered to be one of the top pitching prospects in college baseball and, assuming he can stay healthy, projects to be better than Padres right-hander (and former Princeton center) Chris Young, who thrived this season after arriving in a trade from Texas. Dodgers journeyman left-hander Mark Hendrickson (Washington State) also is a former college (and NBA) big man.
Brackman was 4-0 with a 2.09 ERA as a freshman. He slumped to a 1-3 record with a 6.35 ERA last season as a sophomore, although he was affected by a stress fracture in his hip that he suffered during the basketball season and shut it down on April 21. The right-hander returned to the diamond over the summer, playing for the Cape Cod League's Orleans Cardinals and was 1-0 with a 1.06 ERA and a .140 BAA in six appearances, and was named the league's No. 2 pro prospect by Baseball America.
Brackman started out the fall semester working with the Wolfpack basketball coaches during individual instruction, but as soon as fall baseball started, he put away the high tops, grabbed his glove and spikes and headed to the diamond.
An Insider's take
Andrew Brackman came out of the summer as the top college prospect for the 2007 Rule 4 draft, and arguably as the top prospect overall.

He has just about everything you would look for in a pitching prospect: He's tall and athletic, he has relatively clean mechanics, he has two plus-pitches in a 90-97 mph fastball and a hard mid-80s breaking ball, and he has good fastball command, with a real willingness to pitch off his fastball rather than always relying on offspeed stuff to get hitters out. He's Chris Young with better stuff.

What's unusual about Brackman is that, for a pitcher so tall, his delivery is simple. Taller pitchers are very appealing because, among other reasons, their release point is that much closer to the plate, giving them more deception while reducing the hitter's time to react to the pitch. Brackman is right-handed, so you would expect him to be devastating against right-handed hitters.

Tall guys, though, often have mechanical issues, such as very long arm actions or "too many moving parts," where the pitcher is just uncoordinated enough that he can't repeat his delivery. Jon Rauch and Ryan Anderson both fit those descriptions, but Brackman doesn't, and his plus fastball command speaks to how well he repeats.

Brackman would almost certainly be the No. 1 selection in next June's draft, but he apparently has hired Scott Boras as his agent -- excuse me, "advisor" -- which increases the probability that he'll fall in the draft to a team willing to give him a bonus above the $5 million to $6 million that typically goes to the top pick.

In addition to the Boras factor, Brackman gains leverage because he has a legitimate shot at a pro career in basketball, which, under MLB's rules, allows the team that drafts and signs Brackman to spread his bonus payments out over a number of years, which makes fitting a $7 million to $8 million signing bonus into a team's budget much easier.

Whether Brackman is actually worth that kind of money is a separate issue; while his ceiling is tremendous, he's not a quick-to-the-majors guy, and his relative inexperience means he could be four or five years away from contributing to the big league club, which makes the ROI on a huge signing bonus quite low.

-- Keith Law, Scouts Inc.
Fall baseball conveniently ends next Friday, the same day basketball practice starts.
"Right now, we're letting him concentrate on baseball," Lowe said. "It's perfect timing for him. We've been talking about things and seeing if he wants to play basketball. It's really on him. We're not putting any pressure on him right now that we need to know something. I'm keeping my word and letting him concentrate on baseball."
NC State officials declined to make Brackman available to answer questions on his decision process.
Brackman isn't the first basketball-baseball athlete at NC State to face this choice. Tim Stoddard, who was a starting forward on the Wolfpack's 1974 national championship team, went on to pitch for 14 seasons in the majors for five different teams, winning a World Series title with Baltimore in 1983.
Lowe said he's convinced that Brackman has an NBA future. This is coming from a career NBA coach prior to his jump last spring to the Wolfpack. Brackman is a skilled big man who fit in perfectly in Herb Sendek's deliberate system. He averaged 7.6 points and 3.5 rebounds in 19 minutes a game.
"If he has a pretty good year, he'll have choices to make," Lowe said. "I know of one guy in particular who I won't name that is in management (in the NBA) that has been very much aware of him since his freshman year and sees the potential."
But this isn't some minor decision on the eve of practice. Brackman's absence will have a major effect on this team. The Wolfpack already lost Cedric Simmons early to the NBA draft. If Brackman is gone, too, then the Wolfpack will be down to 6-10 sophomore Ben McCauley and possibly 7-3 Polish freshman Bartosz Lewandowski as their post possibilities. McCauley played in 27 games last season, averaging 2.1 points and 1.0 rebound per game in 6.9 minutes.
"Everything we're doing right now is without [Brackman]," Lowe said. "We were definitely going to count on him a great deal. We would have to go with a different type of player."
The reality is that, without Brackman, the Wolfpack will put out a team essentially devoid of big men. Lowe said the Wolfpack already are recruiting with the thought that Brackman won't be back as a senior, since he's likely going into the baseball draft in the spring (players can be drafted after their junior year in college if they weren't already selected after graduating high school).
"We're going to have to bust our butts, be a little short [on bodies] and go forward," Lowe said. "Hopefully, he'll decide he wants to play. I know he likes the game and I'm hoping that helps him make a decision to play one way or another."
Lowe might not know, though, until practice starts next Friday -- not the norm for a team trying to start fresh under a first-year coach.
Andy Katz is a senior writer for ESPN.com.
EDITORS' PICKS
Kyle Wiltjer has transformed his game, and Gonzaga.
Medcalf »

The Wooden Award race appears to be over.
Brennan »

Bo Ryan's sideline antics make him the most animated coach.
#Top10Thursday »
MORE MEN'S COLLEGE BASKETBALL HEADLINES

MOST SENT STORIES ON ESPN.COM