West Virginia's system still will cause foes fits
Originally Published:
October 26, 2006
By
Andy Katz
| ESPN.com
NEW YORK -- An Elite Eight team two years ago. In the Sweet 16 last season. And now picked 12th in the Big East by the league's coaches and dead last (16th) by at least one magazine (The Sporting News)?
Hello? Does anyone remember the Midas touch John Beilein possesses at West Virginia? Someone tell us that there's no way that a Beilein-coached team suddenly can drop off into a Big East abyss.
The surface response would be, "Why couldn't they?" considering the Mountaineers lost five seniors that formed the core of the squad that made one of the school's greatest two-year runs. Gone is Kevin Pittsnogle, one of the all-time greatest characters in college basketball (6-11, tattoos, shooting 3s, scraggly facial hair all included). So, too, are sharpshooters and ultimate system players Mike Gansey, Joe Herber, Patrick Beilein and J.D. Collins.
So, this begs the question: Was it the players or the system at West Virginia that made the Mountaineers? Or was it both coming together in some sort of cosmic convergence?
If you watched the Mountaineers under Beilein the last two seasons, let alone his teams in previous stops at Canisius and Richmond, then you know this man can coach just about anyone to do what he wants.
He isn't going to deviate from that plan, even as he starts over with new talent. He wants everyone on the court to shoot. He's going to cause opponents fits with his team's constant cutting, screening and back-door options. His club won't rest on defense, either, with a 1-3-1 zone that seems to swallow up passing lanes.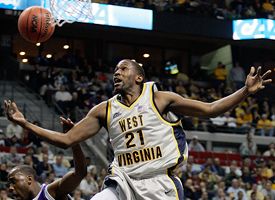 Brian Bahr/Getty ImagesGuard Frank Young will provide the leadership for the now-young Mountaineers.
"We decided two years ago that we're going to recruit to the system," Beilein said. "It worked for us and hopefully it will continue to get open shots and allow us to hide our deficiencies. If we can make shots, we can win."
Well, then who can shoot on this team?
"Everybody," Beilein said. "If we had a shooting contest, we'd be just as good as those [upper-level Big East] teams. But can they shoot when the lights are on and everybody is running at them?"
No one knows just yet, but what we do know after talking to Beilein and seniors Frank Young and Rob Summers at Big East media day: The Mountaineers aren't through being the pests of the Big East.
Need a Pittsnogle fix? Well, here comes Jamie Smalligan, a 7-foot transfer from Butler who averaged 5.2 ppg and shot 39.6 percent two seasons ago, who the Mountaineers say is just as good a shooter as the Pitts.
"If he's in the gym by himself, he can shoot every bit as good as Pittsnogle," Beilein said. "Pittsnogle only saw the rim when defenses were coming at him and Jamie is working on that."
"He's a deep shooter like Pittsnogle," Young said. "He is."
"In practice we're all making 50 3s in five minutes," Summers said. "Everyone makes their numbers."
Returnee Alex Ruoff (6-of-15 on 3s last season), Smalligan and Young (42-for-134, for 31.3 percent) will be counted on the most to chuck up the treys, but the consensus is that big man Summers, freshmen forwards Da'Sean Butler and Wellington Smith, freshmen guards Devan Bawkinkel and Joe Mazzulla, and returnee Joe Alexander can all make shots.
"Even if the shots aren't falling, we have an athletic team that can penetrate and score," Young said. "Coach taught us to kick out to the open shooters.
"We did lose a lot of personnel but we have the same coach, the same coaching staff and they've prepared us for the first game. We're young, but we've got a couple of veterans and Coach Beilein expects us to teach the young guys."
Beilein doesn't have to remind any of them who is in charge. He said that's obviously Young. During a timeout late last season, two seniors (whom he declined to name) squabbled during a timeout. Young was the one who silenced them and got them refocused on the game.
"I didn't have to say a thing," Beilein said. "Frank took care of it."
Beilein's not sure what to make of this team. He said some days he thinks they can win plenty while on other days, he stands there wondering if they can win a game. Had it not been for a monster buyout in his contract (over $1 million), Beilein might have been at Indiana or Oklahoma now instead of West Virginia. If that had happened, we wouldn't be having this conversation. Not having Beilein's system, and him to teach and tweak, would have meant a certain spiral for the Mountaineers.
But to sleep on this squad, even though the personnel is dramatically different, or at least incredibly inexperienced, would be a mistake. Beilein's too good and too much trouble for opposing teams to think the Mountaineers suddenly will be irrelevant.
"Two years ago, we didn't have any expectations and got to the Elite Eight," said Young of the Mountaineers who finished 8-8 and tied for seventh in the Big East, but earned an NCAA bid with a run to the conference tournament final. "We don't have them again and we're going to prove a lot of people wrong. We're just trying to do what we did two years ago again."
Beilein's not brainwashing his players here. They're just loyal to the system and to him, and believe the combinations will be sound enough to keep them in games. The Mountaineers sound certain they'll win enough to put them back in the postseason in a year when they're not even a consensus pick to make the Big East tournament, let alone the NCAAs.
Andy Katz is a senior writer for ESPN.com.
SPONSORED HEADLINES
MORE MEN'S COLLEGE BASKETBALL HEADLINES
MOST SENT STORIES ON ESPN.COM
'Midnight' Madness
As practice tips off around the land, here's what else ESPN.com has going:
Clock strikes Midnight:
• Gottlieb: Like his house, Sampson's under reconstruction
• Katz: KU's Rush rushes from spotlight
• Kansas 3-point shots
• Katz: Wichita State has Kansas-level passion
• Wichita State 3-point shots

• Katz: K-State mad for Huggins
• Katz: K-State 3-point shots

• Schlabach: A&M has reason to yell
• Florida gets party started
Expert takes:
• Biggest Impact 25 omissions
SportsNation:
• Vote on the Impact 25
Madness chats:
• Josh McRoberts, Duke

• Curtis Sumpter, Villanova

• Luc Richard Mbah a Moute, UCLA

• Jay Bilas

• Aaron Gray, Pitt
ESPNU Midnight Madness
:
• North Carolina
• Indiana
• George Mason
Impact 25:
• The coaches
• The newcomers
• The returning players
• The off-court influencers