George Mason's campus still buzzing over hoops
Originally Published:
November 2, 2006
By
Andy Katz
| ESPN.com
FAIRFAX, Va. -- You reach the Final Four with George Mason and all sorts of opportunities come flowing onto your desk.
You get a chance to be a guest conductor for a George Mason holiday concert, you become a hot name on the Washington speakers bureau roster in the D.C. area (and, to some extent nationally), you have the chance to start a leadership program and, of course, you are allowed to pursue your dream of being a teacher and authority in geography in the school systems.
And then, after a while, you have to put the brakes on and say, "OK, maybe that's too much." That occurred last month when George Mason coach Jim Larranaga got a call to read the part of Lincoln (as in President Abraham Lincoln) in a play on campus.
Larranaga told the director that he would love to do it and could conceivably fit the Oct. 22 date into his schedule, but the time commitment for the face of the university was too much.
"They wanted me to practice with the orchestra two hours a day for four weeks!" Larranaga said.
Clearly, you can see how, at some point, enough is enough -- even if Larranaga always seems raring to go.
"One of the things about me personally is that I have a lot of interests away from basketball and the run to the Final Four allowed me to be involved in other things I really enjoy," the 57-year-old Larranaga said. "Everyone asks me how do I have time to do all of this? Well, I don't sleep very much. Ever since I turned 50, I'm up at 11 or 12 o'clock working on some project, answering e-mails or getting my practice plan going."
How much interest was there in having Larranaga on the speakers bureau, as a geography consultant or even in starting a leadership program prior to March? Let's just say Larranaga got form letters back and his phone didn't ring with any of these offers. Times have changed.
"He's a walking commercial for us," George Mason president Dr. Alan Merten said. "I get phone calls about him every day."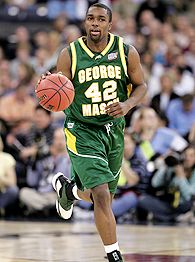 Andy Lyons/Getty ImagesFolarin Campbell is one of the main holdover's from last season's Final Four squad.
Merten offered Larranaga a new deal on the bus ride over to the Verizon Center in advance of the Elite Eight game against Connecticut last March. Larranaga agreed to the six-year extension that put him on campus through 2012 and pushed him into the high-major bracket of over $700,000 a year, with "a $100,000 bonus for the way he represents the university," Merten said.
Is it worth it? Well, you can't come to George Mason and not see the tangible effects of the Patriots' unprecedented Final Four run of knocking off Michigan State, North Carolina, Wichita State and Connecticut last March.
Larranaga's office is evolving into a Final Four shrine. There are countless framed newspaper page posters on the wall and tucked into a corner near his desk. There are so many of them that Larranaga isn't sure where he will display them (although he's hopeful that once a practice facility is built, they will adorn the walls). The Washington regional trophy and net sit on an end table.
Then there are the press clippings. Larranaga has four volumes that dwarf even a New York City phone book. Every article ever written (so he claims) on the Patriots during the run is copied in these volumes for a little light reading someday when he retires.
Merten said there were 300 to 400 more freshmen enrolled at George Mason this fall. He said he anticipated an increase but wasn't prepared for the number, forcing the university to house students in a hotel.
"I didn't hear anyone complaining," said Merten, who added that he helped the students move in.
"We won't know until December [at the end of the calendar year] the financial figure [of the impact of the Final Four]," Merten said. "But there's a buzz. The faculty really feels it, too."
George Mason athletic director Tom O'Connor said merchandise sales are up, ticket sales are soaring and fund-raising is up, too.
"When you win, everybody smiles more," O'Connor said.
Early Wednesday, O'Connor noted that he was curious how many fans would turn out for that night's exhibition game against Division III Marymount (Va.). Well, the Patriots drew 3,679 fans (capacity in Patriot Center is 10,000) -- that's three times more than an exhibition a year ago and more than the team drew for seven home games last season. The Patriots had an estimated 6,000 for Midnight Madness on Oct. 13.
On Wednesday night, the Patriots also got a chance to show off the one thing they asked Larranaga for after they lost to Florida in the national semifinals -- new yellow Nike uniforms to go with their road greens and home whites.
"How did it change me?" said returning forward Will Thomas. "More people notice us on campus and elsewhere that we play for Mason. And we got the new uniforms. That was about it."
Well, that's probably simplifying it a bit much.
"I just feel more confident on the court," said returning forward Folarin Campbell.
The consensus around here is that George Mason can be the team that is the "next" George Mason. The Patriots don't want to be Gonzaga or anyone else; they just want to be the best they can be, with a national schedule, solid recruits and a regular spot in the NCAA Tournament.
They believe they will be the team to beat in the Colonial Athletic Association this season, even if they're not considered the preseason favorite (Hofstra is). Based on seeing how the Patriots -- from president Merten to O'Connor to Larranaga to Campbell to statistician guru/computer whiz/invaluable team manager Thuc Phan -- handle themselves, there is no denying they believe they have arrived.
Larranaga said he loves to share the story of how he built the program, and since corporate America loves the underdog and George Mason's Final Four run has given him the opportunity to do so, he's not about to stop.
Andy Katz is a senior writer for ESPN.com.
'Midnight' Madness
As practice tips off around the land, here's what else ESPN.com has going:
Clock strikes Midnight:
• Gottlieb: Like his house, Sampson's under reconstruction
• Katz: KU's Rush rushes from spotlight
• Kansas 3-point shots
• Katz: Wichita State has Kansas-level passion
• Wichita State 3-point shots

• Katz: K-State mad for Huggins
• Katz: K-State 3-point shots

• Schlabach: A&M has reason to yell
• Florida gets party started
Expert takes:
• Biggest Impact 25 omissions
SportsNation:
• Vote on the Impact 25
Madness chats:
• Josh McRoberts, Duke

• Curtis Sumpter, Villanova

• Luc Richard Mbah a Moute, UCLA

• Jay Bilas

• Aaron Gray, Pitt
ESPNU Midnight Madness
:
• North Carolina
• Indiana
• George Mason
Impact 25:
• The coaches
• The newcomers
• The returning players
• The off-court influencers