Tech's displeasure lay in performance, not the record
Originally Published:
December 28, 2006
By
Andy Katz
| ESPN.com
LUBBOCK, Texas -- The record for most Division I coaching wins isn't about one game. More than a thousand games make up the all-time record.
For that reason alone, it was foolish to think -- or, for that matter, assume -- that Bob Knight would easily break Dean Smith's all-time win mark of 879 simply because UNLV was next on the schedule.
UNLV's 74-66 win over the Red Raiders Thursday night at United Spirit Arena shouldn't come as a shock. The Rebels were better. From the evidence presented over 40 minutes on the court, you could make that argument rather easily.
Lon Kruger, especially with son Kevin running the point after transferring from Arizona State, has his best team in his three years at Vegas. UNLV handed Nevada its first loss of the season -- in Reno. The Runnin' Rebels also swept Hawaii in a home-and-home. Their only losses were at Arizona and to UC Santa Barbara, the latter without the younger Kruger, who missed the game with a sprained ankle.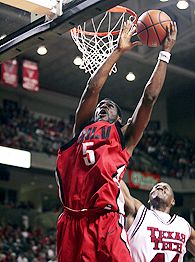 Ronald Martinez/Getty ImagesWendell White and the Rebels clearly were the better team on the court.
It was easy to get caught up in Knight getting No. 880 after the way the Red Raiders played in beating Arkansas in Little Rock and then Bucknell here last weekend. The passive Texas Tech fans got caught up in the moment, too, selling out the arena for the first time this season and bringing in the largest nonconference crowd since Knight brought his Indiana team here to open the building in 1999.
The Red Raiders, though, are a fragile team. If they don't shoot well -- or guard the 3-point line -- they could be toast. That's exactly what happened Thursday, as the Red Raiders, who entered the game as the nation's best 3-point shooting team, shot 1-of-12 from behind the arc and gave up 11 3-pointers to the Rebels.
Still, Knight's friends came to Lubbock to watch history. John Havlicek, Hall of Famer and former Ohio State teammate, was here, as was former Indiana star guard and current Iowa head coach Steve Alford. So, too, was former UNLV and Fresno State coach Jerry Tarkanian, a friend of Knight's as well as a UNLV supporter. Former Army player Bob Siegle came to watch his former coach, too.
Knight acknowledged how nice it was for them to come, but in a light moment in the postgame news conference, said, "They may have to stay here for three weeks [if we play like we did in the first half]," noting that it would be a boost to the economy.
He may not be totally kidding. Up next on Monday is New Mexico, and while the Lobos have been erratic on the road, they do own a win over Wichita State last week in Las Vegas. After that is a home date with Oklahoma to open the Big 12 schedule. The assumption is that the record will fall on one of those two days, but it's not about the record for Knight. Never has been, never will be.
"From Day 1, I wasn't interested in it, and I'm not interested in it now," Knight said. "Right now, the only thing I'm interested in is that we didn't play well enough. I'm only interested in what we can do to play better. We've got a lot of work to do."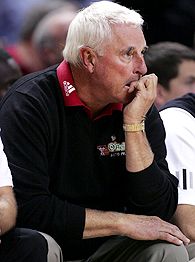 Ronald Martinez/Getty ImagesKnight spent much of the game quietly frustrated on the bench.
The reality is that Texas Tech is in quite a fight in the Big 12 with the likelihood that Kansas, Texas A&M, Oklahoma State, Texas and Kansas State all could be ahead of the Red Raiders. Counting out Missouri would be a mistake, too. So, the record -- whenever it comes -- won't be foremost on Knight's mind. He needs the Red Raiders to be much sounder for them to earn an NCAA berth -- the most important goal of the season.
As for UNLV, there couldn't have been a team readier to spoil the party. Like Knight, the Runnin' Rebels weren't overwhelmed by being the possible record-breaker. Kevin Kruger said he knew it was a possibility when he saw the schedule, but it was never a rallying cry with the Rebels' players.
"I was aware because of SportsCenter and ESPN and reading it on the Internet on ESPN.com, but honestly once the ball went up, I had cleared my mind," said Kruger, who scored 21 points and made 8 of 10 free throws. "We didn't get into any of it and it only came up when the media mentioned it after practice this week."
Lon Kruger didn't even know the Rebels could be in this position until late November, when someone mentioned it was a possibility. It was a non-factor for him, too. Like Knight, the focus was solely on the preparation for the game -- nothing more, nothing less.
So, as the calendar turns to 2007, Knight and Smith remain tied. The record will get its due, but its falling is inevitable. As such, the hype surrounding tonight surely will fade, as the overall celebration of Knight's career has sort of taken place even without the win that will move him past Smith. There still are tickets available for the New Year's Day game and the dignitaries present on Thursday night aren't expected to return because of other commitments.
Knight himself again tried to downplay the event at the conclusion of his postgame comments.
"This isn't breaking the record at the Masters or breaking Babe Ruth's [home run] record," he said.
It's not. It's significant, but maybe we were all wrapped up too much on one night. The record-breaker will happen, but even when it does, the record isn't about just one game. It's about a career, and careers are never made on one game.
There was obvious disappointment in the building tonight, but only because the place was juiced to watch a history-making moment. The anguish the Red Raiders' players felt had to do solely with not playing well on Thursday. For Knight, that's always what matters most.
Andy Katz is a senior writer at ESPN.com.
SPONSORED HEADLINES
MORE MEN'S COLLEGE BASKETBALL HEADLINES
MOST SENT STORIES ON ESPN.COM
History Rewritten
Bob Knight passed Dean Smith on Monday for the all-time Division I men's wins record, picking up his historic 880th victory in Texas Tech's 70-68 win over New Mexico in Lubbock.
Related Stories:
• Knight notches historic win
• Reaction to Knight's win
• Kreidler: Knight's great, but ...
• Smith: Record meant something
• Vitale: Knight among greats
• Katz: Knight will be passed, too
• Forde: Knight's pyrrhic record
• Mizell: Knight has many facets
• Bilas: Knight's, Smith's bonds

• Knight's road to 880
• Katz: Knight still doing it his way
• Bilas: Texas Tech All-Access

• Outside The Lines index
Multimedia:
• Bob Knight on Mike and Mike

• ESPN360: Bob Knight channel
• Knight reflects on record

• Highlights of win No. 880

• Analysis of win No. 880

• Highlights of win No. 879

• Fraschilla on record-tying win

• Smith on his record falling

• SportsCentury: Bob Knight

• Knight: Through the years

• Texas Tech All-Access

• What will Knight's legacy be?