Tar Heels' speed will be key in March to tourney
Every time Boston College got close down the stretch Saturday night, the Tar Heels answered with alarming speed, writes Andy Katz.
Originally Published:
February 17, 2007
By
Andy Katz
| ESPN.com
CHESTNUT HILL, Mass. -- Three, maybe four seconds is all it takes.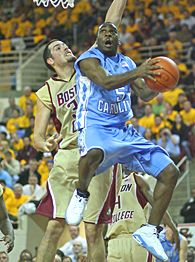 Jim Rogash/WireImage.com Ty Lawson finished with 13 points, 7 assists and 6 rebounds against Boston College.
That's all North Carolina needs to score when freshman point guard
Ty Lawson
is leading the break. If there is a faster, quicker and more deflating point guard in the country then please step forward. When Lawson turns the jets on, his speed is debilitating for an opponent. That may be the difference for North Carolina going forward in the final two weeks of the regular season, into the ACC and the NCAA tournaments.
Lawson's response to scores by Boston College Saturday night was the kind of stuff that can knock the air right out of a building.
Boston College tied the game at 61-61 with 10:09 remaining. Eleven seconds later Reyshawn Terry buried a 3-pointer. But it sure seemed like the play happened in a blur. A few possessions later, North Carolina held a 68-65 lead when Sean Marshall went to the line. He missed a free throw. Six seconds later Terry was on the receiving end again of a break and converted a layup for a five-point lead.
Sure, you can point to BC missing all 10 of its 3s in the second half. Or even more painful for the Eagles was seeing ACC Player of the Year favorite Jared Dudley miss all three free throws on a 3-point shot foul with 1:29 left that would have tied the game at 73. His 7-of-13 mark at the free-throw line and the Eagles' overall 10 missed free throws were all problematic for BC. And all of those were viable issues in Carolina's 77-72 victory at Conte Forum on Saturday night.
But the larger story seems to be Carolina's ability to just knock a team back with its quick-strike ability -- a specialty that few teams in the country, if any, can claim to this extent.
"I don't know what to say,'' BC sophomore guard Tyrese Rice said of Lawson. Rice is fleet afoot himself, but admits he's not up to Lawson's speed. "His speed is amazing. We're an emotional team. We were jumping around after we scored and I turned around to look for him and he was already at the other end of the court.''
The Tar Heels work on their speed daily. Terry said they have been conditioned to run more this season and it clearly shows. Playing this fast was something that sophomore forward Tyler Hansbrough said he had to adjust to this season. A year ago, he liked and was encouraged to get down to the block and post up. Now, the object is to push it and if he can run with Lawson then so be it. With big men like Brandan Wright running the floor and wings like Terry and Wayne Ellington there are plenty of options for Lawson. Ultimately, he has the green light to take it in himself if need be on any possession.
"When we can score within five seconds that can really take a lot out of a team,'' Lawson said.
"We don't time it [in practice] but that's what we do,'' Ellington said.
"Coach [Roy] Williams said we should be the fastest team he's ever coached,'' Terry said. "I think [Lawson] is as fast as [2005 national title point guard] Raymond [Felton] when he was here. Ty knows what Coach Williams expects and he's able to stay up to the standards.''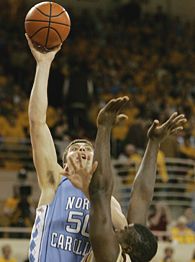 Stephan Savoia/AP PhotoUNC's Tyler Hansbrough lead the Tar Heels with 17 points and 7 rebounds.
But this whole speed thing only matters if the Tar Heels put forth the overall effort. It would be putting it mildly to say that Williams wasn't thrilled with the practice intensity in the two days preceding the loss to Virginia Tech last Tuesday. And it showed. Virginia Tech didn't let the Tar Heels run them over. BC was able to play its halfcourt game, too, save for the few times that the Tar Heels' speed was a difference maker in key response buckets.
So, now the Tar Heels certainly look like they're back to being a team to beat, along with UCLA, Florida (even after losing to Vandy) and the eventual Big Ten champ (either Wisconsin or Ohio State).
The Tar Heels finish the ACC by hosting NC State, going to Maryland and Georgia Tech and then hosting Duke. Virginia, which is tied with UNC in the loss column at three with Virginia Tech (which plays Sunday at NC State) has an easier (a relative term) slate going to Miami and Wake Forest and hosting Georgia Tech and Virginia Tech to end the season.
Still, even if the Tar Heels were to share the title with the Cavs or even Virginia Tech (although they would win the tiebreaker with the Cavs since they beat them and lose it to the Hokies since they lost twice) it's clear that the Tar Heels have a possession that few can match.
It's called speed. And when it's used correctly, the Tar Heels can kick their game into another gear and stay one step ahead of an opponent.
"If someone scores, we have to attack,'' Williams said. "I've said that all year long. This team has the ability to get it and go. Ty has a tremendous motor. He's one tough little nut. He's just so quick.''
Andy Katz is a senior writer at ESPN.com.
SPONSORED HEADLINES
MORE MEN'S COLLEGE BASKETBALL HEADLINES
MOST SENT STORIES ON ESPN.COM
EDITORS' PICKS
Virginia's tough stretch starts with Duke.
Weekend Homework »

North Carolina, Louisville can't afford another ACC loss.
Medcalf »

Bruce Pearl's return to Tennessee should be a surreal event.
GameCast